怀远以德
Embracing Distant Peoples by Means of Virtue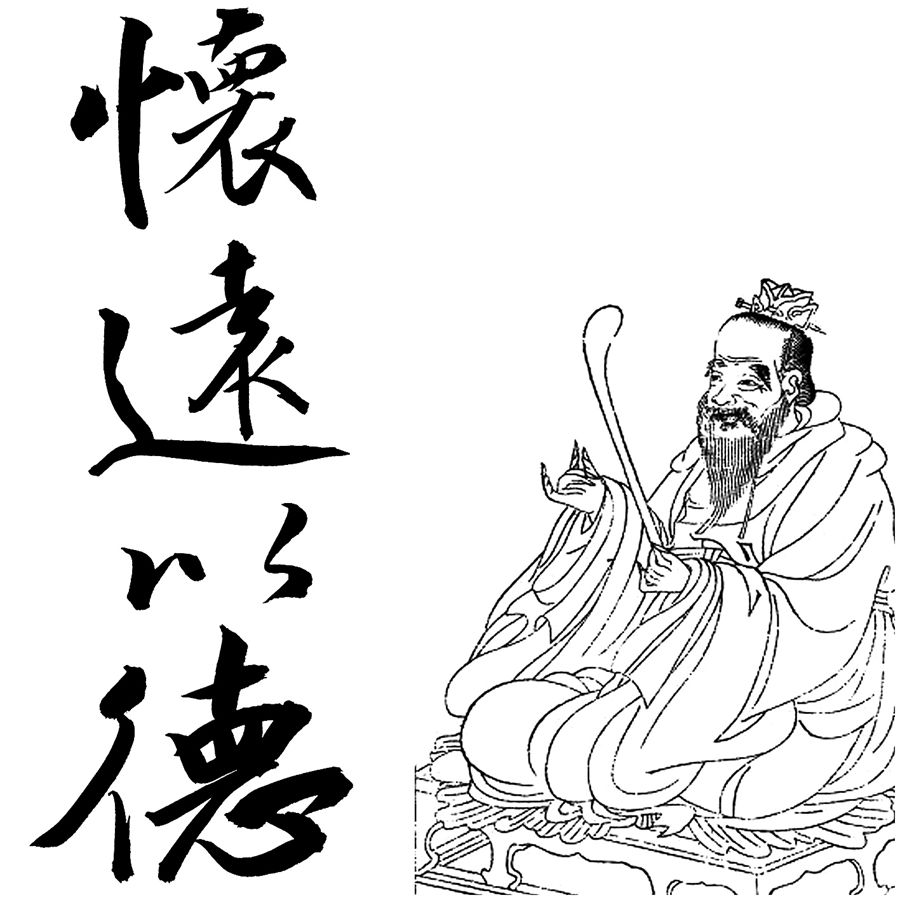 指用恩惠、仁德去安抚、怀柔边远地区的部族、民众等。是历代华夏族政权用以处理与其他民族、未纳入直接统治范围的边远部族以及外国关系的一种政治理念,也是"以德服人"思想的重要方面。中国是一个多民族国家,以华夏族为主体的政权,自认为是大国并且文化发达,对于那些远离中华文化的边远部族、民众等,一般不采取武力征服,而是用比较温和、合于儒家"仁德"的手段,达到安抚并使之归顺的目的。
This expression refers to pursuing conciliatory and benevolent policies and offering benefits to tribes and groups in remote areas. It was a political concept adopted by successive governments led mostly by the Han people in their relations with other ethnic groups and tribes in remote areas not yet directly under their rule, and foreign states. It also represented an important component of the theory of winning over others by virtue. China was, as it is today, a multi-ethnic country. The Han-led government ruled over a large territory and believed that they had an advanced culture. They usually took a conciliatory approach based on the Confucian concept of benevolence in dealing with the tribes and populations in remote regions, rather than conquering them by force, with the goal of placating them and winning their allegiance.
◎管仲言于齐侯曰:臣闻之,招携以礼,怀远以德,德礼不易,无人不怀。(《左传·僖公七年》)
(管仲对齐侯[齐桓公]道:臣听说,招抚尚未归顺的诸侯,用礼;安抚边远地区的部族、民众,用德。不违背德和礼,没有人会不归附。)
Guan Zhong said to the Marquis of Qi, "I have heard it said: Win over the disaffected with respect and embrace distant peoples with virtue. With virtue and respect unchanging, there is no one that will not be embraced." (Zuo's Commentary on The Spring and Autumn Annals)
利用厚生
Making Full Use of Resources to Enrich the People
充分发挥物力的效用,使民众生活富裕。古人认为,良好的政治在于"养民",让民众生活富足。"利用"讲的是统治者应当节俭而不奢靡浪费,使物尽其用;"厚生"讲的是减轻徭役赋税,使民众生活安宁、富裕、幸福。它是中国近代民生主义、社会主义的思想渊源之一。
The ancient Chinese believed that good governance allowed people to lead a life of plenty. The ruler should be frugal, not extravagant or wasteful. He should make good use of the country's material resources, reduce the corvée and tax burdens on the people so that they could live peaceful, prosperous, and happy lives. This belief was one of the sources of advocacy for the people's livelihood and socialist thinking in modern China.
引例 Citations:
◎德惟善政,政在养民……正德、利用、厚生,惟和。(《尚书·大禹谟》)
(帝王的德行要体现为良好的施政,施政要以养育民众为目的……端正德行、物尽其用、使民众富裕,这三项工作要兼顾协调,配合得当。)
A ruler should manifest his virtue in good governance, and the goal of governance is to bring a good life to the people… The ruler should act in an upright and virtuous manner, and ensure that the country's resources are put to good use and that the people live a prosperous life. These three goals complement one another. (The Book of Documents)