WITH the increasing spread of the electronic age into all spheres of our lives, it comes as no surprise that print media publications have generally taken a knock in sales over the past few years. People have turned from subscribing to newspapers and buying books to purchasing e-books and surfing the Internet, and now, learning online has become a more convenient and efficient option. These changes pose great challenges to the online sharers of information; while consumers are becoming more and more cautious when paying for knowledge. Now, some publishing houses and information platforms known for high quality publications have also jumped on the bandwagon to take advantage of this trend.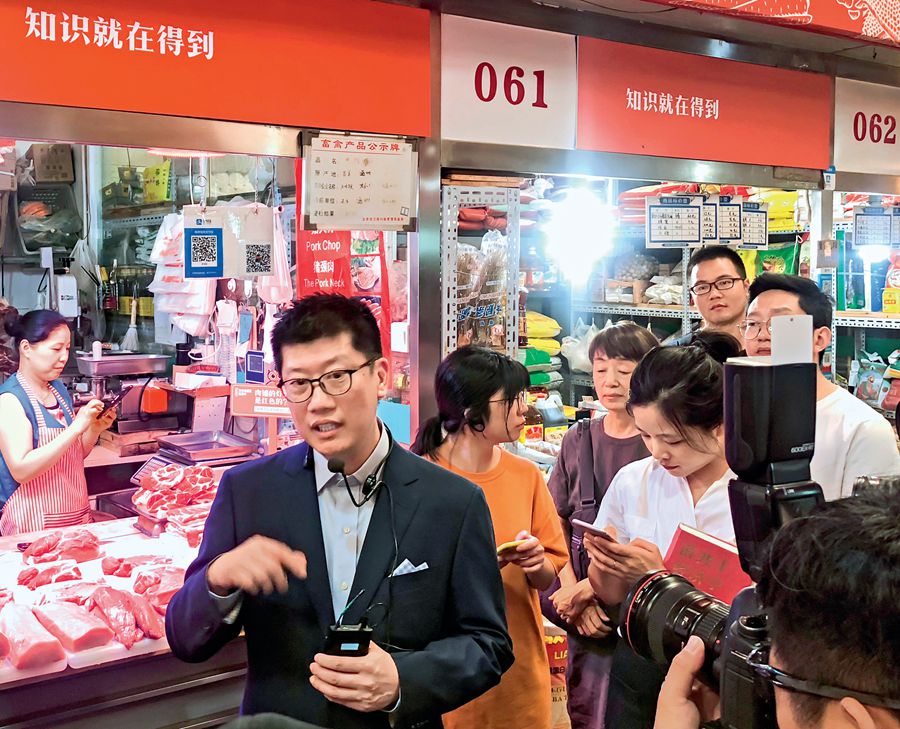 On June 15, 2018, Professor Xue Zhaofeng, an economist turned internet celebrity, attends the first "Economics Lessons at Food Markets" book signing event.
On June 15, 2018, well-known economic scholar Xue Zhaofeng published his new book Xue Zhao-feng's Lectures on Economics at Sanyuanli Market, a popular market that has gone viral. Citing examples from real scenarios, Xue linked economics with people's daily life. What's worth noting is that Xue's new book was initially the outline he used on the knowledge payment platform "iget." Over 27,000 users each paid RMB 199, or US $29, to participate in his online economics course. This case has thrust the rising trend of payment for knowledge online firmly into the public domain.
Willing to Pay for Knowledge
Based on the State Information Center (SIC)'s definition for a sharing economy, payment for knowledge can be regarded as a process of turning knowledge into commercial products or services. To be specific, those with cognitive surpluses can share their knowledge with others via Internet platforms, meanwhile bringing themselves extra income. These platforms, at the same time, earn their profits on that.
The year 2016 marked the beginning of knowledge payment in China. An investigation jointly conducted by Guokr and Netease's online platforms shows that 70 percent of users have paid for online learning; while in 2015, the number was only 26 percent.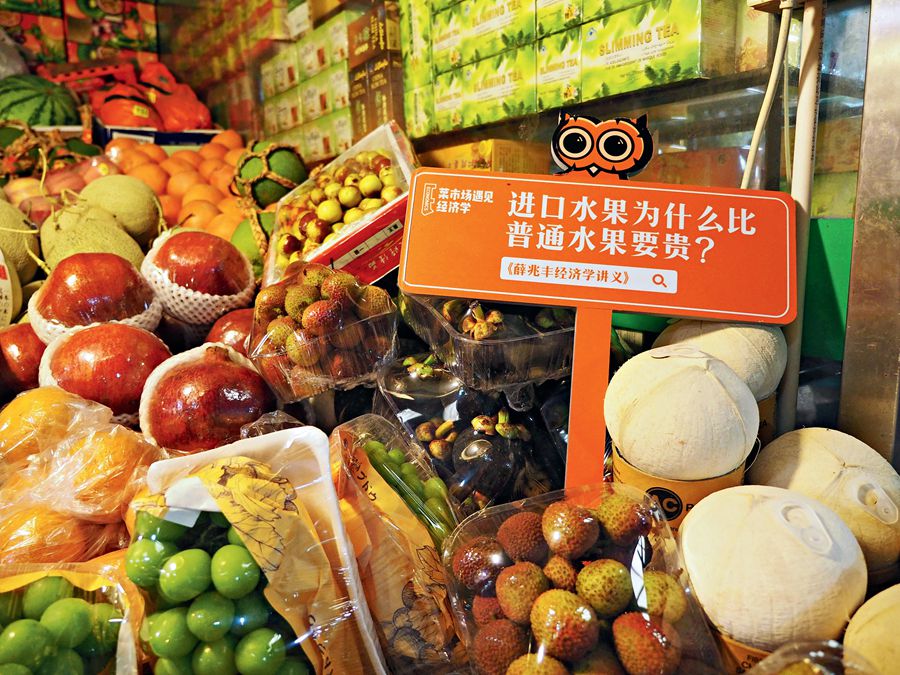 A fruit-themed bookstore at the Beijing Sanyuanli food market. The bookstore sells only one book: Xue Zhaofeng's Lectures on Economics, which is the inspiration of the exhibition "Economics Lessons at Food Markets."
In May, 2016, Zhihu, a Chinese question-and-answer website, launched Zhihu Live (payment sharing) and Q&A sections. Within three days, these new platforms attracted over 1 million users. In June, Luo Zhenyu, founder of LUOgic Talk Show, launched Li Xiang's Commercial References on iget, and within two days over four million users subscribed; in August, Zhihu's approval & tip function, snowball Q&A, Lenovo's "Zhiliao Q&A" came online; in September, Huxiu began to provide in-depth reports to VIP payment members. Other paid knowledge platforms such as Ximalaya FM, Douban, Qingting FM, Xiaomi Circle (now Knowledge Planet), Qianliao, and Lizhi Microclass have also been developing their knowledge payment services.
People with a wealth of knowledge and experience in specific areas are the most likely to benefit from payment for knowledge. Senior managers in large multinational companies like Google, financial elites with top university backgrounds and well-known psychologists, can all profit from these online platforms. But the opportunities also favor the ordinary: a professional barista, a girl who traveled around the world, a body-builder, or a student that passed a postgraduate entry exam can all set up a live classroom after registering and being verified on these sites. One hundred minutes of audio sharing cost RMB 19.9, or US $2.9, and thousands of users might pay and join the course, bringing those with specific knowledge remarkable income.
In the 2017 China's Sharing Economy Development Report provided by the SIC, the turnover in China's knowledge market measures about RMB 61 billion, or US $9 billion, which is a 205 percent growth compared to last year; the number of payment for knowledge users reached 300 million, accounting for half of all Chinese Internet users.
The investigation shows that, males are the majority of the users, accounting for nearly 60 percent; 25-35 year olds account for 59.3 percent, which mirrors the majority of Internet users. Sixty-three percent of the paying users are college graduates, and 53.9 percent of the paying users have an income of RMB 3-8k, or US $441-1176, and most are employees and junior management.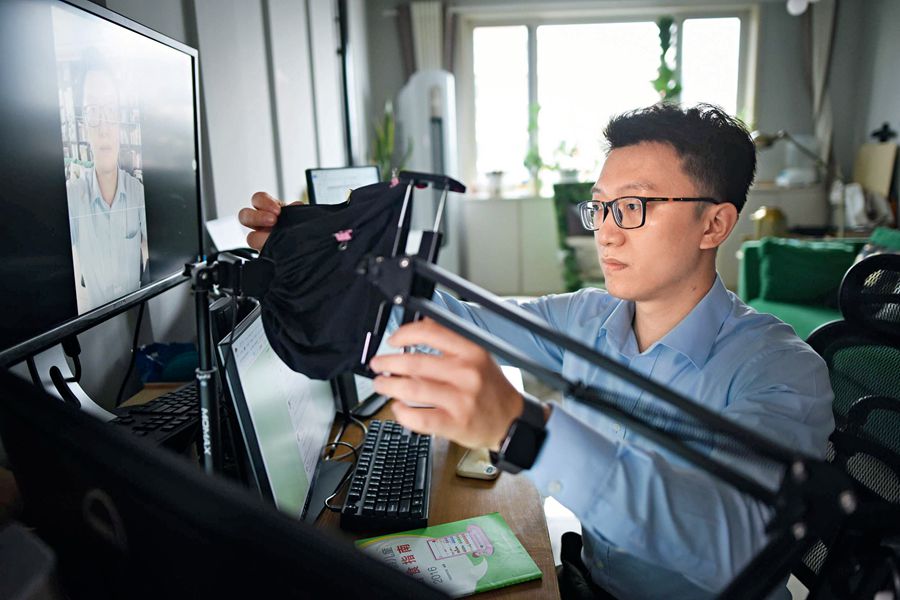 On August 27, 2018, Nutritionist Gu Zhongyi is busy setting up live streaming at home. He attracts millions of followers on Weibo, and answers their questions via its paid Q&A platform.
Sixty-three percent of the platform users come from relatively developed cities, and among subscribers 47 percent come from first-tier cities like Beijing and Shanghai, 26 percent come from second-tier cities like Dalian and Xiamen.
Traditionally, it has been those with higher education and privilege that have had a premium on knowledge, but with the advent of the Internet and online marketing this has changed and the knowledge gap has been narrowed. Luo Zhenyu said in the past when his team was selling books online, he was most proud when seeing an order from an ordinary person who lived in an ordinary place, such as rural Guizhou ordering a copy of General Economics.
"If not for us, the guy may never know what economics is. I stood at the gate of economics, showing him the fantasy that touched him and made him interested, and wanted to learn more about economics. Maybe he never read through the whole book, maybe the words in the book meant nothing to him, but in this way perhaps his life has become a little brighter. Such a sense of accomplishment is what drives us forward," said Luo.
It is clear that the Internet's marketing capacity and its irresistible influence on people from all walks of life present numerous possibilities in knowledge sharing.
In June 2016, Ximalaya FM, the popular radio app, opened a payment channel. In December, 2017, Ximalaya FM held a "123 knowledge carnival," attracting 850 Internet celebrities and over 2,000 participants, who all joined in the paid audio classes. This event was like Black Friday, a fantastic marketing strategy that boosted payment for knowledge. On that day alone, their turnover reached over RMB 50 million, or US $7,353,000.
Despite the successful marketing, it's no easy thing to get people to pay when free resources on the Internet are ubiquitous. Given the convenient, free, and open environment of the Internet, it is worth thinking about why people are willing to pay for something that's not entertaining.
More Discerning Users
During social transformation, fast economic development and a flood of new information has a tendency to make people anxious to want to know more about the world around them. This creates a direct path to payment for knowledge online. What's more, not all the information freely available on the Internet is wanted, which makes information selection very important. People would rather pay to get exactly what it is they want. Compared to the expensive tuition fees, transport costs, and time restraints, gaining knowledge online is much more efficient. These online sharing courses are the equivalent of a few cups of coffee in cost, and the learning model is much more interesting than traditional methods. With the Internet as a platform, people can begin or stop learning at any time, enabling them to utilize their time fragments.
Payment for knowledge is especially attractive to those entering the job market for the first time. Traditional school education rarely teaches them how to cope with the dual pressure of work and personal life, but they desperately need advice from professionals. This is why practical courses like business and investing, psychology, career, parenting, and lifestyle are so popular. These sharing courses are closely related to economic and social life, and people believe that these courses with reasonable prices can improve their knowledge base, and build their competitive edge.
Another factor for the success of online courses lies in the growing respect people have for copyrights. Pirated music and videos have mostly disappeared under strict government regulations, and people are getting used to the idea of paying for the authorized products. Moreover, e-payment such as Wechat and Alipay make paying for online products very convenient. Yiguan, the famous data analytical institution, issued the White Paper on China's Knowledge Payment Industry in December of 2017 which indicates that people's opinion towards "contents" and "knowledge" are changing. Now people prefer to pay for relatively better products or services. Users of information also prefer to actively seek what they want rather than just surf the Internet aimlessly.
Fragmented Time
Despite its popularity, payment for knowledge on line does have its challenges. Many users are spending large amounts of money annually without benefiting much. Complaints about this method of learning usually include that it is fragmented, utilitarian, and over-entertaining. These complaints reveal that this method must still find a way to guarantee the quality of the contents.
The representative modes in knowledge payment systems are lectures and paid video or audio programs on some topics, paid sharing on experiences and Q&As, and sketch reading on classics.
For paid courses, the sharer or teacher's ability and dedication determine the quality, while sketch reading reflects learner's anxiety for quick success and instant benefit. By buying knowledge online, people can focus on a 5,000-word summary rather than the original 200,000-word book, making it easy to finish many books in a short time. While this method is convenient and efficient, a large percentage of such sketch learning is fragmented and failed. A paradox thus arises: people pay on line in order to reduce their anxiety on deficits on certain knowledge, only to get some methodologies and ideas that confuse them in return.
"Most anxiety is unnecessary. People don't have to figure out how much knowledge they need; what's really needed is to figure out what kind of life they want, and how to live such a life," said scholar Yang Zhao. His views are shared by many.
Yang believes reading should be pleasing, and people should not merely keep convenience in mind, rather asking "why shall I read this" or "how can it benefit me?" Reading is a process of enabling oneself to develop one's lifestyle.
As far as Yang is concerned, people should "choose the path less traveled," and think about how to "turn information into knowledge." Only when people spend more time to think about real understanding can they develop their personal knowledge systems.
In Yang's opinion, payment for knowledge platforms are media in essence, and will definitely include bits of information, which have a different influence on different people. "Knowledge payment platforms broaden people's horizon. For example, one can access Western classical music via these platforms easily. These platforms open new facets of life. Many people may never knew what a Western symphony was like, if they didn't use these platforms."
A well-known scholar Liang Wendao thinks that these platforms "are translating the unintelligible archaics into mandarin." They act as a medium to interpret difficult and abstract knowledge, paving the way for users to learn more.
Perhaps society is going through a developing stage in terms of paying for knowledge. After people fulfill their practical needs like passing exams or finding a job, they will turn to knowledge for spiritual abundance and pleasure. In that case, the Internet undoubtedly will provide more possibilities in narrowing the knowledge gap, broadening horizons, and enriching people's spiritual life.
Now, both platforms and users are reflecting and adjusting themselves, so that paying for knowledge can provide a more appropriate service. Diversified and better quality contents will bring more insights into people's lives.
SHI XUN is a senior journalist.