ON May 11, Gao Ping, a famous Chinese pianist and composer, held a concert titled Harmonie du Soir (Harmony of the Night) in the Forbidden City Concert Hall in Beijing. This concert is among five that Gao plans to hold in five Chinese cities this year to honor the 100th anniversary of the death of the renowned French composer Claude Debussy. Gao has always regarded Debussy as his "spiritual ancestor" and the concert serves as a dialogue between himself and the master.
Integrating Chinese and Western Music
In 1970, Gao was born to a family of musicians in Chengdu, Sichuan Province. The son of a famed composer, Professor Gao Weijie and a celebrated singer, Luo Lianglian, Gao displayed musical talent at a very young age. At nine, he already stunned the family with impromptu piano performances. In 1990, Gao went to the U.S., where he gained his doctoral degree in 2003 at the College-Conservatory of Music, University of Cincinnati. He remained a professor at the University of Canterbury until 2013. And since then, he has been teaching at Capital Normal University in China, while working as a guest professor at China Conservatory of Music.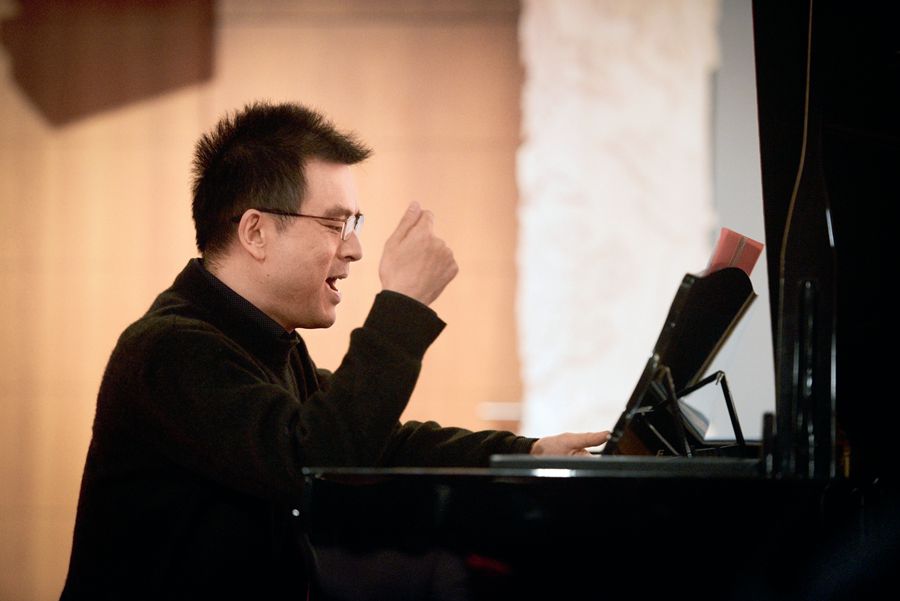 Gao Ping performing at the National Centre for the Performing Arts.
The overseas living experience of over two decades influenced Gao's approach to life and music. He believed that being away from a place enables people to look at that place in a different perspective. "After leaving China, I began to pay more attention to backgrounds and identities. If I lived in China the whole time, I may not have reflected on myself and my culture," Gao said. Although he was away from China for so many years, he had been devoted to various activities to stay attached to Chinese culture as well as promote it. In 2003, the Greater Cincinnati Chinese Music Society awarded Gao for his artistic achievements. After the Wenchuan earthquake in Sichuan Province of China, Gao gave several fundraising performances in Wellington as well as in Tokyo.
Gao won many awards in international piano competitions. His works have been performed in Europe, North America, Latin America, and Asia. Famous American composer Frederic Rzewski described Gao Ping by saying, "Gao Ping is one of a new generation that is breathing new life into the classical tradition. An evening with Gao Ping's music is a true adventure!"
Gao's albums The Story-teller and Piano Quintet — "Mei, Lan, Zhu, Ju" (meaning the plum blossom, the orchid, the bamboo, and the chrysanthemum), issued by Naxos, have been popular. Percorsi Musicali, a renowned music association, commented that Gao's work is rich in beautiful details…the ability to create musical images based merely on writing or feeling has made Gao Ping one of the most important composers to emerge from China in recent years.
Since 2012, Gao began to integrate folk music into his composition. "I found it quite an interesting field. Folk music is different from the music composed for Western musical instruments, because traditional Chinese musical instruments differ from them in shapes, playing techniques, and range. They also carry different cultural symbols." To fully embody the advantages and characteristics of all the musical instruments, Gao studied every instrument used in his composition. "Guqin (a traditional Chinese seven-stringed zither) is one of my favorites," said Gao. "There was a period I spent listening solely to guqin."
Debussy: Enamored with Eastern Culture
On May 5, the first concert in honor of the 100th death anniversary of Debussy was held in the Sichuan Conservatory of Music in Chengdu. Gao named it after Harmonie du Soir, the title of a poem by the famous French poet Charles Pierre Baulelaire.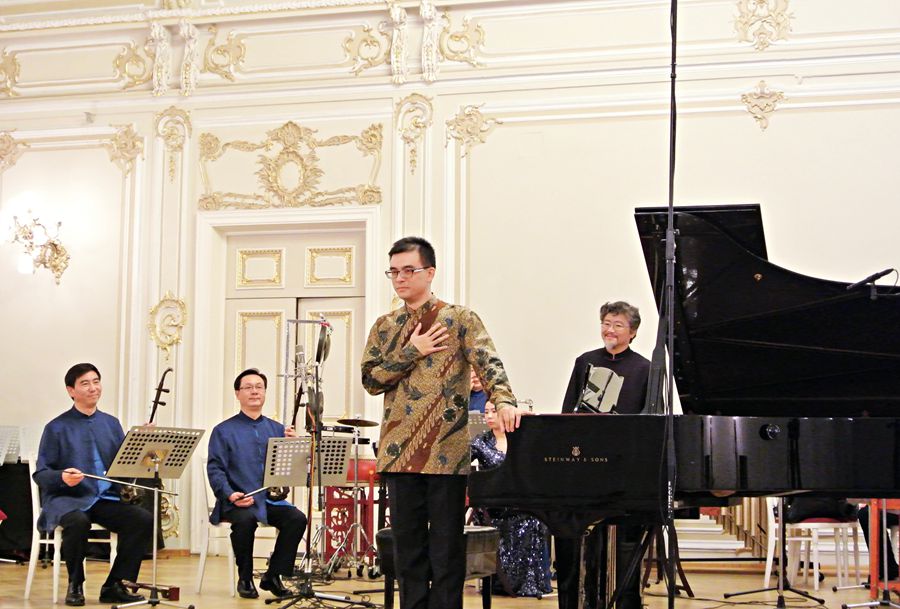 Gao Ping giving a performance called "Sibuxiang" with the Forbidden City Chamber Orchestra in Saint Petersburg.
Debussy is like a mentor to Gao. To him, Debussy is a composer who has brought a great deal of insight into China's musical composition in the past 100 years.
In 1583, during the Ming Dynasty, Matteo Ricci came to China, and with him he brought Western musical instruments including the piano and the organ. These instruments captured the imagination of the Chinese people and broadened their perspectives.
In 1915, the Chinese linguist and musician Zhao Yuanren composed the March of Peace, which was the earliest Chinese piano composition on record. Piano composition has a history of nearly 100 years in China, during which Western music has greatly influenced it, especially French musicians represented by Ravel and Debussy. "Chinese musicians still share a strong bond with Debussy to this day. Today, not only does the Chinese audience enjoy Debussy's works, contemporary Chinese composers also express their resonance with Debussy in their works." Gao noticed that, as early as the end of the 19th century, Debussy showed interest in Oriental arts. Debussy once won the Rome Prize, and while he was in Rome, he spent plenty of time collecting Eastern art crafts in local antique stores. Debussy was also rather fond of Chinese culture. "In Debussy's works, people can see a communication between Western and Eastern cultures. The influences are mutual." said Gao Ping.
Based on his research, Gao believed the obsession with the unusual and enthusiasm towards the exotic reached epidemic proportions in Europe in the 19th century. Debussy was in the center of all these. However, different from other contemporary artists, Debussy did not just use the Eastern style as a decoration to his work, nor was he obsessed with Eastern culture purely for novelty, as condescending attitudes were common in colonial times. "Debussy was the first artist who actually felt the beauty of Eastern culture. He believed that the Eastern beauty is rich in certain aspects which Western beauty lacks, yet the two styles are equally beautiful. The oriental is purely exotic." Gao took Pagodes as an example. " At the 1889 Paris Expo, Debussy heard the Gamelan music from the Java Island for the first time. He was deeply touched by the exotic style, and driven by this, he composed the Pagodes."
Gao believed that there has been a cultural bond between the Chinese and the French: Compared to other cultures, French music or paintings are more likely to be appreciated by the Chinese. Maybe aesthetically, these two cultures have less barriers in understanding each other; Debussy's works are greatly influenced by Eastern music, making them even more likely to be appreciated by the Chinese. For example, in Debussy's work Et La Lune Descend Sur Le Temple Qui Fut, every note reminds people of China!
Promoting Chinese Musical Pieces
"Nowadays, a great number of people in China are learning musical instruments like the piano, and I believe no other country can compare with China in the number of music students. We have excellent concert halls, where people can enjoy excellent performances. China also has renowned pianists, like Lang Lang and Li Yundi," said Gao. Despite the booming scene of classical music in China, Gao pointed out the works of Chinese composers fail to receive the attention and appreciation they deserve. "Chinese composers are becoming more and more influential on the international stage, with many of them being invited to perform abroad. But in China, they are more or less neglected. We should put more efforts into promoting the works of Chinese composers," said Gao.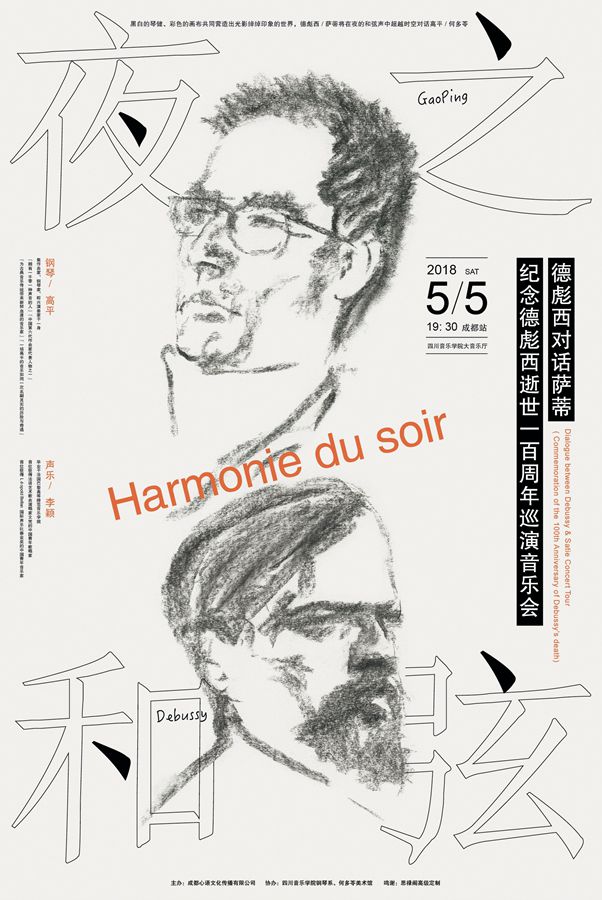 Poster for the Harmonie Du Soir Concert in Chengdu.
Gao himself has been performing locally or in other countries. He said that in megacities like Beijing or Shanghai, people can enjoy performances from world-class pianists. These pianists usually play Western classics, and sometimes contemporary works. But works by Chinese composers are rarely performed. The situation has been changing, but due to limits like market response, change is still rather slow. In his perspective, most communications between the East and the West just stay in academic circle, while commercially there is an apparent lack of connection.
Being a Chinese composer, Gao has always been thinking on how to interpret Chinese culture, meanwhile presenting his personality in his composition. "I don't agree with the term 'Chinese element'. It is not that the Chinese culture is some seasoning, and one can just add some to make his music taste 'Chinese'. Chinese culture is rich and profound, what we can show others are beyond those superficial elements." Gao hoped he can understand and perform music in the light of culture, beyond nations and nationalities. "Chinese music is much more than the use of pentatonic scales," Gao said.
When it comes to diversity and inclusiveness, years of overseas living experiences gave Gao a profound understanding: "We learn Western music, and adhere to a Western style in terms of playing skills and notation. But at the same time, we need to present our own cultural backgrounds and experiences."
Gao Ping performing at the National Centre for the Performing Arts.