社稷
shèjì
Sheji (Gods of the Earth and Five Grains)
古代帝王、诸侯所祭祀的土地神和五谷神。"社"是土地神,"稷"是谷神。土地神和五谷神是以农为本的汉民族最重要的原始崇拜物。古代君主为了祈求国事太平、五谷丰登,每年都要祭祀土地神和五谷神,"社稷"因此成为国家与政权的象征。
She (社) is the God of the Earth, and ji (稷 millet), represents the God of Five Grains. Chinese kings and vassals of ancient times offered sacrifices to these gods. As the Han Chinese depended on farming, these gods were the most important primitive objects of worship. The ancient rulers offered sacrifices to the gods of the Earth and Five Grains every year to pray for peace and good harvests in the country. As a result, sheji became a symbol of the nation and state power.
引例 Citations:
◎王者所以社稷何?为天下求福报功。人非土不立,非谷不食。土地广博, 不可遍敬也;五谷众多,不可一一祭也。故封土立社示有土尊;稷,五谷之长,故立稷而祭之也。(《白虎通义·社稷》)
(天子为何设立土地神与五谷神呢?是为了天下百姓祈求神的赐福、报答神的功德。没有土地,人就不能生存;没有五谷,人就没有食物。土地广大,不可能全都礼敬;五谷众多,不可能全都祭祀。所以封土为坛立土地神以表示土地的尊贵;稷[谷子]是五谷中最重要的粮食,所以立稷为五谷神而予以祭祀。)
Why do the Sons of Heaven worship the gods of the Earth and Five Grains? They do so to seek blessings for all under heaven and to requite the gods' blessings. Without earth, people have nowhere to live; without grain, people have nothing to eat. The earth is too vast to be worshipped everywhere; the variety of grains is too large to be worshipped one by one. Therefore, earth altars to the God of the Earth have been set up to honor the earth; and as millet is the chief one of the five grains, it has become the God of Five Grains and sacrifices have been instituted. (Debates of the White Tiger Hall)
江山
Jiāngshān
Rivers and Mountains / Country or State Power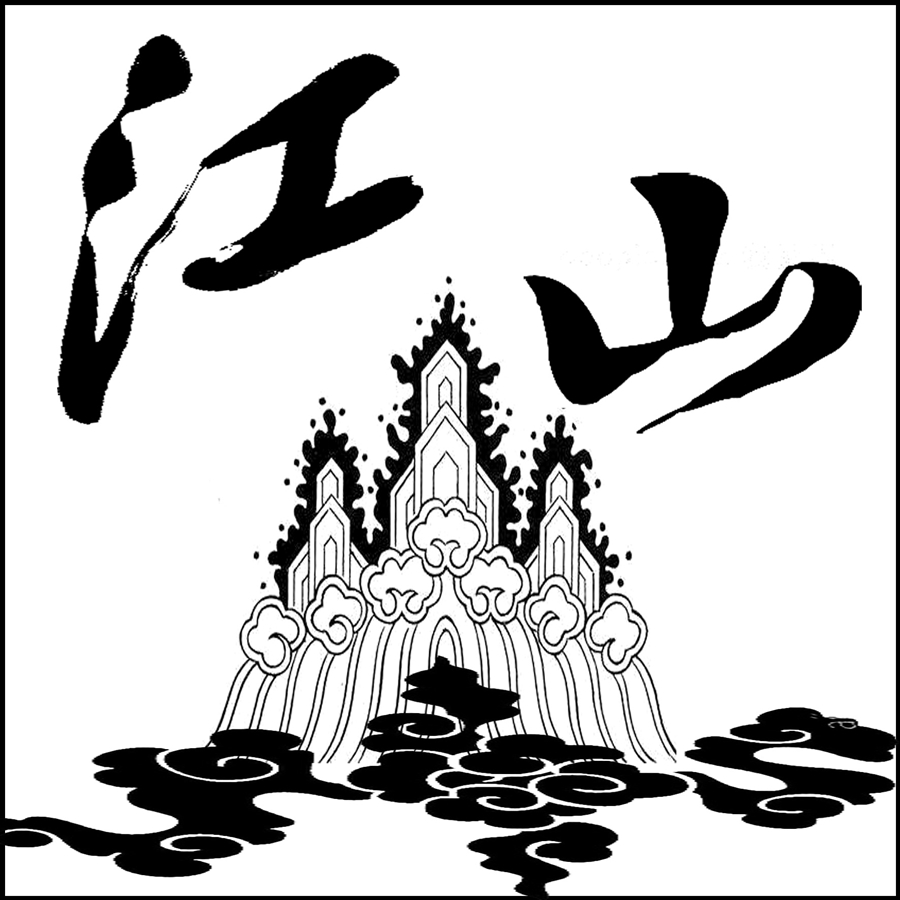 本义指河流和山岭,代指一个国家的政权及其所覆盖的全部疆域(义同"河山")。这种用法隐含着这样的观念:河流、山岭地形险要,是卫护国家安全、政权稳固的天然屏障;疆域是国家的构成要素。
The term, similar in meaning to heshan (河山), literarily means rivers and mountains. It is used to refer to the sovereignty of a state and all its territory. The term has these implications: rivers and mountains provide natural barriers that protect the country and its sovereignty; territory is the key feature of a state.
引例 Citations:
◎割据江山,拓土万里。(《三国志·吴书·贺劭传》)
(以武力占据一方,建立政权,开拓大片疆土。)
To seize a region by force, establish a regime there, and extend its territory far and wide. (Records of the Three Kingdoms)
Selected from Key Concepts in Chinese Thought and Culture published by Foreign Language Teaching and Research Press.