IN a time where Chinese language training is booming and Confucius Institutes are burgeoning, the Confucius Institute at the Geneva University (UNIGE) is taking an original path: building up an academic competence center for academic exchange.
The Geneva University Confucius Institute (UNIGE CI) is a teaching and research center for contemporary China studies that was established through the partnership between the Geneva University, Renmin University of China, and Beijing-based Confucius Institute Headquarters (known as Hanban). Besides providing training courses for the entire Geneva academic community and its partners, the UNIGE CI also hosts research projects, seminars, and conferences.
Since its founding back in 2009, the institute earned itself a name at the university and the Geneva area by organizing a wide spectrum of activities and by its excellent results in the teaching of Chinese language. Moreover, its training courses became part of the UNIGE ECTS (European credits transfer system), allowing it to attract not only university students but also free auditors of all ages.
Needless to say, several conditions had to be met to make the UNIGE CI such an incredible place. One of them was to be located in Geneva, one of the main Swiss cities and a metropolis, home to a number of international bodies such as the UN's Economic Commission for Europe, the WHO, and the International Committee of the Red Cross. Another was to win the support of the UNIGE. The prestigious public university, founded in 1559, is one of Switzerland's main academic institutions. Thanks to this support, the CI went on to develop the multi-sided cooperation agreements that now form its identity as an academically oriented Confucius Institute.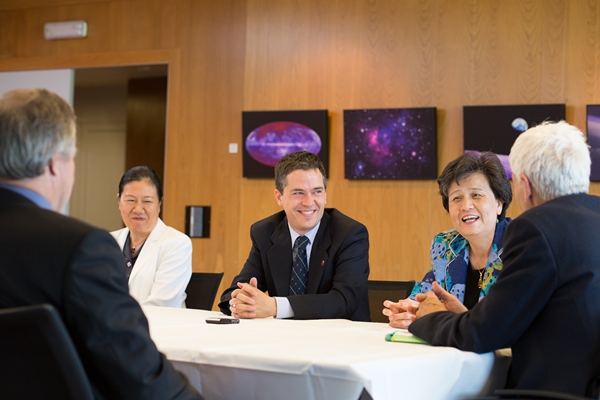 Basile Zimmermann meets with Xu Lin (second right), head of Confucius Institute Headquarters.
Facilitating Academic Exchange
Basile Zimmermann, director of the UNIGE CI, explains how the institute designs and crafts its China-related activities catering to university students and professors. In many ways, the CI's role is to encourage them to work hand-in-hand with China.
In May, for example, the CI hosted a conference on archaeology. It was the first time the UNIGE's classical archaeological unit conducted a mission involving China. Thanks to the CI playing the role of an intermediary, first contacts could be established. It is likely that, after this successful first project, Swiss and Chinese archaeology experts will develop closer ties, and future exchanges are expected to thrive.
Zimmermann offered another example of fruitful cooperation. Since the series of seminars conducted with the CI's support, the UNIGE's Faculty of Law, which had never interacted with China before, has signed an agreement with the Law School of Renmin University of China. A student exchange program between the two universities is now effectively in place and several exchanges have already occurred. "We see ourselves as a multi-disciplinary center open to all, dedicated to spreading Chinese knowledge and to supporting all types of research aimed at this country. Besides, we play a role as a facilitator for inter-university coordination," Zimmermann said.
Nowadays, many foreigners are studying Mandarin Chinese and yearning to learn more about the Middle Kingdom, a desire fueled by the country's incredible economic dynamic. Even if this interest in China is mostly focused on the economy, it still leads more foreigners to learn about contemporary Chinese culture.
From First Contact to Moving on
Zimmermann recalled the event, back in December 2008, that ultimately led to setting up the institute. Wu Qidi, then Chinese vice minister of education, visited Geneva and met with the principal of Geneva University Jean-Dominique Vassalli, and both agreed to launch a cooperation project.
In May 2009, based on this first discussion, the UNIGE leadership organized a meeting between university professors and the foreign relations department. The meeting was to assess the opportunity of establishing a Confucius Institute within the university, and in this case, who could lead the project to a successful completion. It was decided that Zimmermann would be the best candidate.
Zimmermann immediately called for the help of Grace Poizat-Xie, a Chinese professor teaching at the Eastern Asian Studies Department. He recalled, "I knew that, with the HSK (Chinese proficiency test) preparation and the teaching of Mandarin Chinese, Grace had a lot on her plate already. But I also knew she would be thrilled by this new project." He was right: Poizat-Xie agreed to be the new institute's vice director.
"We share the same ambition, which is to make the UNIGE CI an academically oriented institute," Zimmermann said. He knew that some of the Confucius Institutes were allowed to choose a particular way of development. For example, the CI of the London School of Economics focuses solely on business, and another one, at the London South Bank University, is dedicated to traditional Chinese medicine.
"After some consideration, I figured that the defining aspect of Geneva were the numerous international bodies implanted around the canton," Zimmermann said. "That's why I suggested we create a large, multi-disciplinary Confucius Institute."
By the end of 2010, the CI was established in a villa, a two-century-old historical monument, far away from the hubbub of the city center located on the shore of Leman Lake. That's where most of the seminars are held, an ideal venue where future plans can be devised in a calm and studious atmosphere.
"Academic Diplomacy"
The UNIGE CI sees itself as a center of scientific expertise. Located in an impressive building, the institute takes pride in its professional, specialized, and high-quality work. One principle everybody can agree on is that the academy should be neutral and constructive. This is one of the ways the academically oriented UNIGE CI has earned a good reputation in Switzerland, and around Europe.
Until now, UNIGE CI has hosted over 200 different events, most of them in the form of seminars and scientific meetings focused around its central concept of "academic diplomacy."
The second reason is related to the unique characteristics of UNIGE CI and to its will to maintain its status as a high-quality international university. To keep up with this line of conduct, the CI has committed itself to making no compromise with the academic level of its events.
"I must confess that, unfortunately, the understanding between Chinese and Westerners remains patchy on this aspect." Part of the problem owes to Westerners' lack of knowledge about China. For example, out of 1,000 students, there may be only one who has heard about the Opium Wars, a topic every child in China knows from history classes.
That's where Zimmermann sees the CI's raison d'être. It has to play a very important role in offering answers to questions that linger in the Swiss society. What's China? What are its defining characteristics? Why does it still have a communist government? How does the Chinese society work? That's the very purpose of a CI – to establish a better understanding between Western and Chinese peoples.