FOR the majority of Chinese people, baseball remains a complicated sport. But these days, things are starting to change. The interest in the typically Western sport has been on the rise for years. The formation of more and more Chinese baseball leagues and clubs have also seen an increasing number of programs teaching baseball to Chinese children. From its humble origins almost a century ago, baseball is starting to become more popular in the most populous country. Involving an artistic combination of individual attention and strategic teamwork and communication, perhaps baseball will be the perfect sport for China.
Not a Young Sport in China
The beginning of baseball in China traces back further than most would think. In 1863, the Shanghai Baseball Club was established; around the same time (in the late 1870s) that a young Sun Yat-sen, who led the revolution to overthrow China's last imperial dynasty, was learning to play the game at his brother's house in Hawaii. He later created a baseball association in China to cover his revolutionary activities.
From that time, Chinese universities soon began to stage baseball activities and, as expected, tournaments were established; the first game, as documents recorded, was held in Shanghai between St. John's University and YMCA of Shanghai in 1905. National interest in this traditionally American sport picked up quickly, and in 1915, China placed second in the Greater Asia baseball tournament held in Shanghai. Several decades later, baseball was as big as it would ever be. In 1959, teams from 30 regions came together in a national competition.
The opportunity to capture a huge new market with China's growing interest saw the Major League Baseball (MLB) open its first China office in Beijing in 2007, and has since developed the Chinese market and educated young athletes. An example is the youth baseball program Play Ball! in major Chinese cities. This program helps Chinese schools integrate baseball into their physical education curriculum, build professional development centers, and sponsor Beijing's college league. Furthermore, the MLB has three centers in Jiangsu Province which work to find and nurture future baseball talent. One such example is Xu Guiyan, a 19-year-old outfielder from Shenzhen, Guangdong Province, who was the first Chinese signed to a major league club, the Baltimore Orioles, in 2015.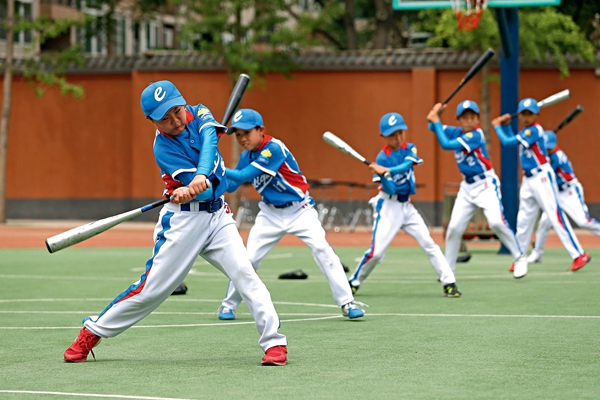 A baseball league of the primary school affiliated to Capital Normal University in Beijing receives training.
Growing Interest
In regards to the first official MLB game in China in 2008, San Diego Padres manager Bud Black said, "This is the start of more baseball in China. The seeds are planted, and we can continue to grow the game. Hopefully the Chinese people will embrace the game and have a passion for it over time like we do in America." In 2009, the MLB established its MLB Baseball Park initiative, the first baseball-themed entertainment tour in China. According to MLB sources, 400,000 Chinese citizens attended these programs in Beijing, Shanghai, Guangzhou, Chengdu, and Wuxi. The MLB is continuing to push hard to grow the sport in China, as the country presents a big market for not only future players, but also fans.
As with many other sports and industries in China, baseball is continuing to grow. More and more Chinese youths are getting involved with the sport, taking baseball class on the weekends or after school. Many programs for children have been established and often hold classes at the many baseball fields at the Beijing Olympic Park on Saturday and Sunday mornings. This interest in developing the sport in China has also been felt worldwide. Gerald Headd II, a former baseball coach in Beijing, said, "Baseball is an untapped sport that has limitless potential in China. As long as the funding is there to promote the game, I don't see why China won't be giving other countries a run for their money in the future."
In November 2003, U.S. baseball officials signed an agreement with China to exchange coaches, provide equipment and develop baseball in schools. The United States State Department has also funded a program to send Chinese baseball players and coaches to the United States for training.
Founded in 2002 and continuing to grow, the China Baseball League (CBL) is China's professional league for the sport, with seven teams around the country. In 2007, the CBL partnered with Japan's Nippon Professional Baseball, agreeing to allow Japanese clubs to send coaches and players to China and Chinese players to train at Japanese facilities. Japan is one of the biggest fans of baseball, with the Japanese national team currently ranked No.1 in the world by the International Baseball Federation. Through these different partnerships and collaborations, China has created opportunities for its citizens to experience another culture.
With growing Chinese interest in baseball and continual efforts from organizations in the West to build the sport, China might just be the future of baseball. Through heavy investments in China, the MLB hopes to one day cultivate a Yao Ming of baseball, which would bring huge exposure to the sport. For the time being, football and basketball remain the most popular Western sports, but baseball is quickly on the rise.