A trendsetter in the services sector, the 2023 China International Fair for Trade in Services was an apt setting for China's unveiling of new moves to accelerate deeper opening-up and boost international confidence in the Chinese market and global recovery in general.
The 2023 China International Fair for Trade in Services (CIFTIS) was a shot in the arm for the ailing global economy. China's commitment to go a step further in opening up the services sector, as affirmed by Chinese President Xi Jinping in his speech at the Global Trade in Services Summit of the 2023 CIFTIS on September 2, has bolstered global investors' confidence in the world's second-largest economy.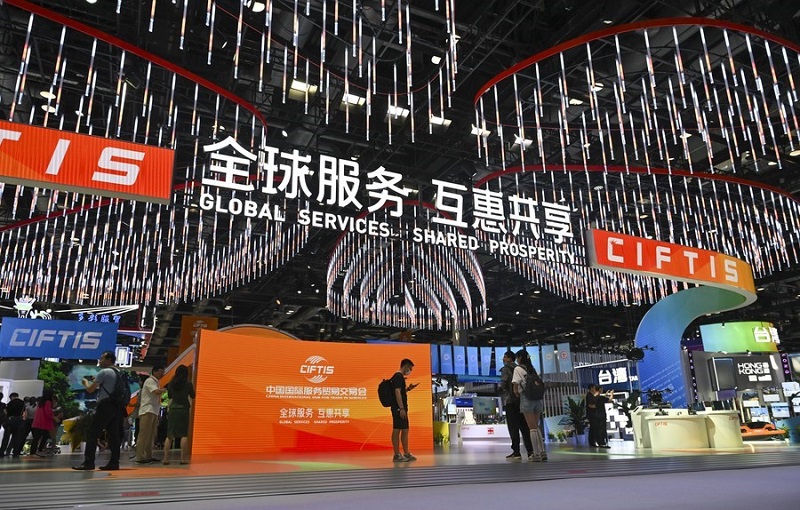 This photo taken on Sept. 1, 2023 shows an interior view of the China National Convention Center in Beijing, capital of China.(Xinhua/Hao Jianwei)
Xi underlined the pivotal role of the services sector in international economic and trade cooperation. A recent report jointly released by the World Bank Group and the World Trade Organization shows that China's share of global commercial services exports rose from three percent in 2005 to 5.4 percent in 2022. Meanwhile China's services imports and exports, with a yearly increase of 12.9 percent, reached a record high last year of around RMB 6 trillion (US $835.8 billion), so retaining its position as global second for the ninth consecutive year. The first seven months of this year also saw robust growth – 8.1 percent year-on-year – of China's services trade value, official data showed.
Themed "Opening-up leads development, cooperation delivers the future," the 2023 CIFTIS, the world's largest specialized fair of its kind, was held in Beijing from September 2 to 6. With attendees from 83 countries and international organizations and the participation of 2,400 companies, the CIFTIS showcased China's role in promoting trade in services and global economic recovery.
Digital and Green, the Rising New Trend
Now a hallmark of China's high-quality development, digital and green transition was also a highlight of the 2023 CIFTIS, so creating new opportunities for businesses.
The deepening global cooperation in trade in services and the services sector, the accelerated process of digital-driven, smart green growth, and burgeoning new technologies as well as new business forms and models would give a strong impetus to advancing economic globalization, reviving global growth, and enhancing the resilience of world economic development, President Xi said in his speech.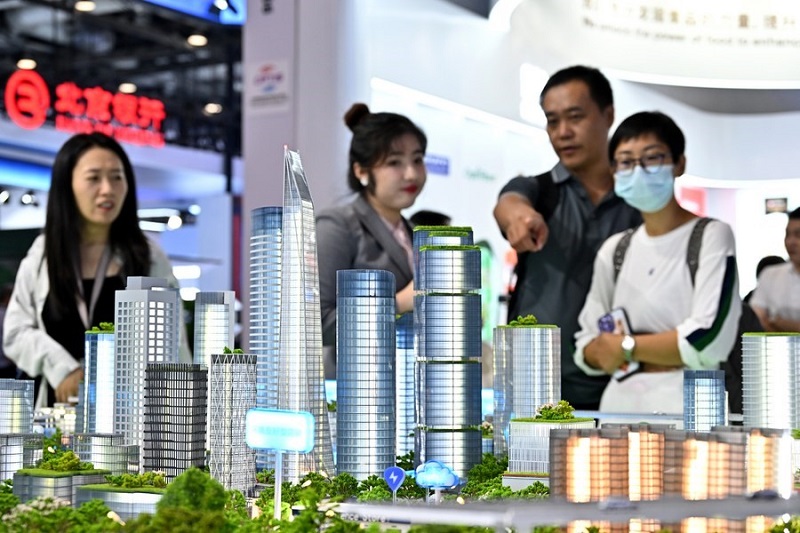 Visitors look at a sandbox model of "smart city" solution at the environmental services exhibition of the 2023 China International Fair for Trade in Services (CIFTIS) in Beijing, capital of China, Sept. 2, 2023. (Xinhua/Li Xin)
The scale of China's digital economy reached RMB 50.2 trillion in 2022, its share in the country's GDP having risen to 41.5 percent, signifying the digital economy's emergence as a key pillar of China's economic growth. Digital transformation is indeed sweeping the country. As of the end of May, more than 1,700 digital workshops and smart factories had been established in China, according to Xinhua reports. More than 240 Industrial Internet platforms wielding regional and industry influence have also been set up.
Policy support from local governments has been instrumental in fueling the digital economy. Beijing stated its aim to build the capital into a global benchmark city for the digital economy. Shanghai proposes building a global digital hub that will nurture 100 or more new-generation Internet giants and leading enterprises in the digital economy. Guangdong, meanwhile, intends building a national innovation development pilot zone for the digital economy on the back of its digital industrial clusters.
World Trade Organization data show that global digital services trade reached US $3.82 trillion in 2022, accounting for 53.7 percent of global services trade. The past several years have witnessed China's decisive moves to advance its digital trade and international cooperation. In 2022, the country's digital services trade volume reached US $371.08 billion, up 3.2 percent year-on-year, and the third highest growth rate of digital services trade scale among the top 10 countries. China also announced in early September that a further 16 commerce parks will be listed this year as national e-commerce demonstration bases.
Strengthening innovation-driven development is also on the country's agenda, evident in plans to advance cultivation of new drivers of services trade digitalization, bring pilot reforms on basic data systems into effect, and promote digital trade through reform and innovation, Xi said in his address to the Global Trade in Services Summit on September 2.
China's steady opening-up and optimization of its business environment, along with proactive promotion of digital and green trade in services, considerably benefit both domestic and foreign businesses, said Gu Fan, general manager of Growth Acceleration, Amazon Web Services Greater China, at the 2023 CIFTIS in an interview with Xinhua. Gu also mentioned his company's intended further investments geared to tapping into the Chinese market.
President Xi announced in his speech China's planned establishment of a national voluntary greenhouse gas emission reduction trading market, and pledged support for the services sector's role in green development. Managing Partner of EY Greater China Markets Michael Bi observed, according to Xinhua, that China's consistent and proactive promotion of green transformation broadens foreign companies' space for market development, and provides new trade growth drivers. EY China released at the CIFTIS a white paper titled "Green Power Trading: Accelerating Green Energy Consumption" which offers enterprises suggestions in regard to carbon emission reductions.
Commitment to Openness and Free Trade
President Xi reaffirmed China's commitment to promoting high-standard opening-up. "In developing the services sector and trade in services, China will work with all countries and parties to advance inclusive development through openness, promote connectivity and integration through cooperation, foster drivers for development through innovation, and create a better future through shared services, in a bid to jointly get the world economy onto the track of sustained recovery," Xi said.
In August, China's State Council issued a 24-point guideline covering six areas to optimize the country's foreign investment environment. Its aim is to improve foreign capital utilization, guarantee the national treatment of foreign companies, strengthen the protection of foreign investment, and expand fiscal and tax support. As many of these measures are groundbreaking, the move has been described as "unprecedentedly steadfast." They include encouraging foreign firms and their R&D centers to undertake major sci-tech projects, and encouraging qualified foreign investors to set up investment companies and regional headquarters, as well as exploring a convenient and secure management mechanism for cross-border data flows and facilitating the travel of senior executives, technicians, and their families.
During the same month, the Ministry of Finance and the State Taxation Administration announced to extend the current preferential individual income tax policies for foreign individuals to December 31, 2027.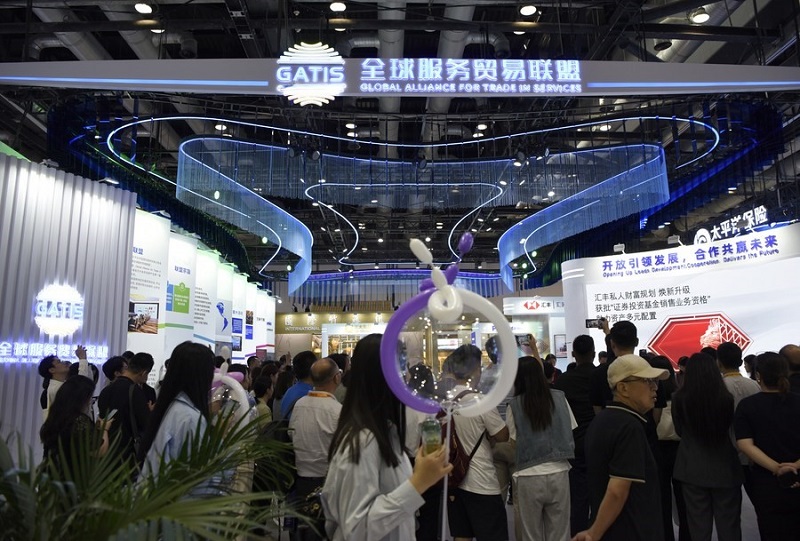 People visit the booth of the Global Alliance for Trade in Services during the 2023 China International Fair for Trade in Services (CIFTIS) at China National Convention Center in Beijing, capital of China, Sept. 4, 2023. (Xinhua/Wu Wei)
The American Chamber of Commerce in China (AmCham China) Chairman Colm Rafferty applauded these decisions, saying they would enable companies' retention and attraction of vital expatriate employees while efficiently managing operational costs.
EY Greater China Markets' Michael Bi remarked that China's consistent efforts to advance high-standard opening-up will enable more foreign investment to flow into the Chinese market, and the forging of more synergy to propel global economic recovery.
President Xi outlined in his speech a range of measures that will create a "more open and more inclusive" development environment for foreign businesses in China. They include the expansion of a globally-oriented network of high-standard free trade areas, negotiations on the negative lists of trade in services and investment, and broader opening-up in services areas such as telecommunications, tourism, law, and vocational examinations. "Our national integrated demonstration zone for greater openness in the services sector as well as eligible pilot free trade zones and free trade port will be the first to align their policies with high-standard international economic and trade rules," Xi said.
China's deepened reforms in its free trade zones (FTZs) will expand its globally-oriented network of high-standard FTZs. On June 29. To align itself with high-standard international economic and trade rules, China's State Council issued a circular detailing measures to promote the institutional opening-up of FTZs in Shanghai, Guangdong, Tianjin, Fujian, and Beijing, as well as the Hainan free trade port (FTP), as pilot forerunners. Those measures, mainly focusing on trade in goods and services, business environment, and risk control, are expected to help the pilot areas explore more paths toward opening-up.
China has streamlined administrative procedures and increased policy transparency, so sending positive signals to foreign investors. To facilitate the entry of foreign businesses, the Ministry of Commerce canceled registration requirements for businesses engaged in foreign trade activities.
Over 90 percent of companies taking part in a recent survey by the American Chamber of Commerce in South China consider China as one of their most important investment destinations, while 75 percent said they plan to reinvest in China in 2023.
Bolstered Confidence
China's recent opening-up moves and measures to facilitate the services trade are creating new opportunities for global businesses. Global economic doldrums notwithstanding, the steadily improving business performances of many multinational companies have restored and bolstered their confidence in the Chinese market.
The revenues of U.S. coffee chain brand Starbucks in China grew 60 percent year-on-year in the third quarter (Q3) of its 2023 fiscal year, excluding the impact of foreign currency translation. A total of 237 new outlets opened during that period.
September 2 marked Britain-headquartered pharmaceutical company AstraZeneca's third CIFTIS participation, its eye clearly on China's growing business opportunities. In August, AstraZeneca invested US $250 million in its Qingdao pMDI inhalation manufacturing and supply site in east China's Shandong Province. "China is becoming more and more important in our global development strategy," said Leon Wang, executive vice president of AstraZeneca.
In an interview with Xinhua, the Italian Trade Commissioner of the Italian Trade Agency (ITA) Beijing Office and Coordinator for China and Mongolia Gianpaolo Bruno said, "CIFTIS helps our companies engage in a direct relationship with Chinese companies, improve the knowledge of both sides and talk about complete development projects."
The first seven months of the year saw a 25.3 percent year-on-year expansion of foreign direct investment (FDI) in the Chinese mainland, as regards actual use in hi-tech manufacturing, according to the Ministry of Commerce.
As President Xi promised in his speech, China will lend new impetus to global development by virtue of the opportunities generated by China's vast market, and offer more and better Chinese services to the world through high-quality development in a bid to increase the sense of gain of peoples throughout the world.