This year's "two sessions," the first gatherings of national lawmakers and political advisors since the 20th National Congress of the Communist Party of China (CPC), magnetized public attention. International observers hoped to discern – through the policies and goals raised at these events and the speeches of China's leadership – the country's development direction, and how it would deal with the rest of the world. In his address on March 13 at the closing meeting of the first session of the 14th National People's Congress (NPC), General Secretary of the CPC Central Committee Xi Jinping, unanimously elected president of the People's Republic of China (PRC) and chairman of the Central Military Commission (CMC) of the PRC, declared, "On the new journey ahead, China will unswervingly advance high-quality development."
High-quality development, regarded as "first and foremost" in China's modernization drive, has been the unvarying theme of Xi's discussions with lawmakers and political advisors during this year's "two sessions."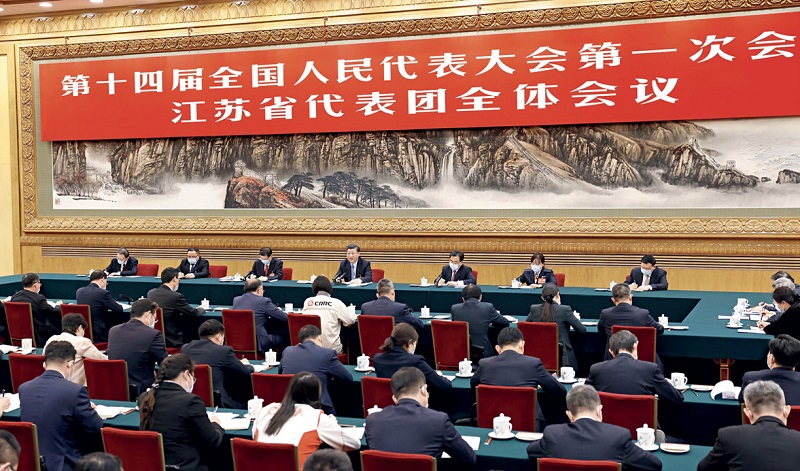 Chinese President Xi Jinping takes part in a deliberation with his fellow deputies from the delegation of Jiangsu Province, at the first session of the 14th National People's Congress in Beijing on March 5, 2023.
Innovation Spearheading High-quality Development
Efforts should be made to fully and faithfully apply the new development philosophy on all fronts, and better coordinate the effective upgrade in quality with the appropriate expansion in quantity in economic development, Xi said while attending a deliberation with his fellow deputies from the delegation of Jiangsu Province at the first session of the 14th NPC on March 5. The new development concept, which Xi first proposed in October 2015, advocates innovative, coordinated development that is also green, open, and shared.
While fleshing out the framework for high-quality development Xi noted, "Speeding up efforts to achieve greater self-reliance and strength in science and technology is the path China must take to advance high-quality development."
In 2022, China's total spending on research and development (R&D) amounted to RMB 3.1 trillion, a 10.4 percent increase year-on-year, having maintained double-digit growth for seven consecutive years. Sci-tech innovation is now playing an ever more important role in promoting China's high-quality development and modernization drive.
The 2023 government work report states that China has fully implemented the innovation-driven development strategy over the past five years and improved and upgraded the industrial structure. National Bureau of Statistics data show that, in 2022, the added value of China's high-tech manufacturing industry above the designated size expanded by 7.4 percent compared to that of the previous year, and that investment in high-tech industries increased by 18.9 percent.
In light of fierce global competitions, China must open up new development areas and tracks, and foster new strengths and growth drivers, all of which fundamentally depends on sci-tech innovation, Xi said.
From manned spaceflight, lunar and Martian exploration, to deep-sea and deep-earth probes; and from satellite navigation to quantum information, the scintillating path of China's sci-tech innovation continues to amaze the world. As a main driving force of Chinese modernization, sci-tech empowers China's high-quality development. The contribution of scientific and technological progress to the country's economic growth now exceeds 60 percent, according to the 2023 government work report.
Self-reliance in science and technology has shaped the core competitiveness of Chinese high-tech firms, so making them an essential component of the global industrial chain. Battery producer Contemporary Amperex Technology Co., Limited (CATL) of Ningde, east China's Fujian Province, exports its blue battery cells to automakers worldwide, including BMW, Tesla, Mercedes-Benz, Volkswagen, and Volvo. Founded in 2011, the company's power battery system usage has ranked a global first for six consecutive years. CATL has built power battery production plants in Thuringia in Germany, and Debrecen in Hungary.
In 2022, China's EV exports grew by 131.8 percent, those of its photovoltaic (PV) products by 67.8 percent, and of its lithium batteries by 86.7 percent, so bucking the sluggish global growth trend in foreign trade. China's global market share of PV polysilicon, lithium battery cells and modules surpassed 70 percent in 2021, according to the China Photovoltaic Industry Association.
Xi has on multiple occasions called for enhanced openness, trust, and cooperation in the international sci-tech community, in the interests of making fresh and greater contributions to human civilization's progress,
China has established sci-tech cooperation relations with more than 160 countries and regions, and signed 116 inter-governmental sci-tech cooperation agreements. China has also signed agreements and carried out cooperation projects in regard to its manned space program with France, Germany, Italy, Russia, and Pakistan, as well as with many international space agencies and organizations. The country's Tiangong space station is the first of its kind to make itself open to all UN member states. The country's Five-hundred-meter Aperture Spherical Radio Telescope, moreover, has been available to scientists worldwide since April 1, 2021.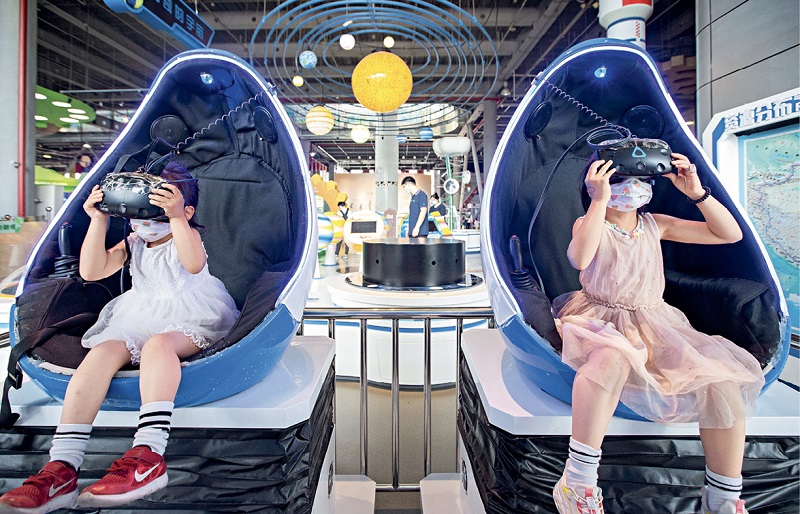 Two young children, via virtual reality technology, explore the marine world at Nanjing Science and Technology Museum on May 21, 2022.
Upgrading the Manufacturing Industry
President Xi also stressed, at the joint deliberation with his fellow deputies from Jiangsu, the vital role of real economy in high-quality development. He laid particular emphasis on advancing new industrialization, making the manufacturing sector smarter, greener and more high-end, and accelerating digital economy development.
According to a Xinhua report, NPC deputy Shan Zenghai, chief engineer of Xuzhou Construction Machinery Group (XCMG), told Xi at the group deliberation, "The 220-tonne all-terrain crane, the model you operated in 2017 during your inspection tour of XCMG, can now be 100 percent domestically produced as compared to 71 percent in the past."
"What about the chips in the cranes? Are they also homegrown?" Xi inquired. The answer was in the affirmative.
Shan went on to say that XCMG can now manufacture 91 percent of all its products' components – up from 62 percent previously. Xi commended the company's achievements in making world-class engineering machinery.
"China's manufacturing industry currently boasts a complete range of sectors and categories," Xi said. "At the same time, we need to upgrade to medium- and high-end manufacturing. This is a hallmark of high-quality development."
The manufacturing industry is, and always has been a sector indispensable to China, Xi noted. He added that a large country with a population of over 1.4 billion must be self-reliant in addressing any challenges that arise. To make the manufacturing sector high-end, smarter, and greener, the country must advance new industrialization, intensify efforts to re-engineer its industrial foundation, and tackle key issues relating to major technologies and equipment.
Upgrading the manufacturing sector has long topped China's development agenda. Intelligent manufacturing has hence become a main technical route to the high-quality development of China's manufacturing sector. All 13,000 of Shenzhen's industrial enterprises above the designated size expect to realize digital transformation by 2025, according to the municipal industry and information technology bureau. Ministry of Industry and Information Technology data show that China's scale of smart manufacturing equipment is close to RMB 3 trillion, with the number of system solution providers reaching 6,000.
China will, according to a smart manufacturing development plan, see 70 percent of its major manufacturing firms basically digitalized and networked, and build more than 500 industry-leading smart-manufacturing demonstration plants by 2025. And by 2035 all of China's manufacturing firms above a designated size will be digitalized and networked.
Thanks to its robot-operated smart warehouse and sorting systems, Shenzhen LCSC Electronics Technology Co., Ltd. is able to handle nearly 10,000 orders daily on its e-commerce platform for electronic gadgets in Huaqiangbei, one of the world's largest electronics markets packed with small shops in Shenzhen. The platform has 2.5 million registered users globally. In 2021 the total output value of the robot industry in Shenzhen, the country's manufacturing hub, reached RMB 158.2 billion, the total number of robotics enterprises having risen to 945, according to the White Paper on Robot Industry Development.
Zhejiang Province, another major manufacturing powerhouse, now houses over 500 smart factories. From 2019 to 2021, their average production efficiency grew by 54 percent, while costs shrank by 19 percent, according to local data.
Data from the Ministry of Industry and Information Technology, meanwhile, show that the added value of China's manufacturing sector increased from RMB 16.98 trillion in 2012 to RMB 31.4 trillion in 2021.
Invigorating the Private Sector
Upon joining a joint group meeting of national political advisors from the China National Democratic Construction Association and the All-China Federation of Industry and Commerce, President Xi said that private firms should take the initiative in pursuing high-quality development. He added that the investment of private capital in major state projects and key industrial and supply chain projects should be energized, encouraged, and promoted.
The private sector has played an important role in China's economic development. Official data show that it contributes 50 or more percent of tax revenue, more than 60 percent of GDP, and over 70 percent of technological innovations. It also provides 80 percent of urban jobs, and accounts for around 90 percent of China's market entities.
Xi called for efforts to optimize the environment for private enterprise development; to remove institutional barriers impeding their participation in market competition in a fair manner, protect their property rights as well as the rights and interests of entrepreneurs in accordance with the law, and ensure equal treatment of private enterprises and state-owned enterprises.
China's support for private companies has boosted entrepreneurs' confidence enough for them now to seek breakthroughs in business operations and technical innovation. Fang Hongbo, president of China's leading home appliance maker Midea Group, stated in an interview with Global Times that his company has accumulatively invested more than RMB 25 billion. The Midea Group is now counting on its investment in talent and technology to gain ground in future competition.
Executive Board Director of Anta Sports Wu Yonghua is quoted in a China Daily article as saying, "For a long time, governments at all levels have issued many policies, such as tax incentives, to support enterprises that value research and development. We will continue focusing on innovation, and are committed to helping drive the development of the real economy."
Wu went on to say that Anta, a sportswear company with a global No. 3 ranking in terms of market value, has so far applied for more than 2,000 national innovation patents.
"What I care most about in 2023 are the key projects in the digital economy that will have an immediate impact as regards stabilizing economic growth," said Qi Xiangdong, chairman of Chinese cybersecurity company Qi-Anxin Technology Group, and also vice chairman of the All-China Federation of Industry and Commerce. China's east-data-west-computing project, involving the construction of data centers in key regions across the country, will bring huge opportunities and drive demand for cybersecurity services, Qi said. His company is honing its R&D capabilities in anticipation of this high demand.
The National Development and Reform Commission predicts that China's investment in big data centers will grow by more than 20 percent annually during the 14th Five-Year Plan period (2021-25), while the cumulative investment in related fields is set to surpass RMB 3 trillion.
In mapping out its strategic plans, the "two sessions" laid down the main agenda for 2023. Aiming to achieve economic growth of around five percent, the country's high-quality development is gathering pace.