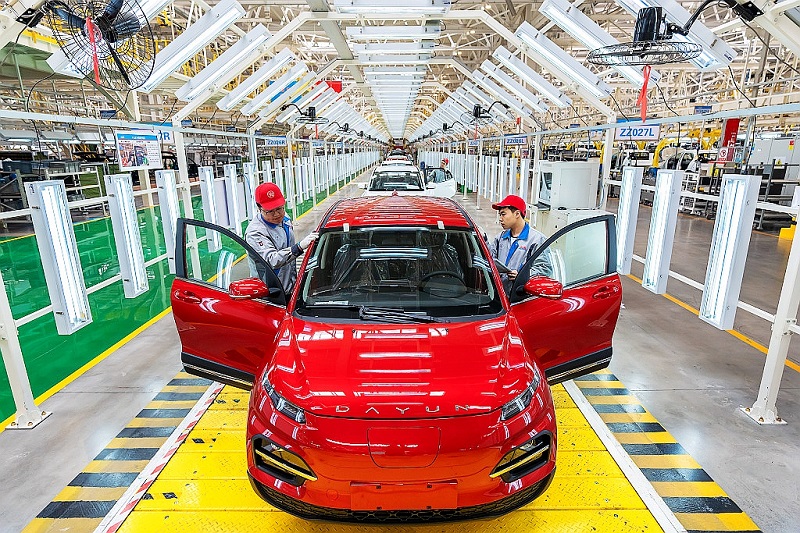 New energy vehicles roll off the production line of a carmaker in Yuncheng, north China's Shanxi province, on March 28, 2023. [Photo/VCG]
China's economy is recovering from a period of turbulence and is on the up again. As reported by Xinhua: "Economic experts and business leaders showed optimism about China's economic growth outlook in 2023 at the just-concluded China Development Forum (CDF) 2023, saying that China is a major driver of the global economy and a reliable supplier for industrial and supply chains."
Despite an increasingly uncertain global economic environment and the challenges that it has sustained, including the COVID-19 pandemic, geopolitical tensions, the war in Ukraine, an energy price crisis, and now financial turmoil in the West, most major economist groups and international organizations predict that China's economy will grow by 5% in the year of 2023, in line with its government target. Given these circumstances, this is an impressive yield and, contrary to the rampant negativity espoused by the Western mainstream media, shows the underlying strength of China's economy.
For China, 2023 will be a year of recovery. The transition away from COVID-19 prevention policies has unleashed a new lease of life for industries in the country. China's sustained efforts to open its door wide open to the outside world will continue to also have a positive run-on effect on other countries as well as growth of domestic consumption. This positions China as a bastion of global growth again in an inherently uncertain international environment.
Supply chain strength
In making a return to higher growth, the Chinese economy will again demonstrate its resilience as the center of the global supply chain and a provider of goods. Although poor economic circumstances in the West may dampen the growth of exports, especially as run-on inflation in certain countries hamper consumption, China nonetheless remains the most reliable and productive supply chain in terms of its capacity, ability to meet demand, affordability, and logistical competitiveness.
Despite the fact that the United States has promoted "decoupling" between the world's two largest economies and is attempting to forcibly rewrite global supply chains out of geopolitical considerations, China's role in the global supply chain is simply too big and too critical for businesses to ignore. As an Apple insider recently noted, "Apple assembly partner Foxconn is continuing its expansion push by renting a new plot of land in China, which will be used to build smart warehouses near its major iPhone factory." Likewise, as quoted in China Daily, "Japanese electronics maker Seiko Epson will intensify efforts to expand investments in China and launch more eco-friendly, innovative, and tailor-made products that cater to the demand of Chinese consumers."
Markets ultimately talk. As much as there has been talk of diversifying to other emerging economies, the reality is that China remains the single largest consumer market in the world in terms of its level of development in proportion to its population and, as such, it is impossible for any serious business targeting the "global market" to ultimately ignore China. What is also often overlooked is that China's position in the value chain of global manufacturing is also changing. China's economy is evolving and is moving away from low-end to higher-end manufacturing.
An anchor of global growth
Given this, the Chinese economy in 2023 has positioned itself to be an anchor of global growth amidst turbulence around the world. As Western economies fall into a state of stagnation with high inflation, low-to-zero growth rates, and also crippling interest rates, China is posed to be one of the world's best-performing major economies and a bastion of stability. As such, it remains an important source of revenue growth and security that businesses can invest in as their situation deteriorates at home. Thus, despite mainstream media negativity, business owners ought to be optimistic, not pessimistic, about their prospects in China.
Tom Fowdy is a British political and international relations analyst and a graduate of Durham and Oxford universities. For more information please visit:
http://www.china.org.cn/opinion/TomFowdy.htm
Opinion articles reflect the views of their authors, not necessarily those of China.org.cn.