The Belt and Road Initiative (BRI) initiated by China seeks to connect Asia with Africa and Europe via land and maritime networks with the aim of improving regional integration, increasing trade and stimulating economic growth.
The BRI comprises a Silk Road Economic Belt – a trans-continental passage that links China with Southeast Asia, South Asia, Central Asia, Russia and Europe by land – and a 21st century Maritime Silk Road, a sea route connecting China's coastal regions with Southeast and South Asia, the South Pacific, the Middle East and Eastern Africa, all the way to Europe.
The initiative defines five major priorities: policy coordination; infrastructure connectivity; unimpeded trade; financial integration; and connecting people.
The BRI has been associated with a very large programme of investments in infrastructure development for ports, roads, railways and airports, as well as power plants and telecommunications networks. Since 2019, Chinese state-led BRI lending volumes have been in decline. The BRI now places increasing emphasis on "high-quality investment", including through greater use of project finance, risk mitigation tools, and green finance.
The name was formulated by China's President Xi Jinping, who drew inspiration from the concept of the Silk Road established during the Han Dynasty 2,000 years ago – an ancient network of trade routes that connected China to the Mediterranean via Eurasia for centuries.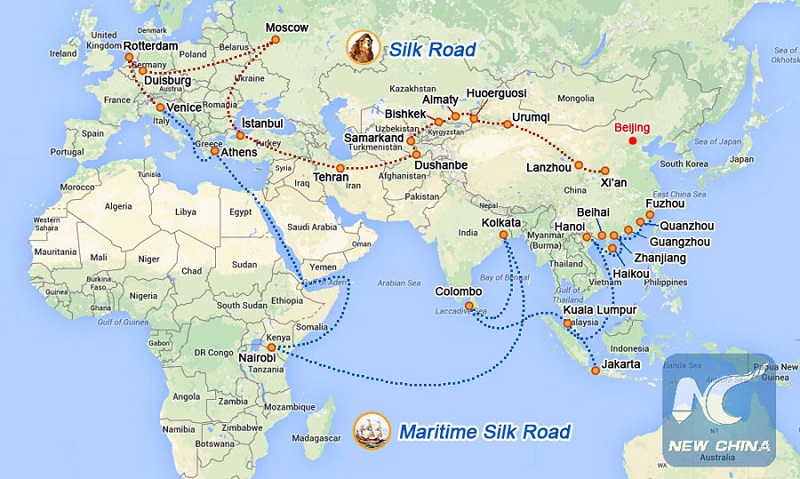 Picture shows the Silk Road Economic Belt and the 21st Century Maritime Silk Road, collectively known as the Belt and Road initiative. (Photo/Xinhua)
The ancient Silk Road, which was a network of trade routes originating from China, connecting Asia, Europe and Africa. Ancient Chinese poems had indicated that, numerous emissaries and traders took to the Road, and ships set sail, bringing about a boom in travel and trade over land and across the seas, and providing a strong impetus to regional development and exchanges and cooperation among different nations and civilizations along the routes.
The world today is undergoing great development and profound transformation and changes, which calls for new growth drivers for the global economy, more inclusive and balanced development and ways and means to bridge the yawning gap between the rich and the poor.
In line with the prevailing trend of economic globalization and in response to the call of the times for reforming the global governance system and the strong aspiration of the world's people for a better life, Chinese President Xi Jinping proposed the building of the Silk Road Economic Belt and the 21st Century Maritime Silk Road in 2013, later known as the Belt and Road Initiative (BRI).
This is an initiative for open and inclusive economic cooperation that follows the principle of extensive consultation, joint contribution and shared benefits. It is based on and centered around economic cooperation, underpinned by people-to-people exchanges and mutual learning among civilizations, and aims to increase connectivity among countries along the routes through deepened practical and win-win cooperation to achieve common development.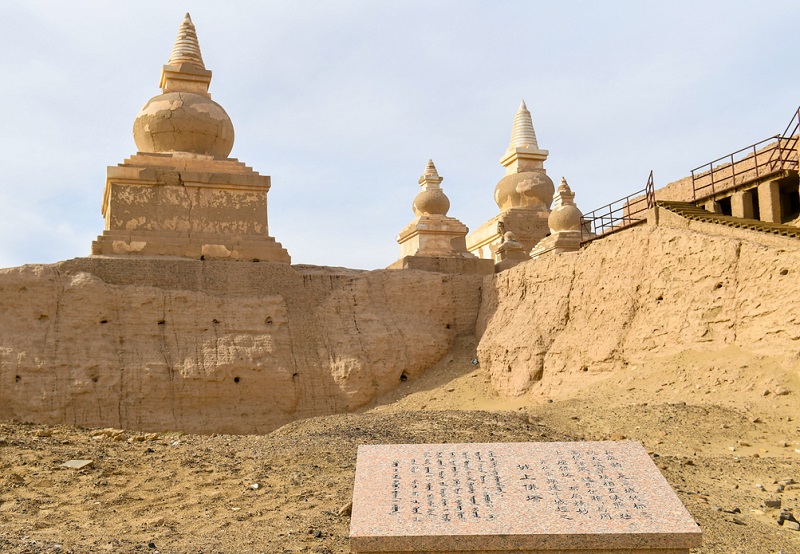 Photo taken on Oct. 18, 2019 shows a view of Heicheng relic site in Ejina Banner, north China's Inner Mongolia Autonomous Region. Heicheng relic site is a well preserved ancient city on the Silk Road that linked China with central and western Asia. (Photo/Xinhua)
The five major priorities are as stated below:
Foremost, policy connectivity: states that, any cooperation project under the BRI will be carried out on the basis of consultation on an equal footing, with no political strings attached. It will not be imposed from a "position of strength". Rather China seeks to align the initiative with other countries' development strategies and regional and international development agendas so that the parties involved can draw upon each other's strengths to achieve complementarity. In fact, the BRI has been effectively aligned with policy initiatives like the Middle Corridor initiative of Turkey, the Bright Road initiative of Kazakhstan, the Eurasian Economic Union of Russia and the Development Road initiative of Mongolia to produce greater synergy and a multiplying effect.
In addition, infrastructure connectivity: China is working with relevant countries to accelerate implementation of major infrastructure projects such as railways, roads and ports, with many more connectivity projects in the pipeline. It is the goal of China to create better conditions and more opportunities for trade and investment cooperation and economic development of all countries.
The Infrastructure connectivity saves transportation time and cost, unleashes trade and investment potential, and lends impetus to global economic recovery from the pandemic. Unimpeded trade is a focus of efforts in advancing the BRI, and a strong driving force for sustained growth of the world economy.
Furthermore, trade connectivity: China is working with other BRI participating countries to promote trade and investment facilitation, improve business environment and build FTAs in firm support of the multilateral trade regime and the building of an open world economy.
Moreover, financial connectivity: China has engaged in diverse forms of financial cooperation with BRI partner countries and organizations, and is willing and ready to provide them with financial support for economic development to the best of its ability. The Asian Infrastructure Investment Bank and the Silk Road Fund, for instance, have already made good contributions to economic growth in relevant countries.
Last but not the least, people-to-people connectivity: Guided by the Silk Road spirit, China and other BRI participating countries have carried out extensive cooperation in science, education, culture, health and people-to-people exchanges with firm commitment to enhancing exchanges, dialogue and mutual learning among different civilizations.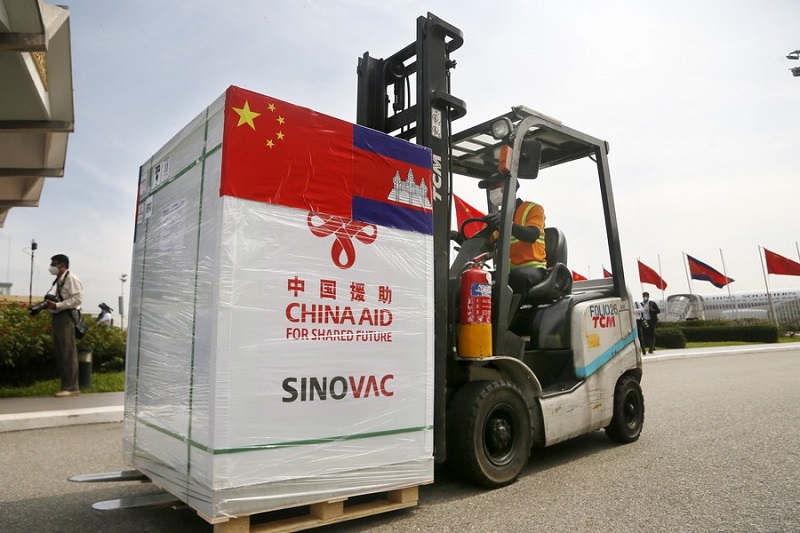 A worker transfers a batch of Sinovac COVID-19 vaccines donated by China at the Phnom Penh International Airport in Phnom Penh, Cambodia, Nov. 17, 2021. (PhotoXinhua)
Having received positive response and broad support from the international community, the BRI is being translated from a blueprint into reality and has grown to be the broadest and largest platform for international cooperation in the world, generating huge opportunities and dividends to countries around the world. The cumulative trade between China and its BRI partners has exceeded $9.2 trillion, and Chinese businesses' direct investment in countries along the routes exceeded $130 billion. A World Bank report estimated that when fully implemented, the BRI could help nearly 40 million people in relevant countries get out of poverty.
Despite the sudden outbreak of COVID-19 that has ravaged the world for the past three years, the Belt and Road cooperation has not come to a halt. Instead, it has pressed ahead against the headwind, demonstrating strong resilience and vitality.
In response to the COVID-19 pandemic, China and its BRI partners have worked together to put up an international firewall of cooperation against the virus. China has held over 100 meetings with relevant countries to share experience in pandemic response, provided more than 280 billion masks, 3.4 billion protective suits and 4 billion testing kits to the world, and helped many countries build testing labs. China has also conducted extensive vaccine cooperation with many countries, and had by mid-June, 2021 donated and exported more than 400 million doses of finished and bulk vaccines to more than 90 countries, most of which were BRI partners.
In spite of the challenges posed by the pandemic, trade and investment cooperation under the BRI has made remarkable achievements, making the Belt and Road a promising model of recovery for restoring economic and social activity and a model of growth for unlocking development potential. The China-Europe freight trains playing a more prominent role as an artery for trade, the construction of the New International Land-Sea Trade Corridor picking up speed and the cross-border e-commerce boosting the circulation of supplies of anti-pandemic materials and daily necessities. Platforms like China International Import Expo (CIIE) and China Import and Export Fair (Canton Fair) are also playing an increasingly important role in facilitating trade connectivity and technological cooperation among countries.
In 2020, Chinese investors made non-financial direct investment of $18.61 billion in 58 Belt and Road countries, despite a 35 percent year-on-year decline in global outward direct investment, and their accumulated investment in overseas economic and trade cooperation zones reached $44.85 billion, creating 373,000 local jobs.
Going forward, China had indicated that it will continue to work with all other parties to pursue high-quality Belt and Road cooperation in line with the principle of extensive consultation, joint contribution and shared benefits and the philosophy of open, green and clean development to make it high-standard, sustainable and beneficial to the people.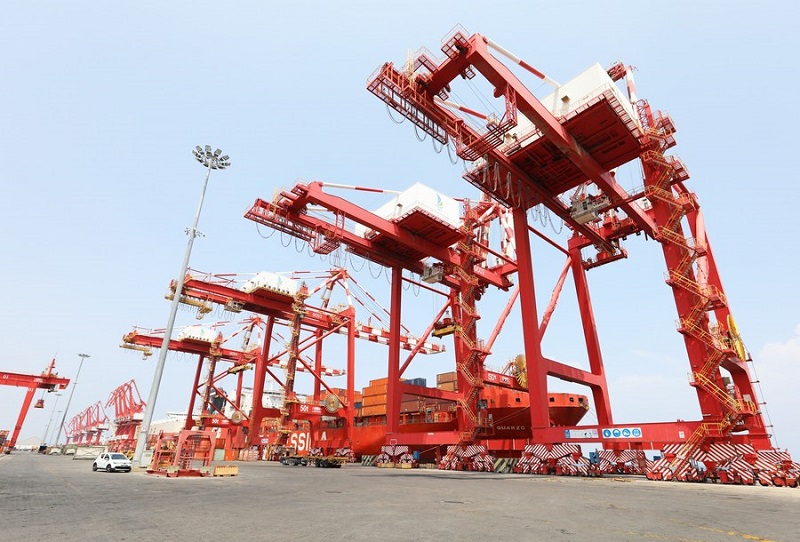 This photo taken on Sept. 20, 2022 shows the Doraleh Multi-Purpose Port, constructed by China State Construction Engineering Corporation (CSCEC), in Djibouti City, capital of Djibouti. (Photo/Xinhua)
The Belt and Road is a road to prosperity. China and other participating countries will continue to promote all-round infrastructure connectivity and enhance the free flow of goods, capital, technology and personnel to deliver more tangible benefits to the people and enable more developing countries to participate in and gain from the Belt and Road cooperation.
The Belt and Road is a road for green development. China is advocating for a green, low-carbon, circular and sustainable way of life and work, and call for increased cooperation in green infrastructure, green energy and green finance and deepened implementation of the UN 2030 Agenda for Sustainable Development, so as to bring about harmonious coexistence between man and nature and sustainable development of human society.
The Belt and Road is a road for health. China will continue to work with its BRI partners to help and support underdeveloped countries and regions in fighting and preventing epidemics, promote exchanges and cooperation in public health R&D, scale up cooperation in virus origin tracing and vaccine R&D and production, and further improve global public health governance, so as to build a robust global community of health for all.
The BRI was proposed by China and belongs to the whole world. It is open to all countries, and its achievements will be shared by all.
China had welcomed and supported the United States of America's participation in the Belt and Road cooperation. The two countries were highly complementary in economic structures and comparative strengths. The cooperation on the Belt and Road will serve not only the interests of the U.S. and China, but also the interests of all participants in the initiative. The BRI would provide broad opportunities for U.S. businesses, open up a new horizon for China-U.S. cooperation, and place the two countries in a better position to help partner countries strengthen infrastructure building, advance industrialization process and improve people's living standard.
China has embarked on a new journey to build a modern socialist country in all respects. China is actively building a new paradigm of development with domestic cycle being the mainstay and domestic and international cycles reinforcing each other. This will provide stronger impetus and greater space for the Belt and Road cooperation. China will continue to work with relevant countries to promote high-quality Belt and Road cooperation and help them meet their needs in pandemic response and economic recovery so as to jointly build a community with a shared future for mankind and create a brighter future for all countries.
The author is Deputy Director of Human Resource Management and Development, Ministry of Defence of Ghana. The article reflects the author's opinions, and not necessarily the views of China Focus.