Tale as old as time, song as old as rhyme. The U.S. interferes with China all the time.
The year 2022 will be remembered as one when the U.S. said all the right things about China being an equal partner in combating some of the globe's most pressing problems. Consider that President Joe Biden said during his meeting last month with Chinese president Xi Jinping that the two nations could be critical allies in addressing climate change and global food insecurity.
The year also will be remembered as one when the U.S. did all the wrong things when it came to treating China as that bilateral partner.
And actions matter more than words.
The latest example of America's commitment to wound China led to a firm rebuke by the Chinese government. It also required communication from a leading U.S. business organization urging caution.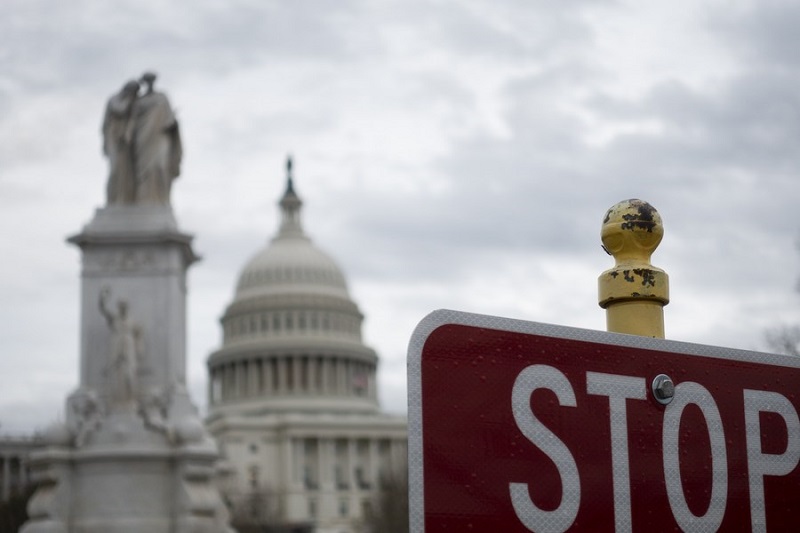 The Capitol and a stop sign are seen in Washington D.C., the United States, on Feb. 13, 2020. (Photo/Xinhua)
First, the background: The United States is advancing legislation, titled the National Defense Authorization Act (NDAA) of 2023, that would earmark close to $850 billion to domestic and international military affairs. As you might guess, the legislation is full of ideas that supposedly will make the U.S. safer. Few people are asking why the U.S. — already possessing the world's largest military — needs to spend at such high levels. What exactly is the U.S. protecting? And from which real or imagined enemies?
More important to our conversation here, the NDAA also contains a kind of poison pill: It would prevent government agencies from doing business with Chinese semiconductor manufacturers.
The U.S. Chamber of Commerce was quick to voice its concern. In a letter, key Washington politicians were reminded that limiting the business interaction between the U.S. and China would serve neither country, and it also would not advance any relevant U.S. political interests.
In part, the letter stated, "…an amendment was recently filed to the Senate NDAA package by Sen. Josh Hawley that would prohibit entities contracting with the federal government from doing business in China, which is the third largest market for U.S. exports. This would cause massive disruptions to U.S. commerce and procurement…"
The Chinese foreign ministry also acknowledged flaws in the legislation. According to Xinhua, spokesperson Mao Ning said, "The NDAA is essentially U.S. domestic legislation. That said, we firmly reject inserting negative content about China into the draft legislation."
She added, "The United States needs to listen to domestic voices calling for reason, stop politicizing, weaponizing and ideologizing economic, trade and sci-tech issues, stop blocking and hobbling Chinese companies, respect the law of the market economy and free trade rules, and defend the security and stability of global industrial and supply chains."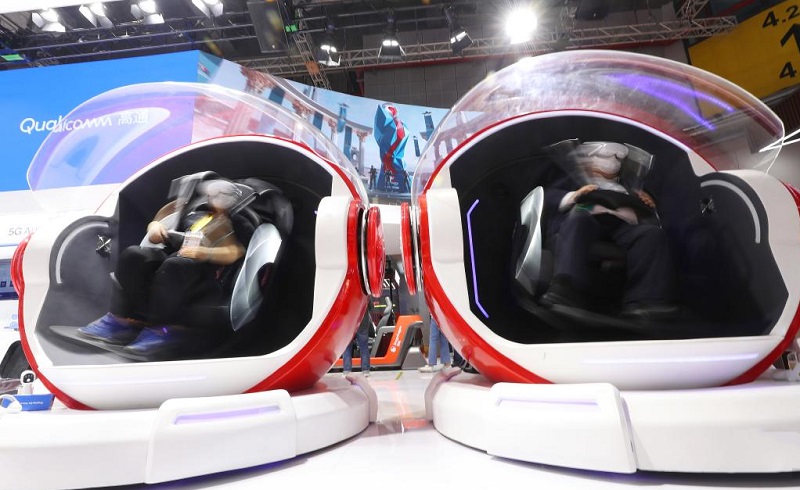 This photo taken on Nov. 5, 2022 shows VR gaming capsules of U.S. company Qualcomm displayed in the fifth China International Import Expo (CIIE) in east China's Shanghai. (Photo/Xinhua)
Critics might use Ms. Mao's words to suggest that China was doing something it has encouraged other countries not to do — interfere with a nation's domestic interests. Such an accusation would be unfair and misplaced: China is not attempting to undermine the legislative effort; rather, it is stating its opposition to one element of the bill. Notice here that China is not engaging in over-the-top rhetoric (as the U.S. regularly does) and it is not trying to create a crisis where one does not exist (as the U.S. also regularly does).
Keep in mind that the NDAA aligns closely with another recent U.S. effort to make it more difficult for China to be a key player in the semiconductor industry. The CHIPS and Science Act, which President Biden signed late last month, prohibits the sale to China of the most sophisticated chips necessary to make semiconductors. Supporters contend that China will now face significant roadblocks as it seeks to build the semiconductors, which are used in everything from smartphones to AI. But legitimate questions remain, including whether conservatives in the U.S. are using the CHIPS and Science Act as a means to decouple the U.S. from China.
If they are, the cliche of biting off one's nose in order to spite one's face will be uttered. Working together, the U.S. and China can create powerful products that will benefit people all over the globe. Working apart, which has echoes of the Cold War thinking that infects too many American politicians, would stifle cooperation and make it harder for the Earth's eight billion people from enjoying the most advanced technology.
China speaks often of a win-win philosophy when it comes to trade policies. The political right in the U.S. seems content with a U.S. win only; anything else, especially when it comes to China, welcomes the idea of harming business interests and aiding flawed political thinking.
A final thought: a retired U.S. Army lieutenant general has suggested that the NDAA is a good bill in part because it will increase "warfighting capability." Those words should make all of us shudder.
The article reflects the author's opinions, and not necessarily the views of China Focus.