The past week has seen global attention riveted on the Asia-Pacific. In his first overseas trip after the conclusion of the 20th National Congress of the Communist Party of China (CPC), Chinese President Xi Jinping's attendance of the 17th Group of 20 (G20) Summit and the 29th Asia-Pacific Economic Cooperation (APEC) Economic Leaders' Meeting and his exchanges with leaders of other countries have become the focus of media reports. This has sent out a clear signal for promoting global development and advancing global governance, demonstrating China's role as a rational, confident, and responsible major country, State Councilor and Foreign Minister Wang Yi said in a recent interview with the media.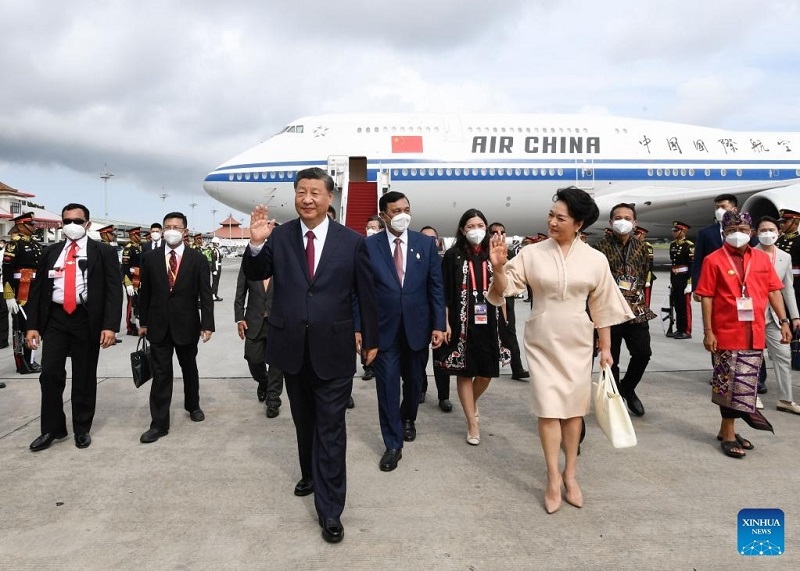 Chinese President Xi Jinping and his wife Peng Liyuan are warmly welcomed by Indonesian senior officials upon their arrival at the airport in Bali, Indonesia, on November 14, 2022. Xi arrived here for the 17th Group of 20 (G20) Summit.
With the risk of deep global recession looming, attempts to form bloc-based politics increasing, and food and security crises worsening, the world once again stands at a critical juncture. Xi highlighted the necessity for countries to embrace the vision of a community with a shared future for mankind and advocate peace, development, and win-win cooperation to tide over difficulties at the 17th G20 Summit in Bali, Indonesia on November 15, 2022. All countries should join hands together to answer the question of our times: "What is wrong with this world; what we should do about it," Xi put to the audience.
Xi precisely pinpointed the crux of the most pressing challenge – food and energy security – and suggested the way forward. "The root cause of the ongoing crises is not production or demand, but interrupted supply chains and international cooperation," he said. The way out of this is for all countries to, with the coordination of the UN and other multilateral international organizations, enhance cooperation on market supervision and regulation, build partnerships on commodities, develop an open, stable, and sustainable commodities market, and work together to unclog supply chains and stabilize market prices, he stressed.
In fact, the mounting ideological confrontation and politicization of food and energy issues is one of the main reasons for the current spate of crises. "We must resolutely oppose the attempt to politicize food and energy issues or use them as tools and weapons. Unilateral sanctions must be removed, and restrictions on relevant scientific and technological cooperation must be lifted," Xi called for at the G20 summit.
The resurgence of the Cold War mentality in the West over the past several years has created tensions among major countries and roiled the international situation. On the sidelines of the high-profile G20 summit and APEC economic leaders' meeting, Xi's constructive meetings with other world leaders sent encouraging signals to the world for more cooperation on development. Xi's first face-to-face meeting with U.S. President Joe Biden since the latter took the U.S. presidency is helping to put bilateral relations on the right trajectory, as it was agreed that their teams in different fields would continue consultations and dialogues. China and the United States need to have a sense of responsibility for history, for the world, and for the people; explore the right way to get along with each other in the new era, put the relationship on the right course, and bring it back on the track of healthy and stable growth to the benefit of both countries and the world as a whole, Xi pointed out in their meeting.
Meanwhile, "Chinese modernization," a term key to China's journey to national rejuvenation –which was recently enshrined into the CPC's Constitution – promises development opportunities for the world. As the Chinese modernization on all fronts is aimed to achieve common prosperity for all, China will marshal the strength of its over 1.4 billion people, trying to boost its development and share the benefits fairly. This means cooperation opportunities to the world. In his meeting with French President Emmanuel Macron in Bali, President Xi underscored China's commitment to promoting high-standard opening-up and advancing Chinese modernization. These efforts will offer France and other countries new opportunities, he said. Macron commended the Chinese path to modernization.
Opposing confrontation and decoupling and advocating true multilateralism were also main themes in Xi's meetings with other leaders. In his meeting with Dutch Prime Minister Mark Rutte, Xi underscored that the world is a community where all countries need to cooperate rather than "decouple" from one another. The attempt to politicize economic and trade issues must be rejected, and stability of global industrial and supply chains should be maintained. In his meeting with Italian Prime Minister Giorgia Meloni, Xi underlined the importance for the two countries to set an example for relations between countries with different social systems and cultural backgrounds. Meloni indicated, "Italy does not approve of bloc confrontation, and believes that countries should respect their differences and disagreements, strengthen solidarity, keep to dialogue and exchanges, and enhance mutual understanding."
"Development" became the key word at the G20 Bali summit in China's proposal for steering the world out of the current predicament, to make global development more inclusive, beneficial to all, and more resilient.
As the world has come to another historical crossroads, Xi emphasized the importance of the Asia-Pacific region and that it should not become an arena for big power competition. He proposed to build an Asia-Pacific community with a shared future and take Asia-Pacific cooperation to new heights with importance attached to peace, stability, openness, inclusiveness, and low-carbon development.