Egypt, where the 27th session of the Conference of the Parties (COP27) to the United Nations Framework Convention on Climate Change was held in November, is itself a product of climate change. Six thousand years ago the Sahara was not desert but covered in grass and scrubland with areas of open forest. Thereafter, increasing aridity caused populations to concentrate in the Nile valley where annual floods replenished the soil. Urban civilization followed.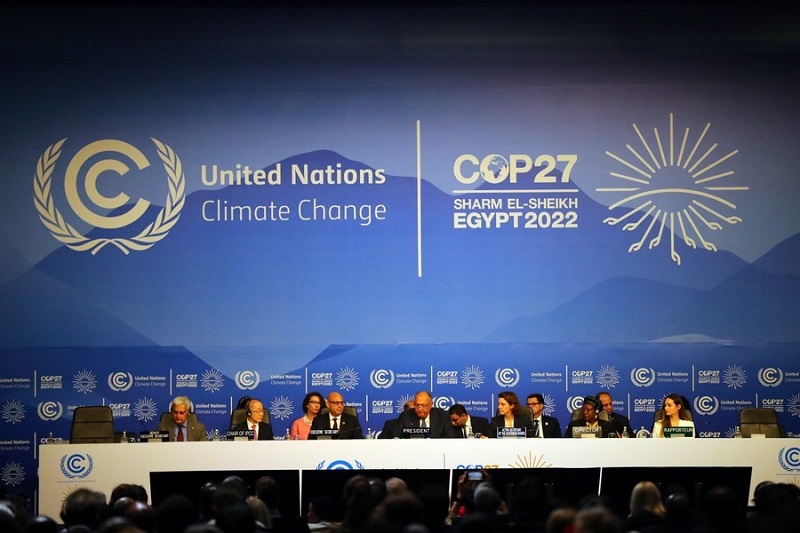 This photo taken on November 6, 2022 shows the opening ceremony of the 27th session of the Conference of the Parties (COP27) to the United Nations Framework Convention on Climate Change in Sharm El-Sheikh, Egypt. (Xinhua/Sui Xiankai)
By the time that the Great Pyramids were built at Giza, desertification was intense, but the remaining greenery would have contrasted with the desert and urban sprawl that now surrounds the world's most recognizable tourist destination.
Tourism is the raison d'être for the conference venue, Sharm El-Sheikh. Uninhabited for much of history due to its inhospitable climate, it attained strategic military significance with the 1948 founding of Israel commanding the entrance to the Gulf of Aqaba and the Israeli port of Elat. As a tourist centre, it relies on extensive coral reefs, clear waters and air-conditioning.
Climate, civilization and politics have always been inextricably linked. However, whereas in the age of the Egyptian pharaohs, climate created civilization, modern civilization is now destroying the climate. Hence, the world's future depends on politics.
To date, politics seems to have been outpaced by the rate of climate change. It is 30 years since 154 nations signed United Nations Framework Convention on Climate Change (UNFCCC) at the "Earth Summit" in 1992 in Rio de Janeiro. The first annual COP was held in Berlin in 1995. However, it took a decade before emission reduction targets were implemented, albeit they had been agreed at the Kyoto conference in 1997. The Kyoto Protocol should have expired in 2012 but no new deal was struck until the Paris Climate Agreement in 2015.
At Paris, parties agreed to "holding the increase in global average temperature to well below 2°C" and "pursuing efforts to limit the temperature increase to 1.5°C above pre-industrial levels." There was also agreement to "reach global peaking of greenhouse gas emissions as soon as possible…[and] to achieve a balance between anthropogenic emissions…and removals…of greenhouse gases in the second half of this century."
A unique combination of events made the Paris Agreement possible. Presidents Xi Jinping and Barack Obama released a joint statement in 2014 affirming their commitment to combat climate change through coordinated action. Pope Francis issued an encyclical (2015) on the environment and human ecology calling for climate action and solidarity with people experiencing poverty. And, just ahead of the meeting, member governments of the United Nations unanimously confirmed the Sustainable Development Goals that embraced climate action.
However, another factor that made the Paris Agreement possible was its lack of specificity: "nearly infinite flexibility" as David G. Victor opined, now co-chair of the American Academy of Arts and Sciences' Commission on Accelerating Climate Action. The hope was that specification would come later with scientific advance and, especially, further cooperation by the major countries.
The science was frightening – the 2018 special report of the Intergovernmental Panel on Climate Change indicated that global warming would likely exceed 1.5°C earlier than thought between 2030 and 2052. The politics were worse.
Former U.S. President Donald Trump decided to withdraw his country from the treaty saying that the Paris Agreement was an intrusion on a country's sovereignty and unfair. In this, he followed precedent. George W Bush had, in 2001, repudiated the Kyoto Protocol negotiated under the Clinton-Gore administration. This helps to explain why it took over a decade to advance as far as the Paris Agreement.
With the United States repeatedly recalcitrant, it is civil society, changing public opinion, the G77 plus China group of developing countries, and the European Union that have kept hope of progress alive. Hopes peaked in 2021 with the U.S. re-joining the treaty, COP26 and the resultant Glasgow Climate Pact.
Since then, the Ukraine crisis, escalating oil prices, generalized inflation and growing poverty have inhibited progress. So, too, has the deteriorating geopolitical climate, the United States seeking to exclude China's access to technological markets and apparently ignoring President Xi's bid to "work together to practice true multilateralism." Climate change, President Xi has said, is "Nature's alarm bell to humanity."
However, there is room for optimism. Briefly present at COP27, President Biden said, to applause, that his administration was "to spark a cycle of innovation that will reduce the cost and improve the performance of clean energy technology that will be available to nations worldwide, not just the United States." On November 14, Presidents Xi and Biden met on the side-lines of the G20 leaders' summit in Bali, Indonesia, both declaring afterwards the need to work together on climate change.
Optimism is, indeed, needed. Christiana Figueres, often credited for the successful Paris Agreement, speaks of "stubborn optimism": that needed to "turn the reality we're given into the reality we want."
With the Paris Agreement, it looked viable to hold the rise in global temperatures in 2030 to 1.5°C. Now temperatures appear likely to rise by 10 percent unless emissions are cut by 45 percent. The United Nations accepts that the G20 group of richer countries are "far behind in delivering on their mitigation commitments for 2030."
It is invariably better to act early than late. With the slippage of time, technological advance has made switching to cleaner forms of energy and industrial production easier and cheaper. However, the social costs of transition – closing plants, losing employment, and decimated communities – are much more difficult to manage if done quickly.
Although only 4.7 million coalminers are employed globally, 68 percent in China, many are concentrated in isolated locations. Even the World Bank's latest guidance on transitioning from coal focuses on reemploying miners not rebuilding communities.
But while mitigation, addressing the human causes of climate change at source, is vitally important, COP27 confronted more difficult challenges.
The consequences of global warming – drought as in the Sahel; floods recently in Pakistan – are often most serious for developing countries. They are also the least able to afford the cost of adaptation. Behavioural change – farmers, for example, changing crops or seed varieties – is more difficult if the risks of hunger and malnutrition are already high. Governments needing to invest in more resilient infrastructure may already be overburdened by debt.
Recognizing these issues, rich countries agreed in 2009 to contribute US $100 billion per year by 2020 to assist adaptation in developing countries. This target has never been reached and, in Glasgow, was postponed until 2023. Even the sums dispersed are contested, since many donor countries have merely rebadged as climate finance budgets that were intended for overseas development assistance.
Even more contentious than adaptation is the matter of loss and damage, the destructive impact of climate change that cannot be avoided through mitigation and adaptation.
Those most negatively affected do not live in the developed world that triggered climate change. Therefore, at COP26 in Glasgow, the G77 and China called for countries responsible for most emissions to commit money for loss and damage. This was rejected, opposed by the U.S., EU, Australia and others.
This year, at COP27, some European countries pledged money – Austria, US $50 million; Denmark, US $13 million; Belgium, US $2.5 million to Mozambique; Scotland, US$5,7 million – but not the "billions or tens of billions" that Al Gore, former U.S. vice-president, said was necessary.
This issue is a moral one, a matter of climate justice. Europe has contributed 33 percent of the world's emissions of carbon dioxide from fossil fuel and industry since 1750; Asia and North America 29 percent each, and the rest of the world – Africa, South America and Oceania – just nine percent.
While China's cumulative emissions of carbon dioxide are only 57 percent of those of the U.S., most have occurred during the last 50 years. In 2021, China accounted for 39 percent of global emissions, more than those of Europe (18 percent) and the U.S. (17 percent) combined. Nevertheless, on a per capita basis, emissions in the U.S. (14.86 tonnes) far exceed those in China (8.05 tonnes), exceeded only by some gulf states and Australia.
The moral issues are complex. Many of the emissions occurred before the birth of today's citizens in rich countries who nevertheless enjoy the higher living standards facilitated by earlier burning of fossil fuels.
Nevertheless, agreeing who should pay for the loss and damage caused by emissions – past, present and future – accords with President Xi's vision of "people around the world" upholding "international equity and justice." He ended his 2021 speech to the conference marking the 50th anniversary of the restoration of the seat of the People's Republic of China in the United Nations by citing an ancient Chinese poem:
"Green hills immerse in the same cloud and rain. The same moon lights up towns however far away."
_____________
ROBERT WALKER is a professor with China Academy of Social Management/School of Sociology, Beijing Normal University, and professor emeritus and emeritus fellow of Green Templeton College, University of Oxford. He is also a fellow of the Royal Society of Arts and the Academy of Social Sciences in the U.K.