Five years on, the China International Import Expo has become a showcase of China's new development paradigm, a platform for high-standard opening-up, and a public good for the whole world.
While updates about midterm elections in the United States dominate headlines across Western media outlets, ironically reporting of the big international event, the 5th China International Import Expo (CIIE), which has attracted over 2,800 companies from127 countries, including 284 from the Fortune Global 500, is missing in the West world. To ride out the hard times of faltering economic recovery, rising inflation, and harrowing food and energy crises, the world needs true multilateralism as well as platforms for cooperation and exchanges, instead of political games and ideological confrontation. And the CIIE is one such platform.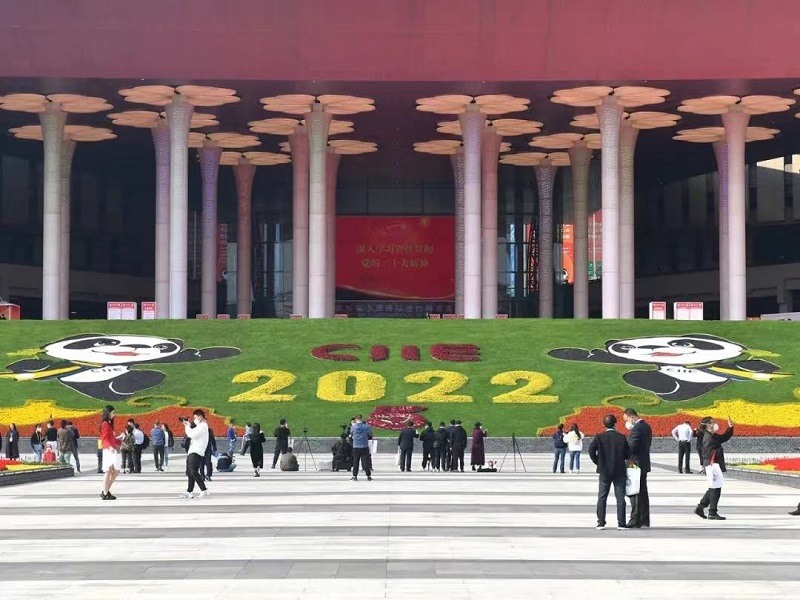 The south square of the National Exhibition and Convention Center (Shanghai), the main venue for the fifth China International Import Expo (CIIE). Photo by Dong Ning
"China is ready to work with all countries to practice true multilateralism, build more consensus for openness, jointly overcome the difficulties and challenges confronting global economic growth, and make sure that our commitment to openness will bring about broad prospects for global development," Chinese President Xi Jinping said in a keynote speech via video at the opening ceremony of the 5th CIIE on the evening of November 4.
Since its debut in 2018, the CIIE has become a showcase of China's new development paradigm, a platform for high-standard opening-up, and a public good for the whole world.
Consistent Commitment to Opening-Up
The recently concluded 20th National Congress of the Communist Party of China (CPC) underscored China's commitment to the fundamental national policy of opening up to the outside world and its pursuit of a mutually beneficial strategy of opening-up. China will strive to create new opportunities for the world with its own development, and contribute its share to building an open global economy, President Xi said at the CIIE opening ceremony.
As a platform for high-standard opening-up, the annual CIIE has also become an occasion for China to announce its new moves of opening-up. Its fifth edition is no exception. China will "upgrade trade in goods, develop new mechanisms for trade in services, and import more quality products," and "will establish pilot zones for Silk Road e-commerce cooperation and build national demonstration zones for innovative development of trade in services, so as to encourage innovation in trade and promote high-quality Belt and Road cooperation," said President Xi. True to his word, all the measures President Xi declared in the former four editions of CIIE have been put into place.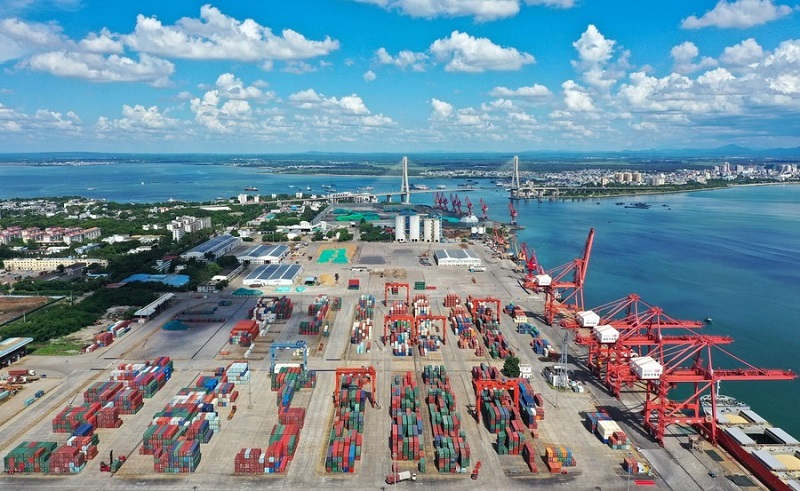 Aerial photo taken on July 22, 2022 shows a view of Yangpu port in the Yangpu Economic Development Zone in Danzhou, south China's Hainan Province. (Xinhua/Guo Cheng)
As the world's first import expo held at the national level, the CIIE was proposed by President Xi at a time when the global economy was going through profound adjustment, protectionism and unilateralism were resurging, and multilateralism and the system of free trade were under threat. However, economic globalization, as an irreversible trend of history, is an overarching trend, something that is independent of people's will, said President Xi at the opening ceremony of the 1st CIIE in November 2018. Therefore, holding the annual international import exhibition is an important decision made by China to pursue a new round of high-level opening-up, and is a concrete action by China to advance an open world economy and support economic globalization, President Xi pointed out.
Over the past five years, China has steadily increased imports by lowering tariffs, facilitating customs clearance, reducing institutional costs in import, and stepping up cross-border e-commerce, broadened market access by shortening the negative list on foreign investment, and fostered a world-class business environment by advancing institutional opening-up. Meanwhile, China has also explored new horizons of opening-up by building pilot free trade zones and a free trade port in Hainan.
Now, China has become the largest exporter and the second largest importer in the world, and led developing countries in utilized foreign investment. According to the recently released World Openness Index, which gauged the openness levels of 129 economies from 2008 to 2020, China's ranking rose from 47th to 39th, bucking the overall declining trend of the global openness index. Meanwhile, the Global Business Environment Report issued by the World Bank in late 2019 indicated that China's business environment ranking rose remarkably to 31st spot from 46th a year earlier. This year, despite globalization headwinds and various uncertainties, the appeal of the Chinese market to foreign investors has not been impaired. According to the Chinese Ministry of Commerce, foreign direct investment in the Chinese mainland, in actual use, expanded 18.9 percent year-on-year to US $155.3 billion in the first three quarters of 2022.
Openness has become a trade mark of China. The country has grown by embracing the world, and the world has also benefited from China's opening-up.
Enormous Market, Enormous Opportunities
"Five years ago, I announced the decision to hold the CIIE for the very purpose of expanding China's opening-up and turning our enormous market into enormous opportunities for the world," said Xi at the 5th CIIE. Five years on, the enormous opportunities have been seized and leveraged for the benefits of both international exhibitors and domestic purchasers.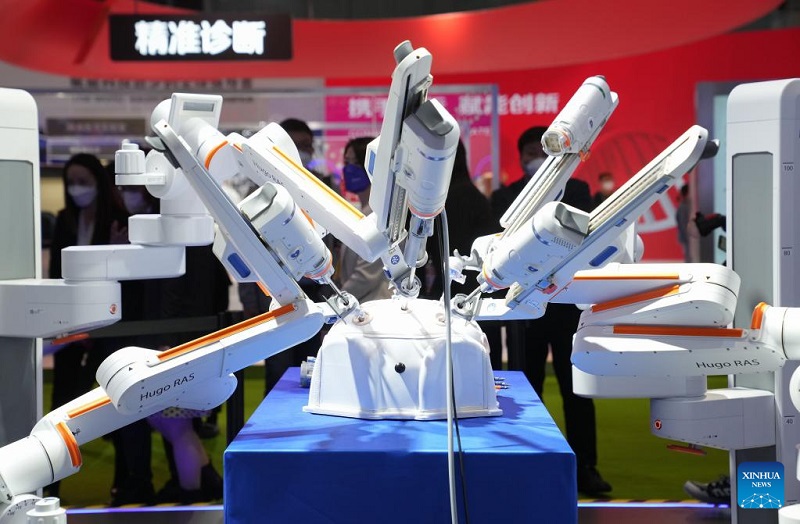 A surgical robot exhibited at the Medtronic booth in the medical equipment and healthcare products exhibition area of the 5th CIIE at the National Exhibition and Convention Center (Shanghai). (Xinhua/Ding Ting)
GE Healthcare is one of the companies that have rapidly expanded its presence in China, thanks to the spillover effects of the CIIE. "At the second CIIE, we signed more than 100 deals. In 2020 and 2021, over 50 groups of government representatives and partners visited our booth and hundreds of medical institutions clinched deals with us," said Zhong Luyin, the company's China communication chief in an article published on chinadaily.com.cn. At the third CIIE, the company debuted the Apex CT system, the world's first artificial intelligence-powered CT system. During the fourth expo, it displayed the CT system again, but with many clinical trial results. More than 30 Chinese hospitals have been equipped with the system to date. One of them, the West China Hospital of Sichuan University, said the equipment is used at nearly maximum capacity every day to help its emergency and outpatient departments with treatment of complex medical conditions, according to Zhong.
"The expo has also offered us a platform to communicate with governments, clients, partners, and industry experts from across the world," said Zhong, adding, "Our achievements at the CIIE have encouraged us to increase investments in China. We currently have four production bases in China and the one in Beijing is our largest medical equipment manufacturing plant in the world."
ZEISS, the world's leading enterprise of optical and optoelectronics technology, launched a US $25 million project in Suzhou City, a manufacturing hub in southeast China's Jiangsu Province, aiming to provide localized research and development and manufacturing services for all business departments of ZEISS. Meanwhile, eyeing the rapidly growing industry of new energy vehicles in China as the company's new source of growth, ZEISS has been building up teams to focus on technologies for new energy vehicles, particularly batteries. "Why are we doing it in China? Because I'm pretty sure China is the largest single market of new energy vehicles," Maximilian Foerst, president and CEO of ZEISS Greater China, said in an interview with Xinhua.
Having attended the CIIE for five straight years, ZEISS showcased its products on two different halls at the 5th CIIE, respectively about "A Heart for Science" and "Exhibitors to Investors," covering four major sectors of semiconductor manufacturing technology, industrial quality and research, medical technology and optical consumer goods.
Stressing that the world needs much stronger international cooperation, International Monetary Fund Managing Director Kristalina Georgieva said, "That is why we need this expo (CIIE) and similar opportunities for interaction and dialogue." She said China's reforms have opened the economy to greater competition and innovation, which, in turn, saw rapid gains in productivity and a tremendous increase in living standards.
A Market Shared by All, Benefiting All
"Our aim is to turn the China market into a market for the world, a market shared by all, and a market accessible to all. This way, we will be able to bring more positive energy to the global community," said President Xi at the opening ceremony of the 3rd CIIE, when talking about China's all-round opening-up.
Calling the CIIE an important step in trade liberalization and a vital tool in strengthening economic corporation around the world, Sri Lankan President Ranil Wickremesinghe said at the 5th CIIE opening ceremony that this international import themed expo has provided a new and innovative stage for developing countries to enter the Chinese market.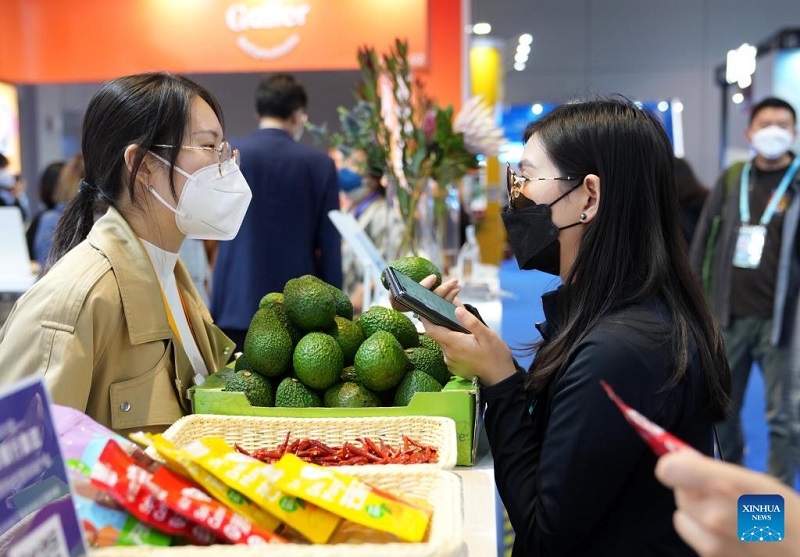 Avocados from Kenya on display at the food and agricultural products exhibition area of the fifth China International Import Expo (CIIE)in Shanghai. (Xinhua/Liu Ying)
"The CIIE has allowed many countries and businesses to enjoy the benefits of the growing consumption appetite of the Chinese people," said Wickremesinghe.
At the 5th CIIE, scores of handmade products from the developing world can be spotted. Among them are carpets from Afghanistan. "One large carpet usually takes a family six to nine months to weave and these beautiful and durable carpets show the heritage of craftsmanship passed down through generations of families in Afghanistan," said Ali Faiz, a 28-year-old businessman who has been to the expo thrice, in an interview with Xinhua. Carpets used to be among Afghanistan's most important export goods, but decades of conflict and Western sanctions has led to its decline. CIIE, the global trade fair, is helping to revitalize this old Afghan industry and turn dreams of people in the war-torn country for a better life into reality. Through the CIIE, Faiz has received orders for over 2,000 carpets, which he said have brought a year's worth of income to more than 2,000 Afghan families.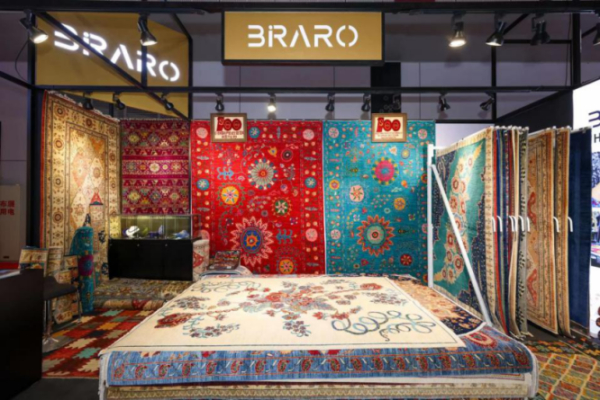 A variety of carpets are displayed at Ali Faiz's store. [Photo/CIIE Bureau]
Since the inception of the CIIE, China has been encouraging and assisting companies from developing countries, including those from the least developed countries, to join the expo and to leverage the opportunities and explore the vast Chinese market.
As Xi promised at the 1st CIIE opening ceremony, "The CIIE will help friends from around the world to seize opportunities presented by China's development in the new era and offer a platform for us to deepen international business cooperation for shared prosperity and progress." This promise is being honored.