Founded in 2001, the Shanghai Cooperation Organization (SCO) has grown into one of the most important organizations in the world, now with eight full members, four observer countries and multiple dialogue partners. Owing to its success and increasing influence, the SCO has attracted more attention from the global community. Some Western analysts and media always try to compare the SCO with other organizations like NATO, the constantly referenced one.
However, there is no comparison between the SCO and NATO. NATO was established by the United States and other western countries to guarantee the security of its member states through political and military means. The political means are tasked to promote western values and solve conflicts and problems diplomatically. The promotion of western values is an interesting aspect of the organization, which means NATO also has the duty to advocate the western liberal economic, democracy, and human rights models. In this way, NATO has the excuse to interfere in the affairs of other countries. The military means are used to force other countries to accept western terms and values.
Moreover, since NATO is a binding alliance, all members are bound to share the responsibility and act according to the situation. Under Article 5 of the treaty, if one ally was under an armed attack, all members should act together, whether they like it or not. In a nutshell, the U.S.-led NATO has confined itself to protecting the interests of a group of countries.
On the contrary, the SCO was established by adhering to the Shanghai Spirit, which revolves around the principles of mutual trust, mutual benefit, equality, consultation, respect for diversity of civilizations, and pursuit of common development. It is open to all and ready to cooperate with any organization and country across the world. It promotes consultation and inclusiveness for decision-making and works on the consensus-based model. No one is superior among SCO members, and the economic size does not determine one country's weight in the organization.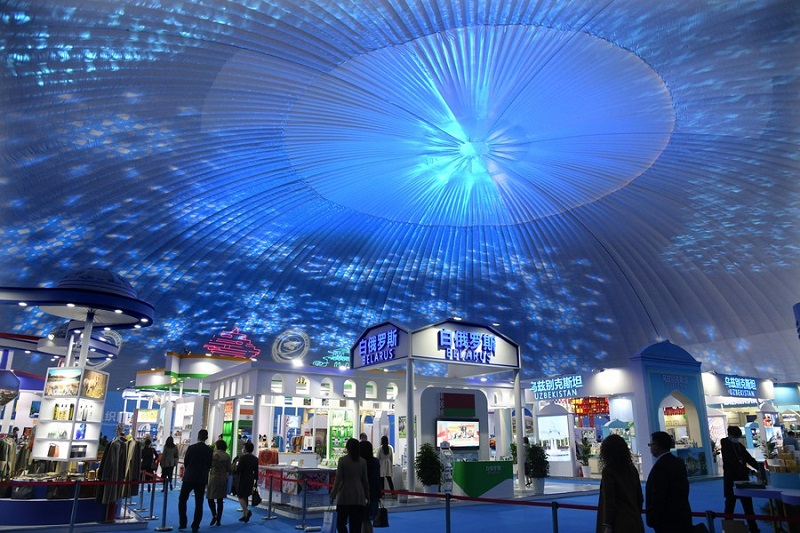 People visit the 2021 SCO International Investment and Trade Expo in Qingdao, east China's Shandong Province, Apr. 26, 2021. (Photo/Xinhua)
Second, the SCO is based on the principle of partnership, which means there is no binding on members. They are free to make decisions and formulate policies according to their interests and circumstances. The SCO has no right to interfere in the internal affairs of member states. Thus, the SCO can accommodate competitors like Pakistan and India. They work together under the SCO mechanism. Now, after the 2022 SCO Samarkand summit, Iran has become a full member and Saudi Arabia is on the way to joining the SCO.
The Russia-Ukraine crisis is another prominent example on this aspect. Although Russia is a pioneer member of the SCO, other member states are free to deal with the Russia-Ukraine crisis independently and there is no pressure from the SCO on them to take a certain position. It is quite different from the NATO case, in which member states have to pick a side and follow the policy of NATO no matter whether the decision is in national interest of member states or not.
Third, there is no military alliance in the SCO and it works through diplomatic, development and political means. The SCO promotes respect for diverse cultures and values instead of any specific values. That's why it is home to different civilizations like Chinese, Indus, Iranian, Russian, Central Asian and Muslim. All the civilizations respect each other without any superiority.
Fourth, the SCO is a comprehensive organization with a focus on building a community with a shared future. It not only focuses on security but also on many other areas. The SCO views development and peaceful coexistence as its core values. It promotes cooperation among members in diverse fields including countering terrorism, combating transborder crimes, trade, economy, energy, people-to-people exchanges, poverty alleviation, climate change, etc. In 2021, China's trade with other SCO members reached $343.1 billion, up 40 percent year on year. In general, SCO members' total foreign trade reached $6.6 trillion as of 2021, an increase of 100 times from 20 years earlier.
China brings generous economic opportunities to all member states. The country has established a special facility named China-Shanghai Cooperation Organization Local Economic and Trade Cooperation Demonstration Area in Qingdao, east China's Shandong Province, to stimulate economic linkages and investment. It has already attracted a good number of companies to venture in the zone. In addition, China hosted China-SCO Forum on the Digital Economy Industry from August 23 to 25, 2021, providing a platform for cooperation among SCO parties in the fields of digital economy and innovation. The world is going through rapid technological changes, access to technology and its benefits, however, it is far from equal globally, especially for developing countries. As one of the leading countries, China shares the dividend of its technological development with developing and less developed countries, taking the SCO as a start.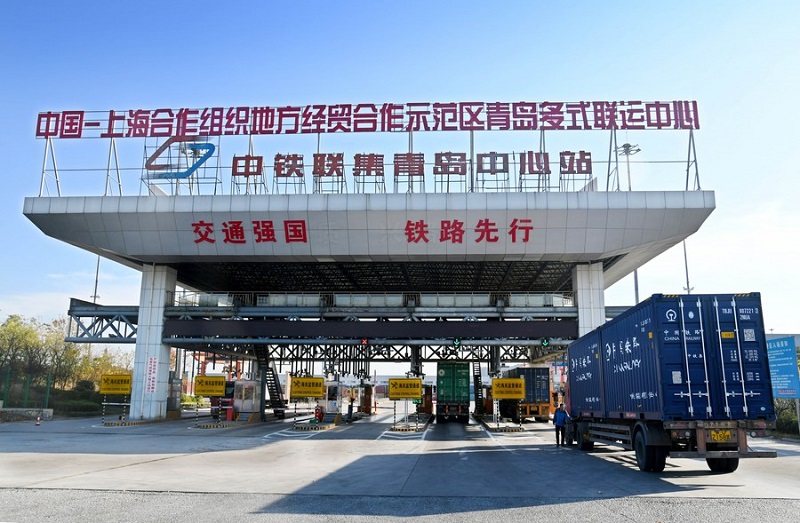 A truck delivering containers prepares to enter the multimodal transport center in the China-Shanghai Cooperation Organization (SCO) local economic and trade cooperation demonstration zone in Qingdao, east China's Shandong Province, Nov. 9, 2020. (Photo/Xinhua)
In particular, China offers opportunities to SCO members under the Belt and Road Initiative (BRI), in the field of green development. Green development is one of the most important areas, and there is a consensus among members that green development will help them tackle problems of poverty and climate change. China also helps member states through green silk route and digital silk route initiatives. It is hoped that through these initiatives, member states can move on the path of inclusive development.
Healthcare is another important area of cooperation besides economy. Since the beginning of the COVID-19 pandemic, China has sent medical experts, provided vaccines and donated anti-epidemic materials to other SCO states. As for educational development, the framework of SCO university promotes the training of highly qualified personnel. The concepts of common good and a community of development for all have taken shape, and SCO members are ready to share their responsibility.
Based on the above discussion, we can conclude that the SCO and NATO are entirely different organizations from their concepts to objectives and actions. Unlike NATO which is an exclusive military club of a few western countries, the SCO is a comprehensive and inclusive organization that promotes the principles of peaceful co-existence and sharing prosperity to achieve the objectives of building a community of shared future. Therefore, any attempt to compare the SCO with NATO will be an attempt to undermine the scope of the SCO.
The article reflects the author's opinions, and not necessarily the views of China Focus.