The geopolitical tension stoked by U.S. House Speaker Nancy Pelosi's visit to Taiwan still ferments. And in yet another move to challenge the one-China principle, the U.S. on August 17 declared it would begin trade talks with Taiwan on a trade and economic initiative. Meanwhile, showing blatant intent to contain China, the U.S. passed and signed into law the Chips and Science Act, which contains provisions that restrict related companies' normal economic, trade and investment activities in China. This is discriminatory and will distort the global semiconductor supply chain and disrupt international trade, China's Ministry of Commerce said on August 18.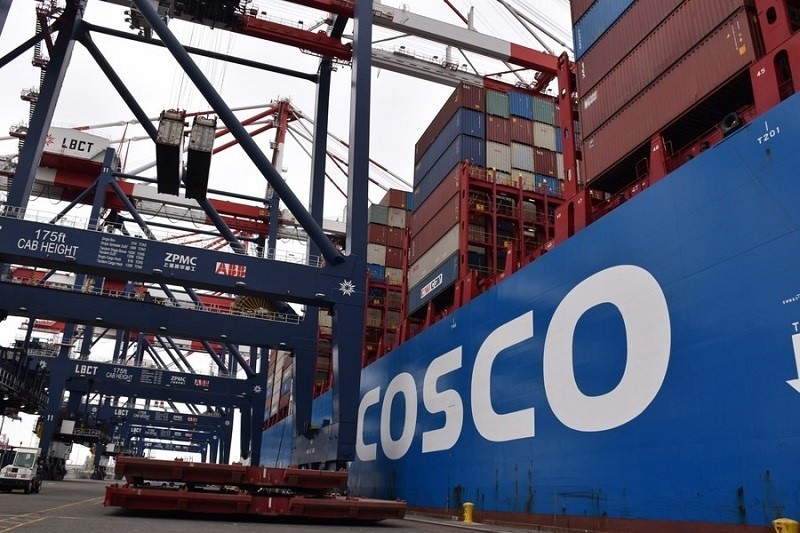 A container ship of China's COSCO Shipping docks at a new container terminal of the Port of Long Beach in California, the United States, on August 20, 2021. (Xinhua/GaoShan)
"I've been here as the ambassador for a year. And I have found that I'm in an environment of 'threat-phobia.' My country is being greatly mis-perceived and miscalculated as a challenge or even a threat to the United States," said Chinese Ambassador to the U.S. Qin Gang on August 16, in an interview with the U.S. mainstream media in Washington, D.C. "China is not a threat, it's not a challenge. China's development intention is just to get a better life for its people. We have no intention to replace the United States or to destroy the United States," the ambassador said.
Qin added that China needs a peaceful and cooperative external environment, including sound relations with the U.S. so as to better focus on its domestic development.
Taiwan has been a part of China since ancient times. The claim is justified both in history and jurisprudence. The Cairo Declaration, issued by China, the U.S. and the U.K. on December 1, 1943, stated that it was the purpose of the three allies that all the territories Japan had stolen from China, such as Northeast China, Taiwan and the Penghu Islands, should be restored to China. On October 25, 1945, the Chinese government announced that it began to resume the exercise of sovereignty over Taiwan. The one-China principle was confirmed by Resolution 2758 adopted by the UN General Assembly in 1971. It has become an integral part of the post-war international order, and also the political bedrock of China-U.S. relations. It's now a globally recognized basic norm governing international relations.
UN Secretary-General António Guterres explicitly stressed that the UN remains committed to the UN General Assembly Resolution 2758. Regarding Nancy Pelosi's visit to Taiwan, more than 170 countries have voiced support for the one-China principle. "This is the unified voice of justice of the international community," Chinese State Councilor and Foreign Minister Wang Yi said in a recent interview.
Meanwhile, the geopolitical turmoil inflamed by Pelosi's provocative Taiwan visit can't override the global call for cooperation and development, and also can't block China's endeavors to help build a better world.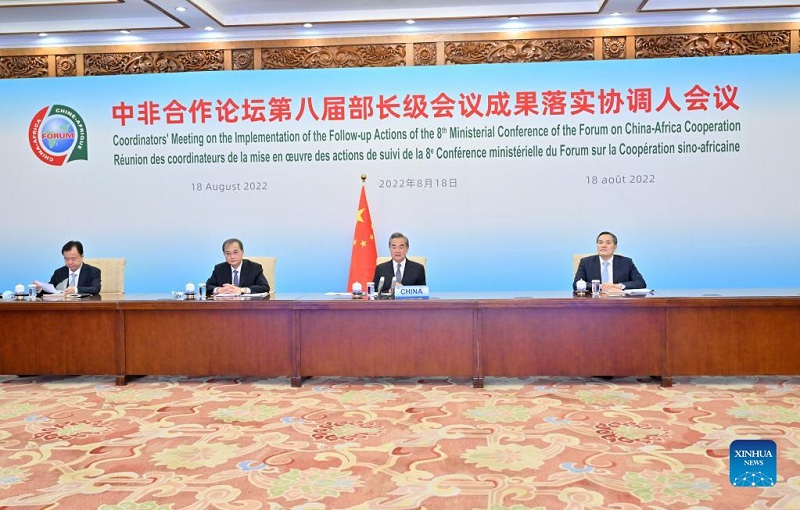 Chinese State Councilor and Foreign Minister Wang Yi chairs the coordinators' meeting on the implementation of the follow-up actions of the 8th Ministerial Conference of the Forum on China-Africa Cooperation (FOCAC) held in virtual format in Beijing on August 18, 2022. (Xinhua/Yue Yuewei)
While chairing the virtual coordinators' meeting on the implementation of the follow-up actions of the 8th Ministerial Conference of the Forum on China-Africa Cooperation (FOCAC) in Beijing on August 18, Wang Yi said that China and Africa have to "push forward infrastructural construction to facilitate the industrialization drive of Africa, jointly cope with the global food crisis and COVID-19 pandemic, pursue sustainable development through clean energy cooperation and climate change response, and promote regional peace and stability." During the 8th FOCAC ministerial conference last November, China announced implementation of nine programs jointly with African countries, showing its continued commitment to Africa and the sustained momentum of China-Africa cooperation. At the ministerial conference, Wang indicated that China would continue to increase imports from Africa, support the growth of Africa's agriculture and manufacturing industries, and expand cooperation in emerging industries. China is the second largest destination for African agricultural exports. In 2021, African agricultural exports to China increased by 18.23 percent year-on-year.
Meanwhile, the construction of the China-aided future headquarters of the Africa Centers for Disease Control and Prevention (Africa CDC) is coming to its final stage, expected to be completed in December 2022. The landmark project started in December 2020 in the southern suburbs of Addis Ababa, the Ethiopian capital, miles away from the monumental China-aided African Union (AU) headquarters, featuring modern offices, high-end laboratories and accessories. Its rapid progress has won local acclaim. "Once completed, I believe this facility will enable Africa as a continent, and individual countries, to collectively respond to disease outbreaks such as the current COVID-19 pandemic," Amanuel Gebremariam, a public servant in Addis Ababa, said in a recent interview with Xinhua. He believes that the facility will help the continent eventually build a better public health system.
China's cooperation with other Regional Comprehensive Economic Partnership (RCEP) members has also gathered steam. Against all odds, the RCEP has begun to deliver its development dividends in the first half of this year. China's imports and exports with other RCEP members rose by 7.5 percent year-on-year in the first seven months of this year, while the trade growth in July reached 18.8 percent, official data show.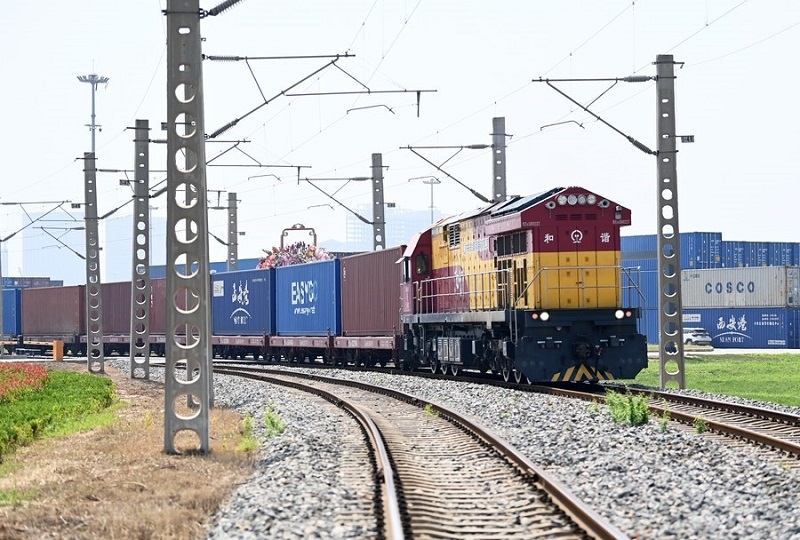 Train No. X9015, a China-Europe freight train, leaves for Kazakhstan from Xi'an International Port in Xi'an, northwest China's Shaanxi Province on July 29, 2022. (Xinhua/Li Yibo)
At the same time, China-Europe freight train service has become "a passage of life" amid the COVID-19 pandemic. The latest data show that 109,000 tonnes of anti-pandemic products had been sent to Europe through the China-Europe freight train service by the end of July. The number of train trips in July surged by 11 percent year-on-year to hit a record of 1,517, with shipments of 149,000 20-foot equivalent units of goods.
The irreversible trend of globalization continues to flourish despite the current geopolitical twists and turns. People's call for a better life can only be met through cooperation instead of isolation and confrontation.