Against all odds, including an adverse global environment and repercussions of domestic COVID-19 flare-ups, the Chinese economy rebounded in June and registered positive growth in the second quarter (Q2) of 2022 on the back of strong policy support. China's GDP expanded 0.4 percent in Q2, bringing its growth rate in the first half of this year (H1) to 2.5 percent, according to data released by the National Bureau of Statistics (NBS) on July 15.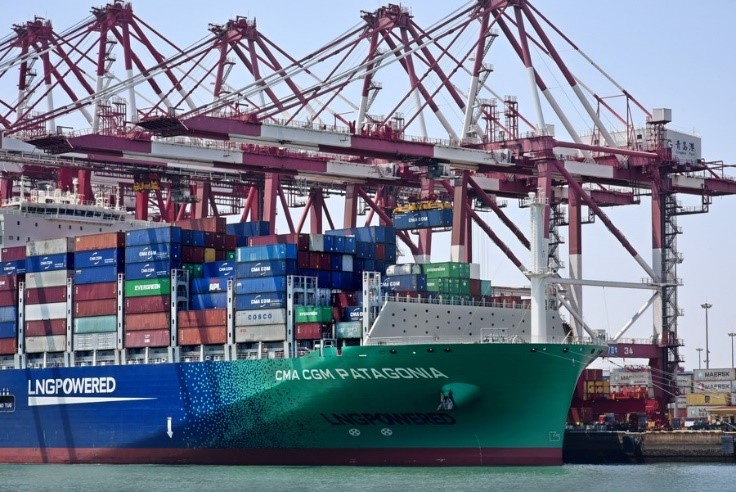 Photo taken on May 1, 2022 shows a container vessel docking at the Qianwan Container Terminal in Qingdao, east China's Shandong Province. (Xinhua/Li Ziheng)
"The economic growth didn't come by easily," NBS spokesperson Fu Linghui said during a press conference on July 15. The resurgence of COVID-19 and complex international environment, coupled with other unexpected factors, made the country's major economic indicators fall sharply in April. The State Council then unveiled 33 measures in late May to stimulate investment and consumption, unsnarl supply chains, and ensure food and energy safety, thus stabilizing the economy. As COVID-19 flare-ups ebb away owing to effective prevention and control measures, the stimulus policies rolled out by central and local authorities began to show their effect, helping bring the economy back on track to recovery.
Pent-up consumption demand has then been unleashed, which has boosted economic growth. Data from the NBS shows that retail sales of consumer goods went up 3.1 percent year-on-year to RMB 3.87 trillion in June, compared with a 6.7 percent drop in May. Starting from June 1, China halved the purchase tax for passenger vehicles with 2-liter engines or smaller priced at no more than RMB 300,000. The policy will extend to the end of the year. The tax cut was enjoyed by consumers who purchased around 1.1 million cars in June, saving them RMB 7.1 billion, according to the State Taxation Administration. Recent data shows that China's auto sales in June surged up 23.8 percent year on year, bouncing up from a three-month decline. The upbeat automobile market mirrors a retail sector revival. Meanwhile, local governments have meted out RMB billions worth of vouchers and subsidies to whet spending. For example, Zhengzhou, the capital city of central China's Henan Province, has announced a voucher plan totaling RMB 240 million from late May to August. Experts also detected a new consumption trend with the rise of consumption in wellness, services, and technology. They pointed out that in the long run, lower-tier cities and rural areas would hold the key to fully tapping China's consumption potential. Therefore, upgrading the corresponding channels and services appears to be even more important.
While presiding over a symposium on the economic situation attended by economists and entrepreneurs on July 12, Premier Li Keqiang noted the foundation for recovery is still unstable and requires more efforts to consolidate economic fundamentals. At the meeting, he also laid importance on safeguarding the employment of college graduates and migrant workers while creating more jobs. On July 13, the State Council's Executive Meeting chaired by Li reassured the job market by setting the tone to keep payrolls stable by supporting market entities, as only stable employment can ensure people's livelihood and it is also the key to further underpinning a fast recovery and steady growth. According to the meeting, deferral of social insurance contributions by employers, refunding unemployment insurance premiums for enterprises that make no cuts or minimal cuts to the staff number, and job creation subsidies will be executed on a one-stop basis.
Official data shows that China created 6.54 million urban jobs in H1 while its overall employment situation has remained stable. The figure takes up 59 percent of the country's annual target, according to the Ministry of Human Resources and Social Security. Despite grim challenges for employment, job posts in China have always outnumbered jobseekers, according to the ministry. Efforts will be made to boost entrepreneurship, organize more online and offline job-seeking activities, and shore up policy support for key groups of jobseekers, the ministry said.
In the first half of the year, many other major economic indicators also perked up. China's value-added industrial output went up 3.4 percent year on year. In June alone, industrial output growth rose up to 3.9 percent year on year, increasing by 3.2 percentage points from that in May. China's fixed-asset investment jumped 6.1 percent from a year earlier to RMB 27.14 trillion in H1. Investment into the high-tech manufacturing and services sectors maintained growth momentum, rising by 23.8 percent and 12.6 percent year-on-year. Meanwhile, China's foreign trade volume of goods swelled by 9.4 percent year-on-year to RMB 19.8 trillion in H1. China's foreign trade growth accelerated to 14.3 percent in June, compared with 9.5 percent in May and 0.1 percent in April.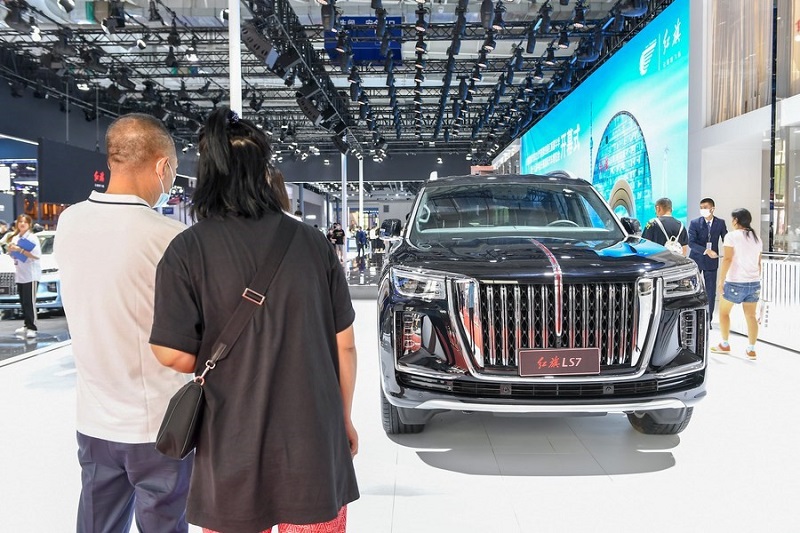 People visit the exhibition area of China's iconic car brand Hongqi during the 19th China (Changchun) International Automobile Expo in Changchun, capital of northeast China's Jilin Province, on July 15, 2022. (Xinhua/Zhang Nan)
As economic growth gathers steam, international exchange activities are warming up. The 19th China (Changchun) International Automobile Expo kicked off on July 15 in Changchun, capital city of northeast China's Jilin Province. More than 150 domestic and overseas automobile brands and 128 enterprises have registered for the exhibition with nine indoor display halls and four outdoor sections. In addition, the 2022 World 5G Convention is scheduled to be convened from August 10 to 12 in Harbin, the capital city of northeast China's Heilongjiang Province. It will bring together the latest achievements and novel ideas of 5G development in the world, and build a platform for cooperation and close integration of the 5G innovation chain, industrial chain, and supply chain, according to its organizer.