No one disputes that the unfortunate Galwan Valley clash of 2020 between the Indian and Chinese border troops at the Line of Actual Control (LAC) in the western section of the China-India border has impacted Sino-Indian relations, to a great extent, and hardened mutual suspicions about the other's foreign policy.
Both sides need a realization that border confrontation does not serve the common interests of the two countries. The two peoples residing on either side of the Himalayas like to see the blue bright sky of friendship between the two neighbors, especially in the post-COVID world.
Right after the Galwan Valley clash, Indian policy towards China entered a dangerous phase when the Modi-led Bharatiya Janata Party (BJP) government adopted hawkish measures such as imposing a range of economic measures against Chinese firms and banning a set of mobile apps linked to China. The Indian political leadership has accelerated its strategic tilt toward the United States in the security domain.
India introduced new "Rules of Engagement" for the border areas that give its commanders "complete freedom of action" along the LAC. India's courtship of the United States, active involvement in the Quadrilateral Security Dialogue (Quad) and cancellation of public contracts with Chinese firms do not promote healthy and stable development of its relations with China. Rather, such a trend could derail India's dream of being a "$5 trillion economy" by 2024. Notably, China has been critical of the Quad grouping ever since it came into being, accusing the U.S. of using other countries to provoke China in the Indo-Pacific region.
In the light of the Donglang standoff in 2017 and the Galwan Valley incident in 2020, it can be said that a return to the "Five Principles of Peaceful Co-existence" jointly initiated by China, India and Myanmar at the Bandung Conference in Indonesia in the 1950s, might be the best option for guaranteeing sound growth of the Sino-India bilateral relationship, which is one of the most important bilateral relations in the world today.
China is sincere in its intentions to improve relations with India, but it hopes such sincerity goes both ways. China's goodwill to India is reflected once again when Chinese State Councilor and Foreign Minister Wang Yi welcomed new Indian Ambassador to China Pradeep Kumar Rawat on June 22, 2022 by stressing that China and India should meet each other halfway to steer bilateral relations back to the track of stable and sound development at an early date.
It should be recalled here that Wang Yi made a working visit to India on March 24-25, 2022. He said, "As two neighboring ancient civilizations and the two largest developing countries and representatives of emerging economies with a combined population of 2.8 billion, China and India are two main forces in promoting multi-polarization of the world, economic globalization, diversity of civilizations, and democratization of international relations." Undoubtedly, the visit since the LAC crisis has cast a slow warming effect leading to some melting of India-China tensions. As such, when it comes to Sino-India relations, Indian political analysts should focus more on cooperation and talk less about border disputes.
To create a better atmosphere of friendly feelings
It's heartening to see that since the start of 2022, more meetings and dialogues have been taking place to create a better atmosphere of mutual understanding and trust between the two Himalayan neighbors. Prime Minister Modi expressed condolences for the victims of the China Eastern Airlines Flight MU5735 crash which strongly signaled that India's highest level is willing to heal the fragility of India-China relations. He attended the virtual 14th BRICS Summit in Beijing via video link on June 23, hosted by Chinese President Xi Jinping.
In 2023, India will host the BRICS Summit, the summits of G20 and the Shanghai Cooperation Organization respectively. These meetings will surely provide top leaders from both countries with opportunities to pave the way for the much-needed normalization of bilateral relations.
On July 7, Indian External Affairs Minister S. Jaishankar met with Wang Yi on the sidelines of the G20 Foreign Ministers' Meeting in the Indonesian city of Bali. The meeting took place ahead of two important summits: the G20 summit in November this year, and the Shanghai Cooperation Organization Council of Heads of State in Uzbekistan in September, where Prime Minister Modi will meet face-to-face with President Xi Jinping for the first time since 2020.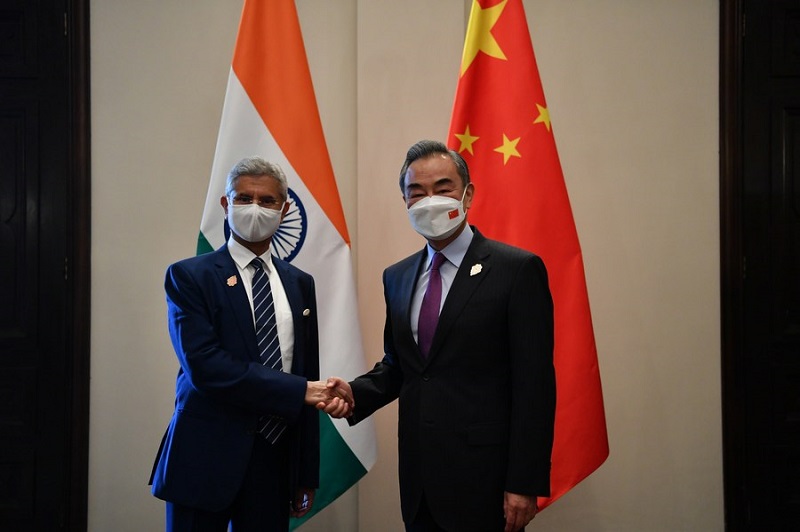 During their one-hour meeting, Jaishankar and Wang Yi focused on the "specific outstanding issues" including the lingering border row along the LAC in Ladakh region, the return of Indian students to China and resumption of direct flights between the two countries, in addition to other regional and global issues. However, Jaishankar's oblique reference to the boundary situation indicated that India is not satisfied with the progress of the Indo-China Corps Commander-Level Meetings so far. As such, he reiterated that India-China relationship is best served by observing "three mutuals of respect, sensitivity and interest."
On the other hand, according to a Chinese Foreign Ministry statement about the Jaishankar-Wang Yi meeting issued on July 7, both sides have "effectively managed differences" since Wang Yi's visit to India in March this year.
The readout added: "Against the backdrop of once-in-a-century changes in the world, major countries like China and India will by no means drift with the tide. Instead, the two countries are destined to maintain strategic focus, achieve respective development and revitalization in accordance with established goals, and make greater contributions to the future of mankind." More importantly, the Chinese minister made a vital call of pushing for the early return of bilateral relations to the right track.
In addition to bilateral issues, Wang stated that the two sides should strengthen coordination and cooperation, and make joint efforts to make international relations more democratic, international order fairer, and work towards making the developing countries' voices heard more and their legitimate interests protected better.
The Sino-Indian relations should not remain stuck in vexed border rows which are impossible to be solved quickly. They can only be overcome by building mutual trust through long-term, strengthened communication at multiple levels and in various fields.
Ever-growing trade sets the foundation for cooperation
It is worth noting that despite the ups and downs in China-India ties, the trade volume between the two countries is at an all-time high, surpassing $125 billion in 2021, a year-on-year increase of 43.3 percent. Chinese data shows that China is India's largest trading partner in the periods of 2013-2014 to 2017-2018 and 2020-2021.
The Economic Times reported that the trade volume of imported goods from China is increasing, and the top 100 imported items each have an import value of more than $100 million. India's imported items ranging from small screws to large TVs, refrigerators and mobile phones are mostly Chinese products. These Chinese products are of high quality and low price and are almost unmatched by other countries. They are very popular among Indian consumers and even the utensils for Indians to worship gods and various decorative flowers, bags, shoes and hats, etc. come from China. In 2021, India's exports to China topped $28 billion, an increase of 34.2 percent.
China and India are ancient civilizations living side by side for thousands of years. Ancient eastern cultures have given the two neighbors a long-term perspective and great wisdom in dealing with their conflicting areas. Cooperation in various fields between the world's two biggest emerging powers benefits not only their respective peoples, but the whole world also. As such, the two counties should escape the shadow of the vexing border dispute and enhance mutual understanding instead of clashing, look at the big picture instead of episodic border events by accelerating close India-China economic and trade cooperation as well as people-to-people exchange.
The article reflects the author's opinions, and not necessarily the views of China Focus.