Following the release of the Indo-Pacific Strategy in early 2022, the Biden administration announced its plan to launch the IPEF in May. It is described as an effort to establish higher standards for digital trade, clean energy, supply chain safety, and the fight against tax evasion and corruption, and is expected to maintain the U.S.'s economic and trade dominance in the Indo-Pacific region. However, it encountered objections within the U.S. and doubts among regional countries. Given its innate decifiencies – including a lack of incentives for tariff reduction and market access – and its countering-China motivation, many Indo-Pacific countries are hesitant to get on board. To address their concerns, the U.S. must answer the question about the fundmental purpose of its Indo-Pacific Strategy; otherwise it will not gain wide support for any new strategic framework.
U.S. President Joe Biden, Japanese Prime Minister Fumio Kishida, and Indian Prime Minister Narendra Modi attend the Indo-Pacific Economic Framework for Prosperity with other regional leaders via video link at the Izumi Garden Gallery in Tokyo on May 23, 2022.
Mending the Indo-Pacific Strategy
In the U.S. strategies, economic security is a key component of national security. In this sense, trade and economic coopration in the Indo-Pacific has great bearing on the U.S.'s competitiveness and appeal throughout this region. However, since the Trump administration pulled out of the Trans-Pacific Partnership (TPP) in 2017, the U.S. has been absent in the negotiations for multilateral trade pacts in the region. During this period, the Regional Comprehensive Economic Partnership (RCEP) entered into effect without the U.S.'s involvement; China, which is deemed a rival by the U.S., applied to join the Comprehensive and Progressive Agreement for Trans-Pacific Partnership (CPTPP), which was developed by signatories of the TPP after America withdrew, and the Digital Economy Partnership Agreement (DEPA), the first of its kind. These developments make the shortcomings of the U.S.'s Indo-Pacific Strategy more obvious.
The U.S. cannot accept a Post-America trade and economic system in Asia-Pacific, nor will it let go of its dominance over the making of rules for global ditigal trade. The TPP is declared dead in the U.S., and the Biden administration, which projects itself as putting American workers first, does not have the desire or the support to negotiate a new comprehensive trade deal with Asia-Pacific countries. Under these circumstances, the only option for the U.S. is to pursue a loosely-knit cooperation framework that focuses on issues of its own primary concern but does not touch a nerve among its people or require senate approval.
One and a half years into his tenure, Joe Biden made his first trip to East Asia as U.S. president in May. During the trip, he announced in Tokyo on May 23 the plan to launch the IPEF after months of negotiations. Its 13 founding members – Australia, Brunei, India, Indonesia, Japan, Malaysia, New Zealand, the Philippines, Singapore, the Republic of Korea, Thailand, the U.S., and Vietnam – have a total population of 2.5 billion, which accounts for 40 percent of the global GDP. Among them are the QUAD countries, all the military allies of the U.S. in Asia-Pacific, and all ASEAN members except Myanmar, Laos, and Cambodia.
According to the U.S. design, the IPEF has four pillars: fair, higher-standards, and binding rules in the fields of digital trade, labor, and environment; safer and more resilient supply chains for key industries such as chips, large-capacity batteries, medical care products, and important minerals; infrastructure, decarbonization, and green technology; and supervision and cooperation on taxation, combat against money laundering, and anti-corruption. The participating countries do not need to negotiate for all these pillars. Instead they only need to decide on which pillar or pillars they want to get involved in by mid-June, and attend the ministeral-level negotiations convened later in respective realms. In a word, the IPEF is still in the stage of setting principles and laying out groundwork.
The U.S. officials are candid about their intentions for the IPEF. Trade Representative Katherine C. Tai said in an interview that the framework serves to "counter Chinese outreach in the region." Secretary of Commerce Gina Raimondo said that the U.S. is "presenting Indo-Pacific countries an alternative to China's approach," and that the U.S. business community will benefit from the IPEF.
Some Asia-Pacific countries have high expectations for trade and economic cooperation with the U.S., as is seen in Singapore. Its PM Lee Hsien Loong was quoted as saying that the U.S.-led pact is an opportunity for the United States "to exercise economic diplomacy in the region." He acknowledged the strategic significance and economic benefits of the IPEF, saying that it indicates that the U.S. will maintain contact with its Asian partners and engagement in the Pacific region.
This view conveys two messages. First, Asia-Pacific economies represented by Singapore see trade and economic cooperation with the U.S. as indispensible, which provides vital backing for long-term U.S. commitment in the region. Second, through this recently established cooperative platform, the U.S. will be more engaged in the region to a depth and breadth yet unknown. The IPEF so far is not branded as a free trade pact, but the possibility cannot be ruled out that it will include elements of free trade in the future. In fact many Asia-Pacific countries still hope that the U.S. would return to the TPP, the eagerest among them being Japan, who once repeatedly urged the U.S. to reconsider its decision of withdrawal from the strategic partnership.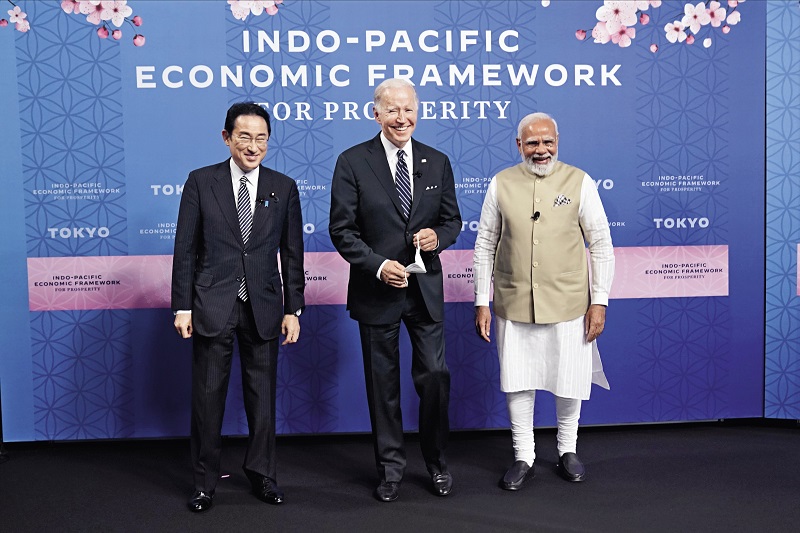 Japanese Prime Minister Fumio Kishida, U.S. President Joe Biden, and Indian Prime Minister Narendra Modi pose for photos as they arrive at the Indo-Pacific Economic Framework for Prosperity launch event at the Izumi Garden Gallery on May 23, 2022, in Tokyo.
No Support for an Anti-China Cabal
With wide acceptance of and remarkable progress in globalization and free trade, Asia-Pacific countries have reached a broad consensus on advancing trade and economic integration. They have blazed a unique cooperation path, and established interdependent platforms for reginal cooperation, which have led to increasing trade and investment liberalization and facilitation in the region.
Today the world is facing multiple crises on various fronts, including energy, food, and supply chains. As wide swaths of people around the world are grappling with soaring inflation and a steep decline in living standards, what Asia-Pacific countries expect of the U.S. is genuine efforts to upgrade regional cooperation to facilitate economic recovery, instead of pressuring them to take sides, attempting to create division and opposing camps, or threatening of economic decoupling, technological blockade, and industrial chain interruption. In a word, Asia-Pacific countries in general have no desire for the U.S. to create a parallel to the already existing regional cooperation framework. They will not support using the IPEF as a tool of strategic competition to counter China, a front of a new Cold War to politicalize and ideologize trade and economic issues, or a platform to intensify trade war.
An example is the Republic of Korea, which recently upgraded its strategic alliance with the U.S. Its government has stressed that its cooperation with the U.S. has no intention of excluding China from global industrial and supply chains. Instead, the ROK plans to have closer communication with China, continue to work with it to forge more resilient supply chains, and negotiate for an upgraded free trade agreement between the two countries.
The U.S. is fully aware of such scruples among Asia-Pacific countries as well as the current IPEF's feeble attraction to them. Under domestic pressure, it stops short of promising tariff concessions or greater access to its market in the pact, which would be strong incentives for prospective signatories. Meanwhile, it requires them to observe high standards for digital trade, energy, environment, emission reductions, and labor rights. This makes many Asian countries doubtful about the IPEF, not knowing what its objective exactly is and what would be the benefit of them joining it. As an Associated Press commentary said, lack of substance on market access makes the IPEF's attraction dubious. Nikkei Asia also pointed out, if the U.S. hopes for other countries to observe the trade rules it set, it needs to lower tariffs as an incentive, otherwise emerging economies will not buy into "ideals and strategies."
To sell the IPEF to as many Asian countries as possible, the Biden administration has to tone down its strategic target. For this nascent pact, its future is uncertain. And the possibility of China's participation cannot be ruled out. Meanwhile, due to strong diplomatic warnings and military deterrence from China, the Biden administration eventually stood by the red line of One China policy and did not admit Taiwan into the IPEF, despite pressure from its congress and lobbying of Taiwan's Democratic Progressive Party.
The IPEF was launched amid expectation and suspicion. It will evolve into a constructive and sustainable framework only if it facilitates economic recovery and industrial chain cooperation, promotes openness and win-win results, upholds free trade rules, and pursues unity, stability, and prosperity in Asia-Pacific, instead of being geopolitics-motivated to isolate China. Only under such a framework will policy-makers in the U.S. see their political courage and wisdom duely rewarded.
DR. ZHANG XUDONG is a researcher with the Institute for Global Governance and Development, Tongji University.