In his Lunar New Year greetings video, United Nations Secretary-General António Guterres took the opportunity on Chinese New Year's Eve to commend China for its commitment to multilateralism. The global battle against the COVID-19 pandemic, as well as climate change, continues in February 2022, which has also seen heated and ominous disagreements that threaten dire conflict. All present challenges unprecedented in recent history. Amid this turmoil, Guterres declared that the Olympic spirit, as represented by the Beijing 2022 Winter Olympics, "shines as a beacon of human solidarity." Such acknowledgement and words of goodwill from the world's top diplomat are merited in light of China's key contributions to multilateralism over decades, most specifically during the last several years. They are evident in three distinctive examples.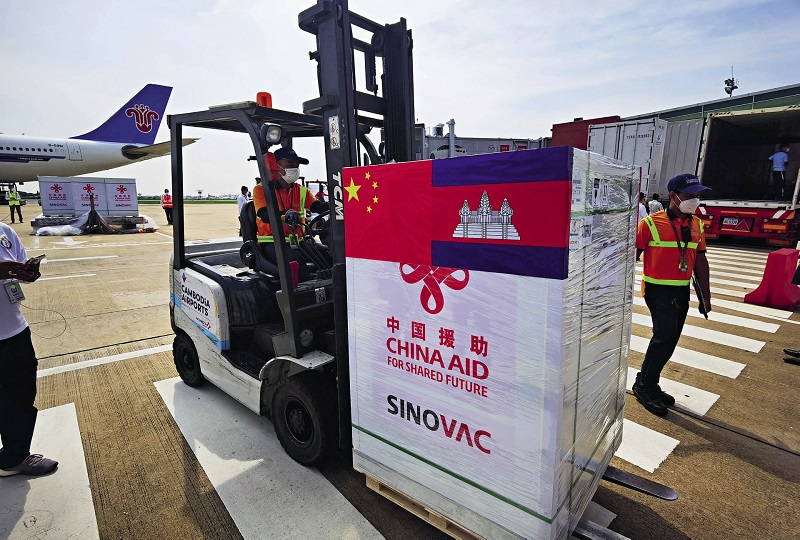 An aircraft carrying 2 million doses of the Sinovac COVID-19 vaccine donated by China arrives in Phnom Penh, the capital city of Cambodia on November 17, 2021.
Contributions to the Global Fight against COVID-19
China's successful anti-pandemic measures have been in place since early 2020, when Chinese scientists first sequenced the virus genome in real time, and shared information. By January 2022, China had already sent two billion or more doses of vaccine to around 120 countries and international organizations, along with physicians, medical workers, and materials. Beijing announced shortly before the Winter Olympics that it would provide another one billion doses to African countries, 600 million of them donations, and also donate a further 150 million doses to ASEAN countries. These may be considered the most important intercontinental health cooperation in human history.
So far China has followed an optimal path in containing the virus, having successfully balanced social and economic life for two years, and channeled cooperation and aid through the Belt and Road Initiative, which at the same time imbues a green dimension.
China has indeed exchanged knowledge about COVID-19 prevention and control at the highest level over the past two years through organizing various webinars. I recall the seminar sponsored by the China International Publishing Group (CIPG) at the end of March 2020 titled "Pooling Wisdom and Sharing Experiences: Joint Efforts to Combat COVID-19." It was attended by academics, epidemiologists, and analysts from China, Spain, France, Brazil, Pakistan, and Egypt. During its course came the announcement that China had established an online COVID-19 knowledge center open to the international community. In June 2021, the port city of Ningbo in east China's Zhejiang Province, organized the online second Global Health Industry Cooperation Conference 2021 (GHICC), whose organizers stated, "The world urgently needs to advance technical, industrial and trade cooperation in the health industry of all countries, to fundamentally enhance the scientific, technological, and manufacturing capacity of human beings to cope with major epidemics and various health threats." For this reason, they concluded, "[the healthcare industry] has the most developmental potential and needs the most intensive technology breakthroughs in the future." The above-mentioned seminar and conference, along with other similar events that China has organized over the past two years, embody the multilateralism of our times.
A Peace Guardian
Similar to previous decades, the first year of the present one has ended without China's embroilment in any military interventions. People around the world might reflect on the significance of this reality. Eminent Singaporean diplomat and academic Kishore Mahbubani, for one, recently observed that, of the UN Security Council's five permanent members, China is the only one having not fired a single military shot across its borders, other than in a brief skirmish with a Southern neighbour, in 30 years. By contrast, certain other members of the UN Security Council have dropped thousands of bombs on several countries (and I might add, shot millions of bullets) during the past decade, allegedly for reasons, in principle, related to "peace," security, or human rights. Mahbubani's remarks of 2019 in this regard remain true in February 2022.
In fact, Beijing has made significant contributions to de-escalation of conflicts, negotiations, and world peace. Since 1989, China has participated in 30 UN peacekeeping operations, involving around 48,000 officers and soldiers and more than 2,600 police, in strife-stricken countries. Indeed, Beijing has contributed more UN peacekeepers than all four other Permanent Members of the UN Security Council combined. It is equally important to highlight that China accounts for 15.25 percent of the United Nations budget for the 2022-2024 period, second only to the U.S., having proactively participated in all 17 of the UN's specialized agencies, four of which are headed by Chinese nationals.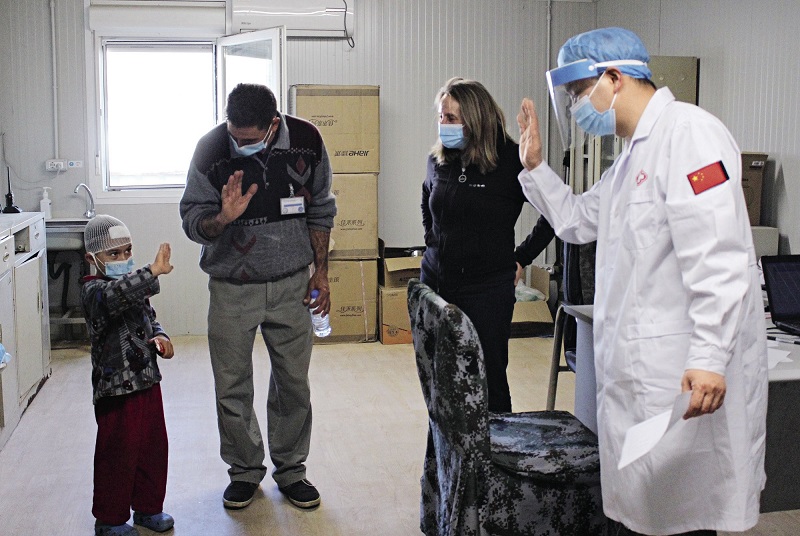 A Lebanese child who received medical assistance from the 19th batch of Chinese peacekeeping medical detachment to Lebanon, waves goodbye to the medical workers after he was treated on April 27, 2021.
Dedication to Humanitarian Aid and Global Development
China's aid to the world's poorest countries dates back to the 1950s and 1960s, spanning over several decades. But those currently to Afghanistan, as it struggles to endure a human crisis of unimaginable proportions, is perhaps most outstanding. The UN's World Food Program in Afghanistan reports that, as of February 2022, well over 22 million people, more than half of the country's population, suffer crisis-levels of hunger, the majority of whom have no idea where their next meal is coming from. This is a drastic increase since last September when, after two decades of relentless intervention, the first-world-economy-led coalition followed Washington's decision to abandon the country.
A human catastrophe of such giant proportions is due to the absence of a truly multilateral approach. And even though Beijing holds that, as stated by Ambassador Zhang Jun at the Security Council Briefing on United Nations Assistance Mission in Afghanistan (UNAMA), "countries that have caused the current predicament in Afghanistan should, more than others, abandon the politicized approach and take urgent action to shoulder their primary responsibility." The Chinese government's nonetheless hands-on support strategy includes immediate help and macro-oriented development projects. As of Autumn 2021, China provided three million doses of COVID-19 vaccine to the Central Asian country, as well as emergency humanitarian aid worth US $31 million, including food, medicines, and other critical materials. Meanwhile, to alleviate the past year's livelihood difficulties in the world's most abruptly impoverished country, Beijing has opened up an air corridor for resumed exports of Afghan pine nuts to China.
During the Beijing Winter Olympics, Chinese President Xi Jinping and Pakistani Prime Minister Imran Khan met and called upon the international community to provide continued and enhanced assistance and support to Afghanistan, including unfreezing Afghanistan's financial assets (a counterproductive Washington-led measure). They moreover decided to advance more in-depth regional development by agreeing to discuss with Afghanistan the extension of the China-Pakistan Economic Corridor (CPEC) to Afghanistan itself. At the same time China, in close coordination with the UN Secretary-General, supports the UN's key role in Afghanistan's peaceful reconstruction.
Synergies Formed
The working principles of the International Olympic Committee (IOC) are universality and solidarity, and unity in diversity. If multilateralism is a situation wherein several different countries or organizations work in unison to achieve a common goal or deal with a problem, and the vision of the IOC is "to Build a Better World through Sport," synergies in all fields are hence possible. After all, Beijing becomes the first city in the world ever to host both the Summer and Winter Olympic Games. By successfully hosting the Games in February 2022, it signals once more its willingness to contribute to the dynamics of reality that the world must keep on moving in spite of the pandemic.
In his salutatory speech on Chinese New Year's Eve, UN Secretary-General Antonio Guterres observed, "The tiger denotes strength, vitality, courage, tenacity, and boldness." Such virtues betoken China's sustained practice of multilateralism during this particularly promising yet challenging year of 2022, and beyond.
AUGUSTO SOTO is director of the Dialogue with China Project in Spain.