The future of the world's economy will go digital and we will witness a new age when nearly all money transactions worldwide will transpire through our mobile devices, while hard cash and coins will be seen more like antique collectibles rather than something we need for our daily use. The digital payments system continues to expand and become more common for consumers of all ages, young and old included.
For the Chinese, they have set up WeChat Pay accounts via Shenzhen-based Tencent Holdings or Alipay from Hangzhou-based Alibaba Group. Or perhaps, they have Apple Pay that hails from the Cupertino, CA-based Apple Corp. But no matter what, smart phones users have digital payments accounts and they love it. The digital payment structure offers a number of conveniences.
Going digital without debts
You place a certain amount of money into your digital payments cash account and you can make purchases until the account has insufficient funds but you can go to your bank account to add funds to it. Big spenders, who feel tempted to accumulate debts when shopping, are limited unless they pull out their credit cards for more purchases.
It's important to note since American, British, South Korean and many other consumers have amassed massive household debts on unnecessary shopping sprees and the digital payments system in China serves to constrain it.
Additionally, let's take a closer at China's new digital currency, which appears to be an upgrade to our current digital payment's system. The new and improved version was first developed by the People's Bank of China (PBOC), China's Central Bank, starting in 2014 when cryptocurrencies, such as bitcoins, were popularized.
Getting an upgrade
China's digital currency is known as the digital yuan or e-CNY. The PBOC had launched trials for it to go operational and here's how it's supposed to work. You, the consumer in China, can bring your hard cash to your nearest banking branch and ask for e-CNY in return. The cash gets received by the PBOC while your bank account places the same amount of digital yuan into your account.
The digital yuan is a step above AliPay or WeChat Pay since the money is guaranteed by China's central bank. Of course, AliPay and WeChat offer security in their digital payments programs but they are both private enterprises and potential risks could be incurred by it.
Chinese hi-tech firms providing a service in digital payments generate their profits not from charging transaction fees but by generating real-time Big Data reports that their clients buy into. Nonetheless, the business of Big Data reporting may not always prove profitable and when that occurs digital payments could enter a stage of disruptions as more companies opt out.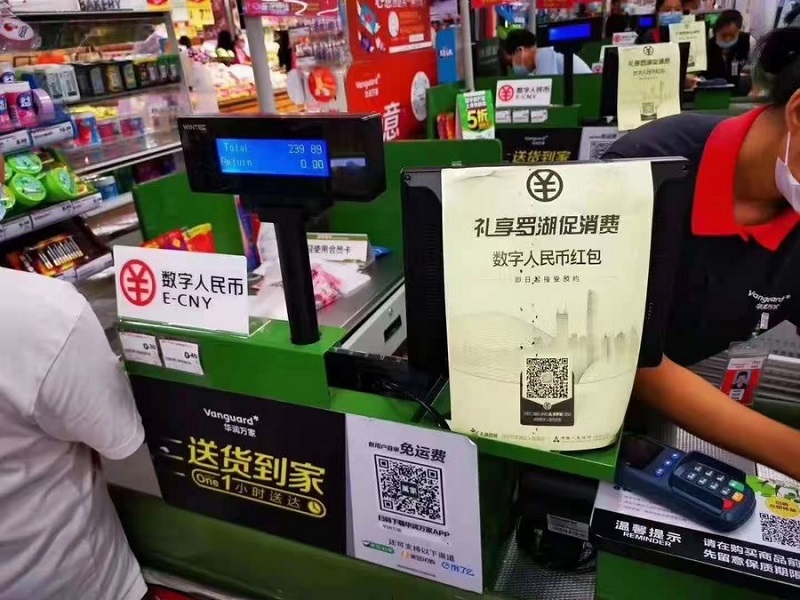 Photo taken on Oct. 12, 2020 shows a sign reminding customers that digital yuan is accepted at a supermarket in Shenzhen, south China's Guangdong Province. (Photo/Xinhua)
Security plays crucial factor
The e-CNY offers a better way since Chinese banks must maintain a partnership with the PBOC per legal requirements and to stay operational. The digital yuan will stay in business even if digital payments firms go bust or alter their modes of operations and services.
China's digital currency also strengthens the RMB. "In order to protect our sovereignty and legal currency status, we have to plan ahead." Mu Changchun, director of the PBOC's digital currency project, is quoted by the Wall Street Journal as saying.
For the time being, the e-CNY is intended for consumption in China's domestic economy. The pilot projects allow for the distribution of the digital yuan to Chinese citizens with bank accounts but they can only use it to purchase items or services where China's yuan is accepted as the primary currency, in other words – within mainland China and not elsewhere.
Going local for time being
But according to media reports as of early April, over 100,000 Chinese have applied for the digital yuan and demand is surging. Chinese cities have also signed on to promote the project. In some instances, the e-CNY gets handed out like a lottery to lucky winners and the money expires or must be used within the city-limits where the receiver obtained the currency.
Hence, a resident from Chengdu, Sichuan Province, winning the digital lottery may receive 1,000 e-CNY but could be required to use it only among local Chengdu retailers and within a period of 30 days or the money can no longer be accessed. But it's just part of the pilot project and when China's digital yuan expands to other types of transactions, consumers can have greater freedoms in choosing how to spend or save the currency.
We should also anticipate foreign-born residents in China to have the opportunity to use the digital yuan. The PBOC has already hinted that for the upcoming 2022 Beijing Winter Olympics, foreign visitors and athletes can have permission to use e-CNY. And if successful, we can presume foreign visitors and expatriates nationwide can have access to the digital yuan as well.
Going above and beyond
Further down the horizon, the digital yuan should be able to exchange freely with other foreign currencies, especially if the central banks adapt their own digital currencies. The United Kingdom Treasury has conducted more in-depth research on developing its digital currency that some are speculating could be dubbed, 'britcoin'.
US Secretary of Treasury Janet Yellen had also informed the public that Washington could jump into the digital currency project as well. The research group, CBDC Tracker, disclosed that more than 60 sovereign governments are closely monitoring the China model for establishing digital currencies for their respective nation states and regions. The digital yuan is legal tender and when swapped for other foreign digital currencies that could be a game-changer for foreign currency exchange markets.
At the moment, about 88 percent of all foreign exchange trades are directly connected to the US dollar and all SWIFT international bank wires require US dollar settlements to complete transactions. But the expansion of the e-CNY could likely result in the strengthened value and of the RMB and go more widely in use around the world.
The future will be digital currencies
The digital payments system is currently in wide use throughout the world and a sovereign digital currency can be the right step forward.
Hard cash and coins are so outdated. The magic of China's digital currency will be that when fully-operational and other countries have their own digital currencies – foreign currency exchanges will be much faster and more efficient than bank wires and that's good news for all people who have to travel overseas.
The e-CNY is the future and to believe otherwise, really is 'neanderthal thinking'. Beijing is demonstrating the correct method to develop the digital yuan and the rest of the world should be watching it.
The article reflects the author's opinions, and not necessarily the views of China Focus.