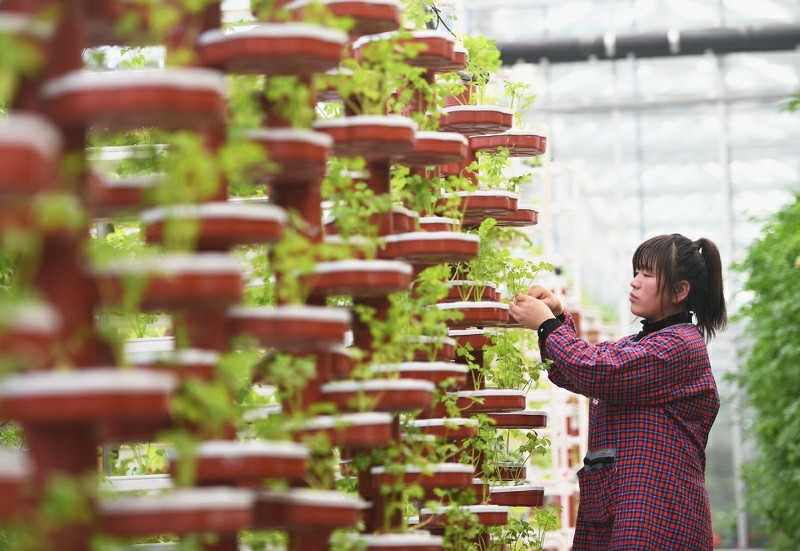 A worker arranges vegetables planted without soil at a creative agricultural park in Quzhou county in Handan city, Hebei province, March 9, 2021. [Photo/Xinhua]
"Rural vitalization" has recently become a popular phrase in China. Delivering his report on the government work at the fourth session of the 13th National People's Congress (NPC) at the Great Hall of the People last Friday, Chinese Premier Li Keqiang said China will advance rural vitalization on all fronts and improve the new urbanization strategy during the 14th Five-Year Plan (2021-2025) period.
For years, China has placed rural vitalization at the core of its policy agenda. As a systematic project, rural vitalization requires the synergy of agriculture, rural areas and rural people. The strategy was first proposed as a key move for the development of a modernized economy at the 19th National Congress of the Communist Party of China in 2017. Then in 2018, a series of policies were released so as to chart the roadmap for rural vitalization. After four years, remarkable achievements have been made in the work related to rural vitalization, especially in 2020, with China's announcement of its victory against absolute poverty and a noticeable improvement in rural productivity and agricultural supply.
However, China understands that shaking off poverty is not the finishing line, but the starting point of new efforts. As the country moves towards its second centennial goal, it continues to set an ambitious vision to comprehensively push forward rural vitalization and accelerate the modernization of agriculture and rural areas, according to a draft outline of the 14th Five-Year Plan (2021-2025) for national economic and social development and the long-range objectives through the year 2035 submitted to the national legislature for review.
To achieve these goals, it is essential to consolidate poverty alleviation outcomes, preventing a return to poverty, as well as promoting rural vitalization in areas which have been lifted out of poverty. Stepped up efforts have to be made to improve rural industries, such as the agricultural product processing industry so that more jobs are created in rural areas.
Food security is one of the major goals of China's rural vitalization efforts. However, the COVID-19 pandemic has imposed daunting challenges on global food security. In the wake of the new circumstances, it is crucial to improve the country's supplies of grain and other major agricultural products, especially seeds and arable land.
China set a "red line" for 1.8 billion mu (120 million hectares) of arable land as one of the core policies to ensure food security over a decade ago, and it remains a top priority in its annual rural blueprint. Moreover, China has achieved self-sufficiency in grain seeds as more than 95% of planting areas in the country are using domestically cultivated crop varieties, providing a stable supply of grain and agricultural products.
However, more efforts are still required to ensure the secure supply of seeds, and close the gap in core technological innovation and commercial breeding systems between China and developed countries.
In 2021, China has made the development of the seed industry one of its major tasks. In the years to come, China will develop more targeted policies to safeguard food security with seeds and cropland playing crucial roles. For example, the country will strengthen the protection and use of germplasm resources and the breeding and application of fine crop varieties, and strive to make key technological breakthroughs in agriculture. It will also enhance the protection of cropland, and develop agricultural belts for national food security, according to this year's government work report.
China, as a big agricultural country, has succeeded in producing one fourth of the world's grain and feeding one fifth of the world's population with only 7% of the world's arable land. This is a hard-won achievement. Under the principle of putting people's well-being first, China will continue to strive to feed its people with safe and sufficient food sustainability. Rural vitalization cannot happen overnight, but now is a new start.
He Shuquan is a professor at the School of Economics, Shanghai University. He is also a member of Fudan University-Jinguang Group Think Tank.
Opinion articles reflect the views of their authors only, not necessarily those of China.org.cn.
If you would like to contribute, please contact us at opinion@china.org.cn.
Follow China.org.cn on Twitter and Facebook to join the conversation.
ChinaNews App Download