There are few things more enjoyable to Beijing-based editor Xu Aiting than bombing down the snow-covered pistes of Chongli in Hebei province, as fast as her brain dare let her.
Since first slipping on her skis 6 years ago, Xu has become as self-confessed ski-enthusiast, or 'ski-rat' as they say on the slopes, becoming hooked by the sports combination of fresh-air, dramatic alpine scenery and adrenaline-inducing fun. But when she first started learning around the suburbs of Beijing over 230 km away from Chongli, things were very different.
"When I was a kid, I used to go to the Beijing suburbs to practise skiing," Xu said. "The facilities were not as good, there were no coaches and we had to learn by ourselves. But now we have everything. The skiing in Chongli is so much better than that in Beijing. The quality is better, there are great facilities, and most importantly, the snow quality is amazing."
Xu's experience is similar to many young Chinese ski fans who have witnessed winter sports in their country transform from a few poor, sludgy hill-top runs, into an increasingly modern and professional set-up.
Winter Olympics impact
The change has been spearheaded by the country's successful bid to host the 2022 Winter Olympic Games, which starts in less 12-months' time.
Before winning the right to host the world's largest winter sporting event, China's winter sports facilities were almost non-existent. In 1999, China had only 20 or so winter sport parks across the whole country, while sports like skiing and snowboarding were seen as increasingly elitist and out of reach for many Chinese citizens.
Fast forward to today however and the picture could not be more different. China's winning bid has set off a winter sport boom, one that has coincided with rising levels of investment in sporting infrastructure, and an excitement and enthusiasm among ordinary people to take to the slopes. Today, China has over 700 ski resorts located across the country and a 20.9 million-strong army of skiing enthusiasts taking to its slopes every year, according to local government reports.
Taiwoo Ski & Alpine Resort in Chongli is one such ski resort that has benefited from China's decision to host the Winter Olympics. Ren Xiaoqiang, the marketing manager at Taiwoo, has witnessed the dramatic rise and change in people coming to ski at his park's slopes since it first opened its doors in December 2015.
"At the beginning we built the largest 'independent beginner area' in China," Ren said. "At that time, the domestic ski industry was still in the development stage and relatively speaking, there were more junior skiers. However, as the Winter Olympics has approached, the domestic ski industry has developed rapidly. In the last two snow seasons, more and more experienced skiers have returned to Taiwoo, bringing with them friends that have helped the number of domestic skiers grow rapidly."
Increased infrastructure helps sustain popularity
"Rapid" may be a slight understatement. According to a recent study by Renmin University, more than 150 million people participated in some form of winter sport between 2019 and 2020, while Chinese travel agent Ctrip reported over 244 million winter sport tourist bookings were made during the 2018-2019 winter season.
Ren credits the seriousness of the pandemic in other countries, which has restricted Chinese winter sport fans from skiing abroad, and pent-up excitement from no skiing last year, with the rise in visitors this year. The newly built Beijing-Zhangjiakou high-speed rail line that runs through Chongli has also helped attract skiers, cutting travel times between it and the capital-city in half.
"The opening of the Beijing-Zhangjiakou high-speed railway has made Chongli part of the '1 hour life circle around Beijing,'" Ren said. "Compared with going to foreign ski resorts, it is now more convenient and faster to come to Chongli and ski in Taiwoo."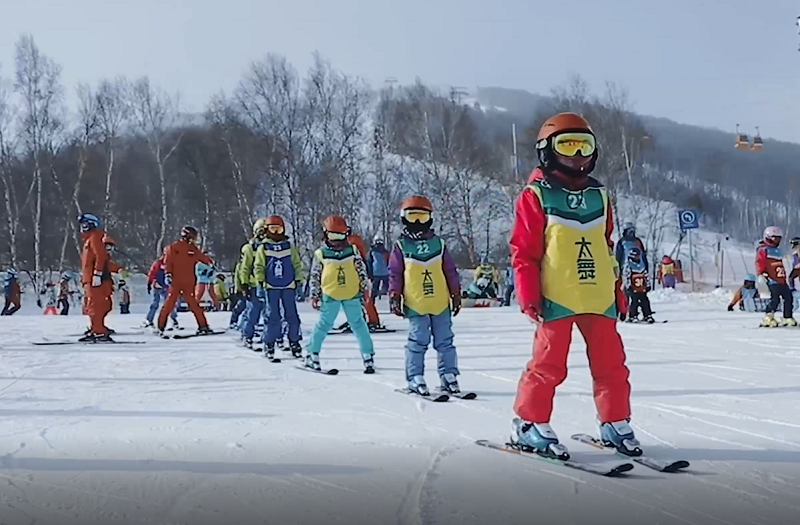 Teenagers are skiing at the Taiwoo ski resort, Chongli, Hebei province.
Spillover effect on other industries
It's not just winter sport resorts that are enjoying the bounce from the Winter Olympics. Sales of winter sports equipment in China have also received a boost, with sales this year predicted to top $742 million, according to Statista – up 5.3 percent year on year – and are expected to continue growing by 2.8 percent annually.
Winter sports and in particularly snowboarding, have become increasingly fashionable in China, not just for the fun they offer, but also for the 'instagramable' backdrops in which they're played on. Looking good on the slopes has become just as important as being skillful on them, and according to Xu, millennials like her are prepared to spend in order to get the look they want.
"People used to rent everything but now more people buy their own ski equipment. We like to spend more money on our winter sports clothes because we want to look good and then we can post pictures on our [WeChat] Moments," said Xu, who recently bought a new coat and gloves in preparation for the new season.
High-fashion brands in particular have sensed the opportunity to combine their designs with Chinese millennials' appetite for winter sports, releasing a series of exclusive products for the Chinese market. French fashion house Dior have recently collaborated with AK SKI to offer Chinese winter sport enthusiasts a collection of bespoke ski gear, including a set of skis worth just under US$12,000 (77,000RMB), while fellow fashion house Chloé has combined with ski brand Fusalp to offer Chinese consumers their own line of high-end ski clothes.
More to come for winter sports
These types of ventures have turned China's winter sport market into a billion-dollar industry, one that is expected to be worth $3.9 billion by 2022, an increase of 480 percent since 2015. Key to this continued growth will be the government realizing its plans to have 300 million people – or one in five people in China – involved in winter sport by 2025, a goal the Chinese authorities are quickly closing in on.
Analysts have also stressed a successful Winter Olympic Games or a breakout performance by a Chinese athlete could be crucial in taking winter sports to another level in China, highlighting the effect of Chinese great Yao Ming on basketball within in the country as an example of the benefits sports stars can have on the growth of their industry.
And it seems in seventeen-year-old daredevil Eileen Gu, China may just have found that person. Despite her tender age, her recent exploits at the X Games in Aspen, Colorado – where she won China's first ever gold medals– have propelled her into the national spotlight, and made her a prime candidate to help raise the profile of winter sports in China for years to come.
But even without a standout star, Ren is positive that sustained investment will ensure China's winter sports sector continues to grow and mature into a strong and competitive market.
"The arrival of the Winter Olympics is a boost to the development of the domestic ski industry, but how we develop it after the Winter Olympics is what Chinese skiers should really be considering more," Ren said.
"Ski lovers here need us to continue to provide international quality, first-class services, have good planning and build complete supporting facilities. Taiwoo has been working hard towards these goals. The development of the domestic ski industry will get better and better, but only if we are able to both seize these opportunities and meet their challenges."