I
N a highly interconnected world, an open economy can greatly benefit a country by taking advantage of the globalized value and supply chains. It is therefore a wise option for a country to seek development through advancing opening-up, deepening international exchanges and cooperation, firmly opposing trade protectionism and unilateralism, reducing trade barriers, improving global value and supply chains, and fostering market demands. This can help steer economic globalization towards being more open, inclusive, balanced, and beneficial to all. China's opening-up will continue to develop on a larger scale and at a deeper level. Therefore, China will open its door only wider to the world.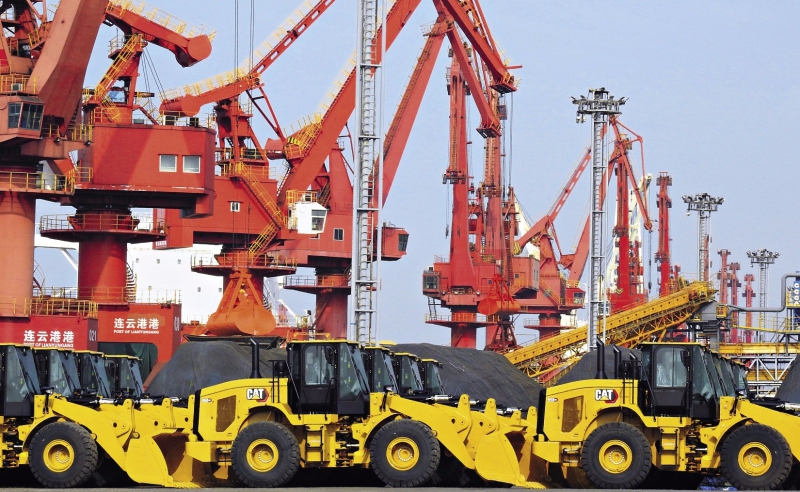 Lines of construction machines wait to be shipped out and exported at a wharf of Lianyungang Port, Jiangsu Province, on May 7, 2020.
Despite the impact the COVID-19 pandemic has had on the country's economy, China's economic resilience and huge potential will still ensure it an upbeat, long-term development future. To better balance the pandemic's prevention and control, and economic development, China needs to stimulate domestic demand, stabilize foreign trade, and further deepen its opening-up and international cooperation. To stabilize foreign trade and investment, China will endeavor to guarantee the smooth operation of the industrial chain and supply chain relating to foreign trade, fully take advantage of foreign trade policy tools, streamline customs clearance procedures, introduce more services to facilitate foreign exchange businesses, pay special attention to the progress of major foreign investment projects, and further improve its business environment. China will promote development and innovation by advancing its opening-up at a higher level.
New Domestic and International
Landscapes
Internationally, as economic globalization deepens and accelerates, countries will become increasingly interdependent. Consequently, production factors like knowledge, technology, human resources, and capital are also seeing a spike in mobility, and a global new value chain, supply chain, and industrial chain have come into being. As a result of global economic development, the globalization trend has become irreversible. At the same time, rising trade protectionism and unilateralism, trade frictions, and economic turmoil are posing new challenges to global governance. Against the new international backdrop, China's opening-up is facing new development opportunities and challenges.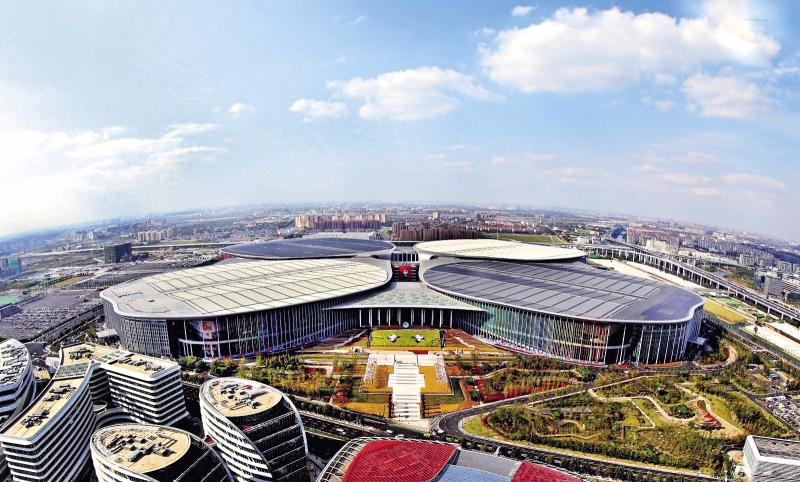 The China International Import Expo (CIIE) is the first-ever import-themed national-level expo in the world and a "trail-blazing" move in the history of international trade development.
China, with a population of 1.4 billion and boasting the world's largest middle-income group, is now the world's second largest economy, and the world's biggest manufacturer and trader in goods. In addition, China's outbound investment and absorption of foreign investment also rank high globally. In 2019, foreign investment in actual use in China totaled RMB 941.5 billion, an increase of 5.8 percent. With more than 40,000 newly established foreign companies, China maintained its status as the world's second largest destination for foreign investment in 2019. As the major engine of world economic growth, China has taken on the role of being a responsible major country.
New development concepts have played their role in guiding China's development. The CPC Central Committee, with Comrade Xi Jinping as the core, proposed the vision of innovative, coordinated, green, and open development that benefits everyone. Joint construction of the Belt and Road has become a new platform for China to participate in international cooperation, improve the global economic governance system, promote common global development and prosperity, and advance the building of a community with a shared future for mankind. Despite the current setbacks for economic globalization, China has firmly adhered to its opening-up strategy, and is poised to be the advocate, champion, and enabler of economic globalization, thus instilling new vitality and new ideas into global governance.
Amid the volatile and complex global situations, China's economy still presents a sound and stable development prospect, as those essential production factors which have propped up the country's high-quality development remain, and the overall stable growth momentum has not dipped. Over the past 70 years since the founding of the People's Republic of China, the country has created an unprecedented economic development miracle while maintaining long-term social stability. With the deepening supply-side structural reform and implementation of the innovation-driven development strategy, China is seeing a promising economic prospect while at the same time providing development opportunities for the rest of the world.
Responding to the changing international and domestic situations, China has chosen to optimize its business environment, improve its legal system in regard to foreign businesses and trade, further improve the socialist market economy system, build a higher-level open economy system, streamline governmental functions in economic management and public service, and do its part in helping steer the global governance towards being fair and rational. Targeting the striking problems that curb the country's economic development, China will accelerate its reform in key fields, thus advancing the modernization of its systems and capacity for governance, so as to provide institutional guarantees for higher-level opening-up and quality development.
China will further open its domestic market to the outside world, encouraging more imports. With their increasing income and new consumption demands, Chinese people are upgrading the country's consumption structure, creating more space for expanding imports. To facilitate imports, China should further lower import tariffs and non-tariff barriers, optimize its import structure, nurture a batch of demonstration zones for import promotion, quicken the development of new business models like cross-border e-commerce, and expand imports of high-quality products and services.
China will continue to foster an enabling business environment that is based on market principles, governed by law, and up to international standards. In this way, it will transform government functions, give foreign investments greater market access to more sectors, further shorten the negative list, and improve mechanisms for investment promotion and protection, steadily deepen opening-up in the financial sector, and advance opening-up in manufacturing, services, and agriculture sectors. With the release and implementation of the regulation on optimizing the business environment, China gives equal treatment to domestic and foreign companies and strengthens protection of intellectual property rights, in a bid to build a stable, fair, transparent, and predictable environment for all market players.
China will explore new horizons of opening-up by quickening the construction of pilot free trade zones and ports. With institutional innovation, the country will support its pilot free trade zones (FTZ), currently totaling 18, to deepen reform and innovation, and make continued explorations based on their differentiated conditions, so as to give full play to their role as a pilot ground for reform and opening-up. Meanwhile, China will be quick to put forward policies and institutions for building a free trade port in Hainan in a phased manner, to speed up exploration of the development of free trade ports with distinct Chinese characteristics. Giving priority to the construction of the Belt and Road, China will deepen and expand its cooperation with countries along the routes, and build an opening-up pattern that coordinates the coastal and inland areas and connects the eastern and western regions.
While deepening bilateral cooperation and improving multilateral cooperation mechanisms, China pushes forward the joint construction of the Belt and Road and actively participates in the reform and construction of the global governance system. Having sealed free trade agreements with multiple countries and regions, China has been active in playing its role in the UN, G20, APEC, and BRICS. Following the principle of extensive consultation, joint contribution, and shared benefits, China promotes high-quality Belt and Road cooperation, providing an open cooperation platform for the world. Meanwhile, China will support the necessary reform of the World Trade Organization (WTO), bringing the WTO's role into full play.
As China advances its opening-up, it adheres to its independent foreign policy, and safeguards its sovereignty, security, and development interests. China's state system and governance system have shown many marked merits, which constitute the basis for the country's confidence in the path, theory, system, and culture of socialism with Chinese characteristics. Sticking to its independent policy, China advances its opening-up to a higher level, and proactively participates in global governance, and promotes the joint building of a community with a shared future for mankind. During the process, China will improve its safety guarantee system for opening-up, and contribute its part to building a new international order that is fair and rational.
LIANG KAIYIN is a professor with University of International Business and Economics.