CHINA has been a big agricultural country since ancient times. The rise and fall of agriculture directly determined the country's prosperity. After the founding of the People's Republic of China in 1949, in the face of frequent natural disasters and a growing population, the central government prioritized the food issue and took various measures to promote food production.
"Let no Chinese go hungry" has been the dream of Yuan Longping, agricultural scientist and expert in hybrid rice. For 60 years he has conducted research in this field and successfully developed three varieties of hybrid rice, allowing the production to rise from 4,500 kg to more than 15,000 kg per hectare. Known as "the father of hybrid rice," Yuan has made outstanding contributions to China's food security and global food supply.
The Kingdom of Rice
Yuan was born in Beijing in 1930, and was interested in agricultural knowledge since childhood. After graduating from high school, he entered the Xianghui Institute of Chongqing (now Southwest University), specializing in genetics and breeding.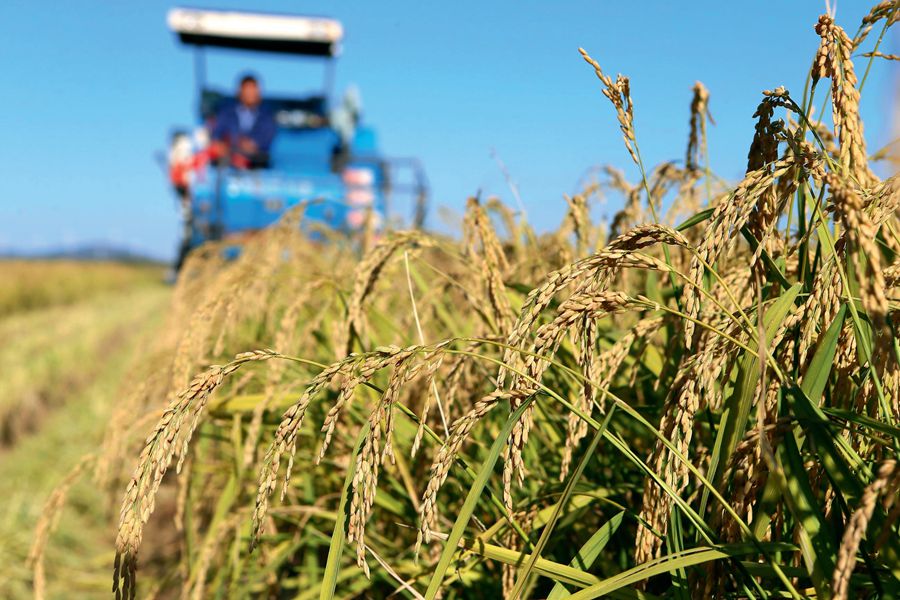 The seawater rice cultivated by Yuan Longping's team is being harvested in Qingdao, Shandong Province, on September 28, 2017.
After finishing his university education in 1953, Yuan was assigned to teach in the Anjiang Agricultural School in western Hunan Province. In 1960, a rare natural disaster hit China and the great famine claimed tens of millions of lives. The harsh and painful reality motivated him to study the cultivation of high-yield rice.
One day in 1961, Yuan in the experimental field discovered a tall rice plant with large ears. Excitedly, he collected the seeds, and planted them in the following year. The offspring were however irregular, with none as good as the original single plant.
In disappointment, he concluded that this excellent rice plant was not a pure species, but a natural hybrid. So why not test artificial hybrid rice?
In those years, both at home and abroad, it was widely believed that rice had no hybrid advantages as a self-pollinated crop. However, Yuan did not agree. In his view, the key to hybrid rice was to develop a system of male sterility. Because rice is a hermaphroditic crop, it is difficult to remove male flowers and cross-breed one by one, for it requires finding a sterile male and then using it to cross-fertilize with other varieties. Although this is a global problem, Yuan did not shrink back from difficulties. He believed that there must be naturally mutated male sterile plants in nature that could be found.
For several summers, when rice came to the flowering and heading stages, Yuan took a magnifying glass into the field to look for sterile male plants that had mutated naturally. On June 20, 1964, he finally discovered three male sterile rice plants. Between 1964 and 1970, Yuan and his assistants carried out more than 3,000 experiments with some 1,000 varieties of rice, but did not make any substantial progress.
The painstaking experiment was accompanied by questioning and ridicule, but Yuan, then in his 40s, did not give up. Through numerous unsuccessful tests, Yuan made new discoveries and proposed the idea of "hybridizing wild rice and cultivated rice." In 1971, Yuan and his team discovered male sterile wild rice in a small pond on Hainan Island, which turned out to be a milestone in the development of hybrid rice.
In 1973, the 43-year-old Yuan realized his dream: he cultivated the first hybrid rice in the world, called "three-line hybrid rice," and managed to increase the production of the grain from 4,500 kg per hectare to more than 7,500 kg. In the winter of 1975, the State Council of China made the decision to rapidly expand experimental planting and greatly promote hybrid rice nationwide. In 1976, this variety was planted throughout the country. This scientific fruit gave the Chinese the hope of getting rid of hunger completely.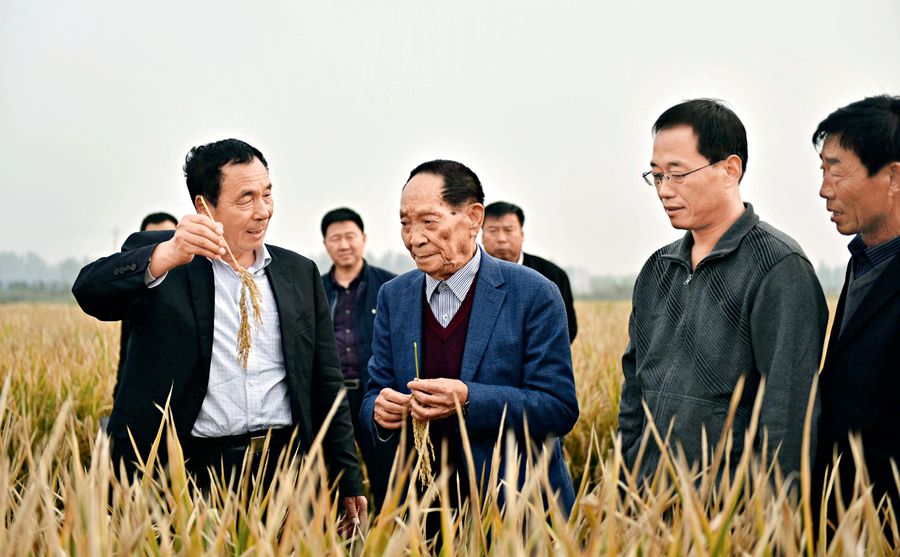 On October 15, 2017, the yield of the super hybrid rice selected and cultivated by Yuan Longping and his team reaches 17,200 kg per hectare, creating a new world record.
In 1984 the Hunan Hybrid Rice Research Center was established, the first of its kind in the country and the world. Although China's financial resources were very limited at the time, the government allocated RMB 5 million for this research center. Yuan and his team achieved steady increments in average yield per hectare.
Despite the success of the three-line hybrid rice, there were still problems with rice yields and quality. Therefore, Yuan began to study a new hybrid rice variety named two-line hybrid. His strategic vision was highly appreciated by the country. In 1987, the two-line hybrid rice study was included in the 863 Program (National Hi-tech R&D Program), and for nine years Yuan personally took the lead in the grueling experimental work. As a result, the yield of two-line hybrid rice was 5-10 percent higher than that of three-line hybrid rice, and the quality was better.
In the 1990s, the American economist Lester R. Brown asked "Who will feed China?" He believed that the growth of the Chinese population would generate a greater demand for food and that its growing imports would cause a global shortage of food. In this context, in 1998, Yuan proposed a research topic for the cultivation of super hybrid rice, a rice of super high yields and quality. Very happy with the news, China's then Premier Zhu Rongji immediately approved the allocation of RMB 10 million as support.
At the Sanya agricultural base in Hainan, Yuan led a team of scientists from more than 10 provinces, municipalities, and autonomous regions of the country. In 2000, 2004, 2012, and 2014 they reached the goals of obtaining a yield of 10,500, 12,000, 13,500, and 15,000 kg per hectare respectively. In 2018, the production of super hybrid rice in Yongnian, Hebei Province, set the world record of an average of 18,045 kg per hectare.
By 2017, hybrid rice had been planted in more than 600 million hectares of fields in China, contributing an increase of over 600 million tons to its rice production. This increased yield can feed more than 70 million people annually. China uses seven percent of the world's cultivated land to support 22 percent of the world's population, which is a miracle.
The Seawater Rice
China has more than 66 million hectares of saline-alkali land and millions of hectares of tidal flats, located mainly in the lowlands of the northwest, northern, and northeast plains. In addition to the special environment, the main cause of their formation is the erosion of seawater. In the past, crops could not grow in these areas. However, if the saline soil could be transformed and used to produce crops, it would provide food to 80 million people.
At 87, Yuan began to develop a new type of rice, seawater rice, which can grow in the saline soil of coastal mud flats. He wants to turn the intertidal zone into a fertile farmland.
In 2017, Yuan led his team in the establishment of Qingdao Saline-Alkali Tolerant Rice Research and Development Center. The Shandong Peninsula has a large area of saline and alkaline land, and thus makes for a good experimental field. In recent years, the provincial government has invested a large sum of money to solve the problem of reusing the land.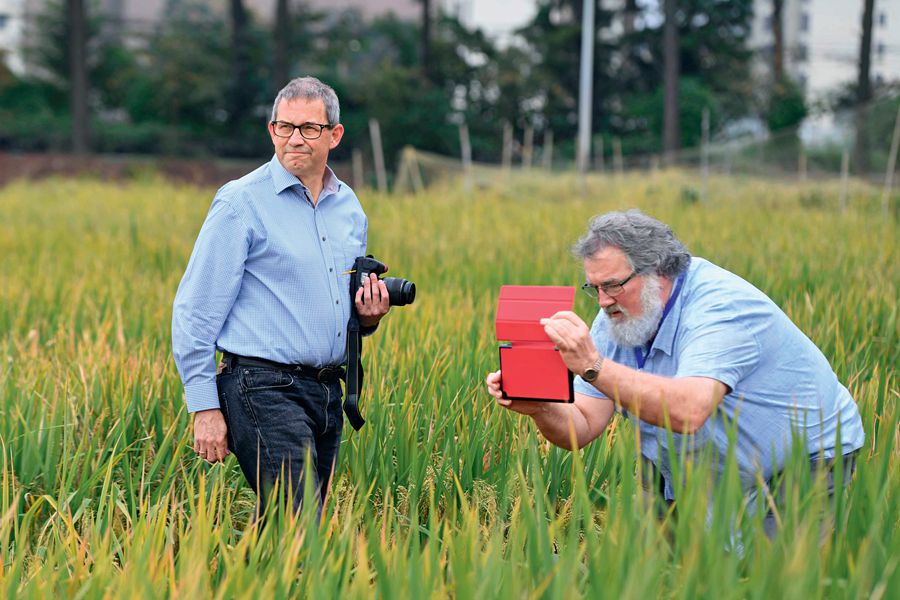 On October 18, 2018, two German journalists visit the hybrid rice test field to conduct an on-the-spot interview to understand the future development and status of hybrid rice.
Under Yuan's leadership, the cultivation of seawater rice progressed rapidly. With the hybridization of the semi-wild seawater rice and the cultivated rice, its yield increased, and the production of a variety reached 9,300 kg per hectare. In 2018, Yuan expanded the planting area. Currently, seawater rice is still in the stage of scientific experimentation.
Chinese President Xi Jinping has paid great attention to the cultivation of seawater rice. In April 2018, he went to Sanya to inspect the advances in the cultivation of super hybrid rice and the development of seawater rice.
The development of seawater rice has also attracted international attention. In early 2018, Yuan's team went to Dubai with their seawater rice, and successfully planted it in more than 10 hectares of experimental fields there.
Bringing Hybrid Rice to the World
"Hybrid rice was born in China, but it belongs to all mankind," said Yuan. "I want to promote it around the world." Little by little, he and his team are making that wish come true.
Hybrid rice began to be exported in 1979, when the Ministry of Agriculture of China donated 1.5 kg of hybrid rice seeds to Occidental Petroleum Corporation. After being grown in the U.S., they produced 33 percent more crops than local improved varieties.
Since the 1980s, with support of the Chinese government, Yuan has trained more than 10,000 hybrid rice technicians from nearly 80 developing countries. The United Nations Food and Agriculture Organization (FAO) hired him as the chief adviser to help other countries develop hybrid rice.
Thanks to the efforts of the Chinese government, the hybrid rice technology has spread to more than 30 countries and regions, and the planting area reached more two million hectares. If hybrid rice were grown in half the paddy fields of the world (160 million hectares), and the yield per hectare increased by two tons, the increased yield will be 160 million tons, which could feed additional 500 million people. The famous American agronomist Don Paarlberg claimed that Yuan's achievement was another victory over the threat of famine and that Yuan was ushering us into a world with ample food.
Based on his contribution to hybrid rice research and its impact on world food security, Yuan was elected a foreign associate of the U.S. National Academy of Sciences in 2006, becoming the first Chinese agricultural scientist to receive this honor. In addition, he also won more than 10 international awards including the UNESCO Science Prize, the U.S. World Food Prize, and the Israeli Wolf Prize.