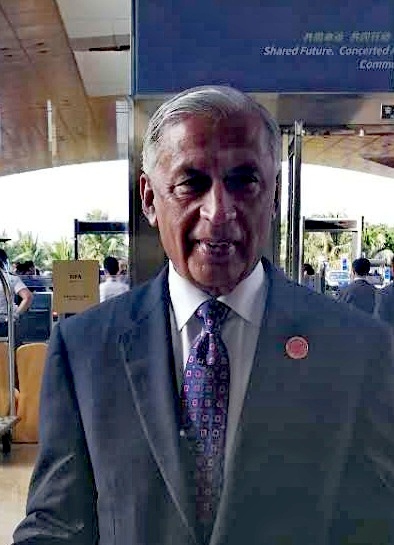 Former Prime Minister of Pakistan Shaukat Aziz. Photo by Liu Dong
On the sidelines of the ongoing Boao Forum for Asia Annual Conference 2019, former Prime Minister of Pakistan Shaukat Aziz gave an exclusive interview to China Today. In talking about Asian civilization, he points out that Asian civilization is a driving force moving the world forward.
"Asian civilization is well known for its ability to adjust to the changing environment of the world. We are innovative, we are hard-working, and we are committed. That civilization is helping us move forward." Aziz said
He also pointed out that Asia is known as a region with a lot of capital for the world to grow and invest, and its economic performance has become a model for other countries. "Clearly, one of the key countries in Asia which drives growth is China, and China has now become a model of growth. Now, many people from around the world come here to understand the reform, to understand how to conduct policies, so it has begun to share the benefits across the world." He noted
As to China-Pakistan relation, Aziz commented, "China is a close friend to Pakistan; it helps us to reform, it helps us to grow. We also deal with other countries like the U.S., European, and Middle Eastern nations. They all invested in Pakistan, but the Chinese experiment of growth in transitioning the country in the past decades is a model for the world. So that is the reason we are here for the Boao forum, which provides us an excellent platform to understand the reform of China, to understand the country's transformation into what it is now. So that is the basic lesson we learn, that is the reason why so many countries from all over the world, from cabinet members to entrepreneurs to CEOs to former government officials to politicians, they all come here to learn."