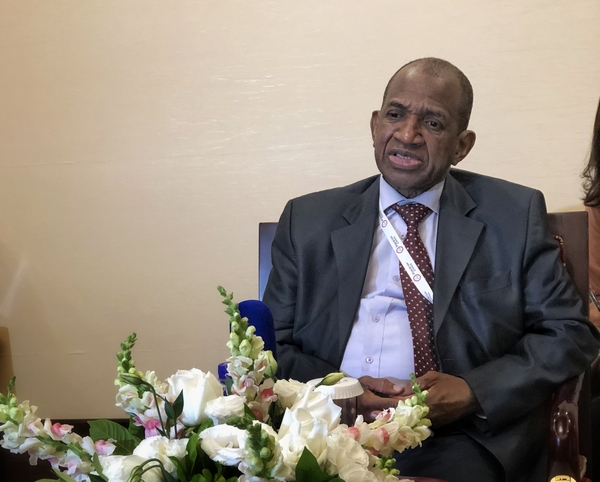 The Trump administration escalated its trade friction with China on September 17 by slapping 10 percent tariffs on about US $200 billion worth of Chinese imports. A week later, China published a white paper to clarify facts about China-US economic and trade relations, demonstrate its stance on trade friction with the United States, and put forward reasonable solutions.
While safeguarding its national dignity and core interests, China is firmly committed to the sound development of China-US economic and trade relations, to the reform and improvement of the multilateral trading system, and to furthering its reform and opening-up. In contrast, U.S. President Donald Trump publicly emphasized his rejection of globalism and global governance mechanisms at the United Nations General Assembly on September 26.
At the sidelines of the 35th annual conference of the InterAction Council held in Beijing on September 28, former Prime Minister of Guinea Kabine Komara took a question from China Today about his opinion on the ongoing global trade protectionist practices and China's role in maintaining the world multilateral trade system.
"Trade protectionism has a very negative impact on the current world trade system," the former prime minister pointed out.
He said that imposing tariffs on an increasing amount of imports was obviously not a wise measure considering the limit of the bilateral trade volume, and there should be another solution.
"The WTO was established to address those disputes. Failing to recognize the role of that institution, the trade protectionists imposed sanctions. That's going to defeat the system," Komara told China Today. He believes the majority of the world is against protectionism.
He applauded China's call to go back to the WTO mechanisms and China's multilateralism and free trade stance. He said, "Sooner or later, good sense will prevail."
Komara emphasized, "We need to cooperate. Trade is essential to economic development. Without trade, you cannot improve a country's condition, and you cannot have peace. So trade is a key for peace and cooperation, and isolation is an impossible reality."