Does China Engage in Resources Exploitation and Neo-Colonialism in Africa?
It is a groundless accusation. African people know better than anyone else what colonialism is because they have been struggling against colonialism for about 500 years. China will not repeat that approach, Cheng Tao said during the press briefing.
He made the comments responding the recent remarks by some western media outlets that China has been engaging in resources exploitation and neo-colonialism in Africa.
"In developing China-African relations, we have been paying special attention to what African people like and what they hate. Of course they hate colonialism. If we repeat the approach of colonialism and we will, undoubtedly, like those colonists, who have been driven away by the African people," said Cheng.
Politically speaking, China and Africa are all equals. Economically speaking, China needs African resources, but it is done through fair trade, and we also hope African countries to process their resources.
China's need of African resources is fundamentally different from the resources exploitation of colonists.
For example, China imports a large amount of oil every year from African countries. But there's not much profit for African countries to earn by simply exporting crude oil. China can help them to process crude oil so as to add to the tax revenue and job opportunities, thus help them achieve economic development, he said.
Last year, the trade of goods between China and Africa reached about $170 billion, which is mutually beneficial. Chinese products are very popular in Africa as they are cheap and of high quality. We have also been helping African countries to develop Made in Africa products, he said.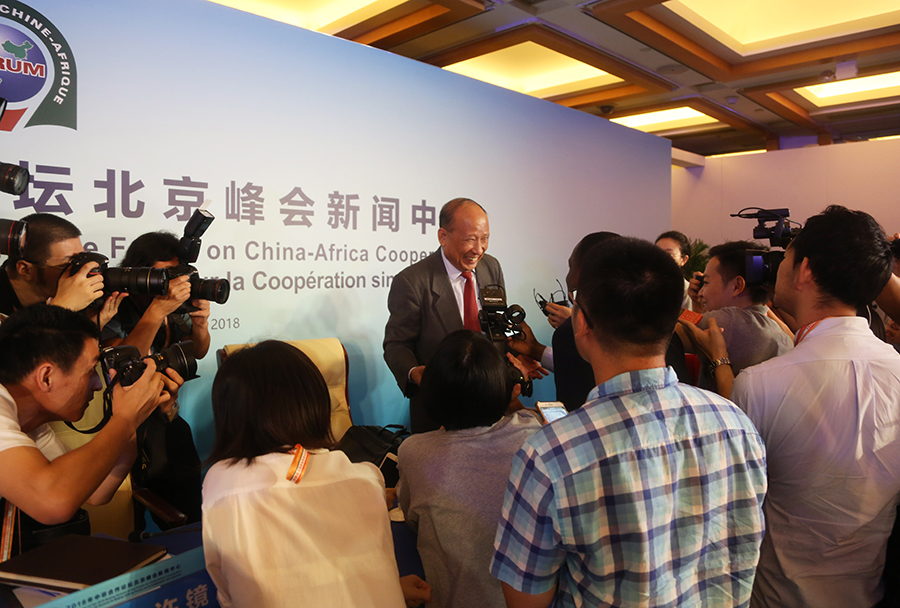 Δ Cheng Tao, the former Chinese ambassador to African countries, also the former director-general of the Department of African Affairs of Ministry of Foreign Affairs is receiving interviews with journalists after the press briefing. (China Focus/ Cai Hairuo)
China Has Not Put Pressure On Any Countries
"We have not imposed any pressure on any sovereign state to establish diplomatic ties with China and will not do so, and we will not impose pressure on them if they choose to establish diplomatic ties with other countries." Cheng Tao responded Reuters' journalist question about how much pressure Chinese government has been putting on Swaziland to abandon its diplomatic relations with Taiwan.
These countries who used to have diplomatic ties with Taiwan or who cut their diplomatic ties with the Chinese Mainland because of their ties with Taiwan, all voluntarily asked for the resumption of diplomatic ties with the Chinese Mainland, Cheng said.
To establish the diplomatic relations with China is very simple. First, the country needs to have the willing to do so. And second, the country must recognize that the government of the People's Republic of China is the sole legitimate government of China, he said.
Our principle is that there is only one China in the world. And the government of the People's Republic of China is the sole legitimate government of China. Taiwan is a part of China that cannot be separated. Based on this principle, China has established diplomatic ties with 178 countries, including 53 African countries, Xu Jinghu added.
There is only one country in Africa that has not yet established diplomatic relations with China. However, One-China principle is a trend of the time and supported by the people. Maybe later on the basis of this principle, Swaziland will become a member of this big family, Xu said.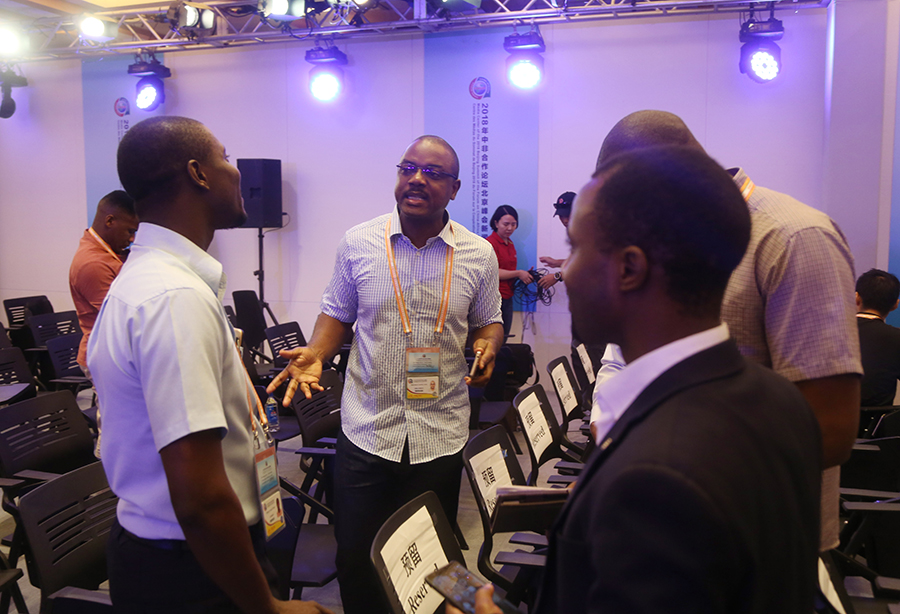 Δ African journalists are discussing about what they heard during the press briefing. (China Focus/ Cai Hairuo)
Diplomacy Is Not A Deal
"The resumption of diplomatic ties is a political decision, not a deal." Liu Guijin made the comments about the Taiwan Authority's accusation of China using money to buy diplomatic relations.
China has not paid to establish diplomatic ties. If diplomatic relations could be bought, these countries that had cut relations with China would not have done so. China would have resumed relations with them long before, and does not have to wait until now, Liu said.
"In the 1990s, in the discussion of the resumption of diplomatic ties with a country in southern Africa, the president gave us a number, which means China must give that much assistance to them to resume the relations with them. But we did not accept it then. Years later, a new president came to power, and he asked to resume diplomatic relations with China with no strings attached," he said.
China will not put pressure on anyone to establish diplomatic ties, and we will not use money to buy diplomatic ties. We have the patience. If the conditions are not right, we can wait, he said.
China-Africa Relation Is Based on Equal Treatment
Poverty alleviation is one of the biggest achievements in China's reform and opening up. At the Johannesburg Summit, we put forward a corporation plan for poverty reduction with Africa. What China has done is to share our experience with African countries and provide concrete support, Liu Guijin made the remarks regarding to China Today's journalist about the poverty alleviation in Africa.
China has always treated Africa as our equals, and the equal treatment is an important principle in China and African relations is equal treatment. And we have done a good job in this regard, Liu said.
Sometimes we say that we would like to help. But more of the time, it is mutual assistance and mutual support between China and Africa, Liu added.
China has managed to lift 700 to 800 million people out of poverty each year. We know that poverty is still quite a challenging issue in Africa. And some of African countries do want to learn experience from China in poverty alleviation. Therefore this is an important part of China Africa cooperation, Xu Jinghu said.
"China has a cotton-planting project in Malawi in which we provide fund and technologies to local growers, and then we also buy the cotton they grow. In Mozambique, we have a rice project, and a wheat project in Tanzania, all of which can help solve the basic problems that the local people are faced in their lives", Xu intepreted China's efforts in poverty reduction in Africa, "these projects are benefiting the local people. They may seem small but the problems they solve are not small."
Reported by Zheng Nan, Cai Hairuo