BOAO Forum for Asia (BFA) Annual Conference 2018 saw its most attention-riveting moment on the morning of April 10. Together with other heads of state and government, and leaders of international organizations, Chinese President Xi Jinping attended the opening ceremony of the annual conference and delivered a keynote speech. After summarizing important lessons, inspirations, and the significance of China's reform and opening-up to the world, and rendering potent answers to the fundamental questions of our times, President Xi declared new measures to be taken by China to pursue further opening-up. Xi's speech became the central topic of discussions among international attendees in the following sessions of the BFA annual conference.
New Measures Enhancing International Confidence in China
WTO chief economist Robert Koopman said President Xi's speech was very heartening as he promised that China would continue opening-up and announced new measures in this regard. Koopman said that the new moves to broaden foreign access to the Chinese market, like lowering the tariff on imported cars, are all good news for WTO members.
This year marks the fourth attendance of Emmanuel Bastide, JCDecaux Group's Asia CEO and member of the executive board. He was inspired by Xi's speech. "We have run our business in China for 15 years, and got boosted by the business opportunities brought by China's deepening reform and opening-up. I'm very happy to hear that President Xi just announced new measures to further China's opening-up. Although these measures are not directly related to our industry, we clearly see the direction of the country's progress, which makes us even more at ease doing business here," Bastide told China Today. JCDecaux is a France-based world leader in outdoor advertising. Last year, representing his company, Basitde experienced cutthroat competition for a project in China. His opponents were mostly Chinese companies, but his company finally won the bid. This experience made Bastide even more confident in fairness and transparency of the Chinese market for competition.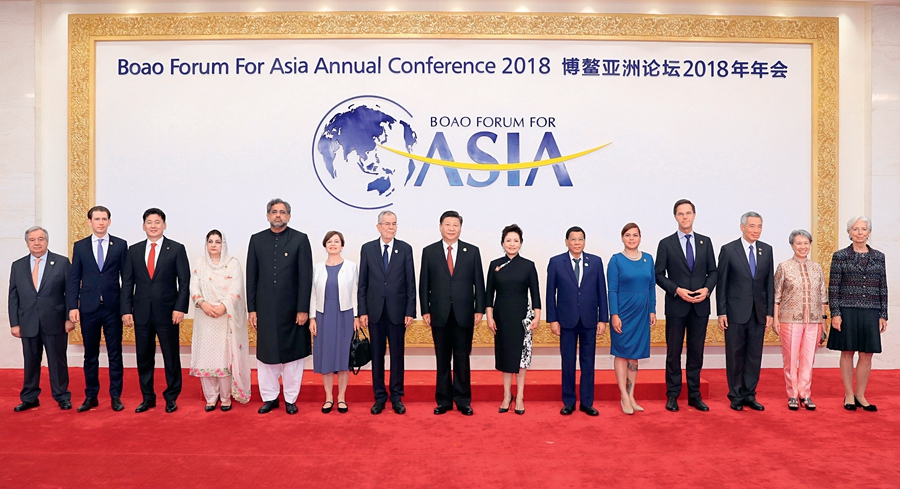 Xi Jinping and Peng Liyuan greet couples of foreign leaders and pose for group photos in the welcome hall on April 10, 2018.
Austrian Foreign Minister Karin Kneissl said that regarding the new measures President Xi announced, she was particularly impressed by the ones pertaining to China easing foreign equity restrictions in the automobile industry. "The automobile sector is very important for Europe. Around eight million jobs are associated with the industry. So we hope we'll have the chance to be further integrated with the Chinese new energy vehicle manufacturing sector," Kneissl said. She believed that China will build a fairer market environment with its further lifting of restrictions on foreign investment in its market, and that China and Europe will have more cooperation in the R&D sector.
In an interview with China Today, former President of the European Commission Romano Prodi said, "President Xi's speech is very wise and reasonable. New measures will make China more transparent and open wider." As made-in-China products spread across the world, complains about Chinese products, in particular about intellectual property rights protection, have risen. "Sometimes we hear that Chinese companies can copy everything. I believe those new moves to strengthen intellectual property rights protection that President Xi announced today will ease the situation," Prodi told China Today. He went on to say, "Actually more and more Chinese companies are becoming interested in intellectual property rights protection now. As Chinese companies' innovation capacity has improved greatly, it's time for them to be concerned about the intellectual property rights protection issue."
As for European investment in China, Prodi said, "Europe has invested in China for quite a long time. Two stages can be seen: In the early days, because of the low cost in China, many European companies came here; in the second stage, European investment has flooded in because of China's huge market. I think those new measures to broaden market access for foreign companies will undoubtedly bring European companies new opportunities."
Chairman of Standard Life Gerry Grimstone in an interview with China Today said, "It's a very good speech, very strong speech. We have done very good business in China. We value the Chinese market. As for those new measures, I think we still have to wait for more details. President Xi's speech, very optimistic and confident, shows how reasonable China is in political terms."
Potent Answers to the Fundamental Questions of Our Times
In his 2018 Boao speech, Xi said, "In this complex and changing world, where are we headed and where is the future of Asia? To answer these fundamental questions of our times, we must not let our vision be blocked by floating clouds. Instead, we must dispel the clouds to see the sun, as we say in Chinese, so as to have a keen grasp of the law of history and the trends of the world." He later indicated that peace and cooperation, openness and connectivity, reform and innovation represent the trend of human development. Xi emphasized the initiative he put forward years ago to build a community with a shared future for mankind, and regarded economic globalization as an irreversible trend of our times.
In an interview with China Today, former Foreign Minister of Australia Bob Carr indicated that President Xi's speech was in stark contrast with the U.S. President Donald Trump's policy: "Now China stands for openness and beneficial globalization; and Trump stands for closed markets and protectionism."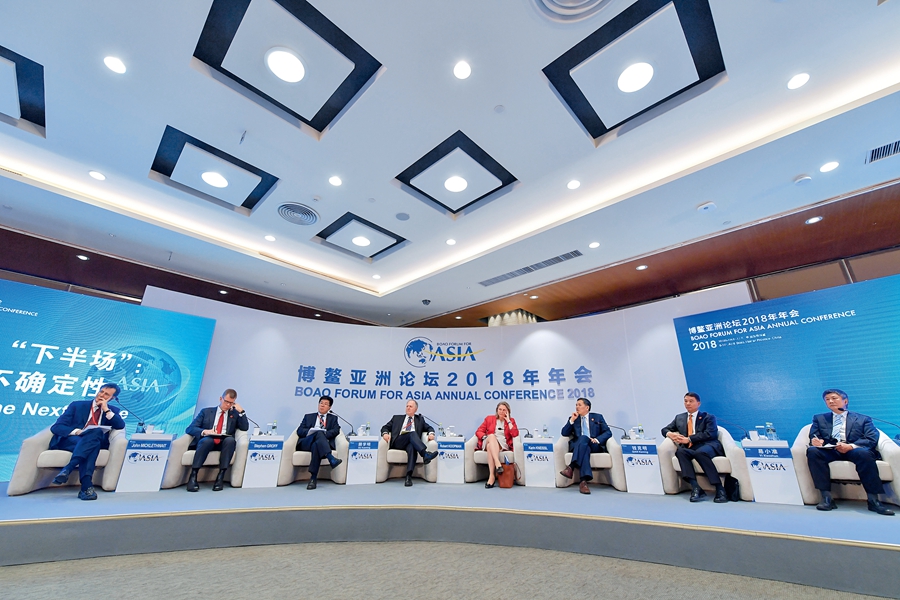 The session themed "Globalization: the Next Phase" of the Boao Forum for Asia Annual Conference 2018 is held in the BFA International Conference Center on April 10.
Grimstone ascribed the rising trade protectionism in the world to prevalent populism. "Many ordinary people are seeing globalization is benefiting elites, not themselves. I think populism is against globalization as some people have lost their jobs for the sake of globalization," Grimstone told China Today.
Responding to the populist view, Koopman said, "Many countries' decision-makers have actually ignored the fact that while enhancing international trade, globalization also leads to some dislocations, or restructuring of the economic system and redistribution of industries." He further pointed out that studies showed that only around 15 to 20 percent of job losses in the manufacturing sector were caused by globalization, and other job reductions resulted from automation and consumers' shifting preferences. Koopman endorsed President Xi's view about globalization.
Prodi also rooted for globalization by saying, "Globalization has advanced human development on the whole. However, we have to implement effective management to safeguard a country's economic safety. It's better for us to start from protecting people's long-term interests, but we should not interrupt the globalization process, or we'll slip into an embarrassing plight."
In a TV debate on the topic of "40 Years of Reform & Opening: China and the World," former UN Secretary-General Ban Ki-moon, also the newly elected BFA chairman, thought the major message conveyed by President Xi in his speech is to build a community with a shared future for mankind, thus achieving common development and prosperity. He believed the international community had warmly responded to the initiative. In his view, as no country in the world can exist or develop all by its own, countries should seek peaceful co-existence and common prosperity.
China's Contribution to the World
Five years ago, President Xi first put forward the Belt and Road Initiative (BRI). Since then, more than 80 countries and international organizations have signed cooperation agreements with China. In his speech, Xi said, "The BRI may be China's idea, but its opportunities and outcomes are going to benefit the world." By embracing the principle of extensive consultation, joint contribution, and shared benefits, Xi expressed hope that all parties concerned can work together to build the BRI the broadest platform for international cooperation in keeping with the trend of economic globalization and to greater benefit for the people of the world.
Ban Ki-moon indicated that the BRI is a great initiative which has gained significant support from the international community as it is mutually beneficial. Some people have misgivings about it, as they falsely believe that it only aims to benefit China. Ban thought the view is really depreciative of China, ignoring China's sincerity to promote common development. He indicated that a review of China's assistance to Africa would help them gain some insight about China's responsibility as a major country. He said that many countries once extended their helping hands to African countries too in terms of capital and technology, but lack subsequent follow-up. "China has helped many African countries. China has not only brought them capital and technology, but also human resources. Many Chinese experts have been to Africa, training local people and passing on techniques. Chinese companies and investments have brought locals employment opportunities. So I think China is sincere, and of course African people have returned Chinese people the same sincerity."
Ban indicated that China's development path has given the world many inspirations, including China as a role model in supporting many other developing countries' growth, Chinese people's mettle in seeking their country's development, China's successful practice in economic development and poverty reduction, and China's efforts in coping with climate change.
In the TV debate, when talking about China's successful and unique development path, responding to the question whether French people feel anxious about an increasingly stronger China, former Prime Minister of France Jean-Pierre Raffarin said, "China's development path is very clear and predictable. We understand China's vision for development and its ways of implementation. China is taking a socialist development path with Chinese characteristics, instead of American and European paths. We should respect that. This is very important." Raffarin indicated that in France some people were worried, but they had worried about American and Japanese products earlier when these products first reached the country. Now it is China's BRI to be worried about. In Raffarin's view, to deal with the sentiment, dialogues, communication, and explanation are important because the international community need the mutually beneficial and win-win initiative, which will also contribute to peace. He said what's most fearsome is unpredictability.
In its 40 years of reform and opening-up, China has lifted more than 700 million people out of poverty, accounting for more than 70 percent of global poverty reduction achievements. Ban Ki-moon said that the realization of the UN poverty reduction target, which is part of the Millennium Development Goals, owed a lot to China's efforts. He believed that China would continue to play an exemplary role in advancing the progress of meeting UN Sustainable Development Goals. He pointed out that China's plan to secure a victory in building a moderately prosperous society in all respects and eliminate absolute poverty by 2020 would further project China as a role model for other countries.