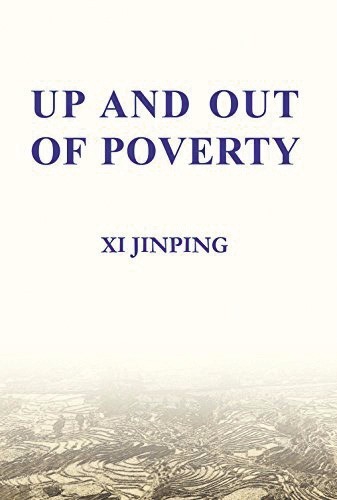 Up and Out of Poverty
– Selected Speeches and Writings from Fujian
Author: Xi Jinping
Paperback, 223 pages
Published by Foreign Languages Press & Fujian People's Publishing House
UP and Out of Poverty is a compilation of Xi Jinping's major works from September 1988 to May 1990 while he worked as the secretary of Ningde Prefectural Party Committee in Fujian Province. Initially published in July 1992, the book comprises 29 speeches and articles.
Focusing on how the eastern Fujian area could open up and develop, alleviate poverty, and become prosperous, Xi raised numerous ideas, thoughts, concepts, and methods, such as getting rid of the impoverished mindset, "water droplets drilling through rock," "letting a weak hatchling bird be the first to fly," and implementing the "four grassroots initiatives." The book, in its lively and thought-provoking language, discusses the theoretical and practical problems on the economic and social development of eastern Fujian, and presents a series of creative ideas and forward-looking institutional theories.
In the first chapter "How Can a Weak Hatchling Bird Be the First to Fly? – Thoughts from Inspecting the Nine Counties of Ningde," Xi puts forward his idea that a weak hatchling can be the first to take flight, and that to become rich. People must first have such a concept in mind. He stresses that impoverished regions should not have impoverished ideas. "Being at peace with our lot," "finding contentment in poverty," "waiting for government aid, relying on financial grants, requiring poverty allowances," "blaming everyone but ourselves" – all of these concepts must be swept out. According to him, the most pressing task at the moment is for the Party members, officials, and people to free their minds, update their thinking, and tell everyone that the "weak hatchling bird can be the first to take flight and the poorest can be the first to become rich." Xi also emphasizes the notions of reform and opening-up, building a commodity economy, and competing on the market to create a miracle of the weak hatchling bird being the first to fly in some areas.
Since the 18th National Congress of the Communist Party of China (CPC), the CPC Central Committee with Xi Jinping at its core has taken targeted poverty alleviation as one of the three critical battles against potential risks, poverty, and pollution on the way to building a moderately prosperous society in all respects. A series of new thoughts have been put forward based on the fundamental concerns of who to receive, who to implement, and how to implement poverty relief. The solutions to these questions are addressed in this book.
In the first chapter, Xi proposes that "we must clearly lay out our poverty alleviation measures, and whether it is planting and cultivation, animal husbandry, or the processing industry, we should strive for 'one product for each village' (each village should focus on a specialized product)."
According to Xi's observation, since the introduction of the household contract responsibility system in rural areas, the strength of Party organizations has diminished, and the exemplary role of Party members was no longer visible. Therefore, in the article "Enhancing Our Core Strength on the Front Line for Eliminating Poverty – Building Rural Party Organizations," he reaches a conclusion that "we must have a good Party branch to achieve prosperity."
But how to handle these problems in an innovative way? Xi gives his in-depth analysis in "Correctly Manage Six Relationships in Ningde's Economic Development," discussing the relations between opening to the outside world and poverty alleviation. He recommends making full use of local resources and developing an open market to enable a transformation from "giving fish to eat" to "teaching how to fish" in the ethnic minority areas.
Rather than piling up vague and general theories, the book, in simple words, merely focuses on one topic: How to cast off the shackles of poverty in the backward areas of Ningde.
Xi uses a metaphor in the chapter "Water Droplets Drilling Through Rock," saying "Just look at areas where the economy is lagging. Historical, environmental, and geographical factors have all played a part in holding back development. There are no shortcuts. Nothing can change overnight. We need to focus on the long haul by turning quantitative changes into qualitative changes. We need to be the dripping water that drills through rock."
Well-grounded data are frequently cited in Xi's articles. For example, in the chapter "Opening up the Economy for the She People," Xi makes a convincing argument by quoting the exact number of poor families of the She ethnic group, the percentage of the impoverished She population, and the rate of those out of poverty.
Xi pays great attention to investigation. Not only is the first chapter based on a one-month field survey on nine counties of eastern Fujian, "The Path to Developing Big Agriculture" is also attributed to a large quantity of field studies on local conditions. His solutions to the underdeveloped economy are thereby realistic, practical, and effective.
Maintaining close ties with the people is always the focus of Xi's daily work, as he believes it is a fundamental method of battling poverty and a necessity of establishing the authority of leadership. Soon after Xi took up his position in Ningde, he and several of his colleagues spent a month touring nine counties of Ningde as well as neighboring areas before putting forward a forward-looking development approach of enabling the weak hatchling to be the first to fly. In another two chapters, "The Basic Proficiency of Officials – Maintaining Close Ties with the People" and "Always Keeping the People in Mind – On Handling Petition Work in the New Situation," Xi also expounds his views on the people-centric philosophy of development, and has stuck to this pragmatic working method and style consistently.