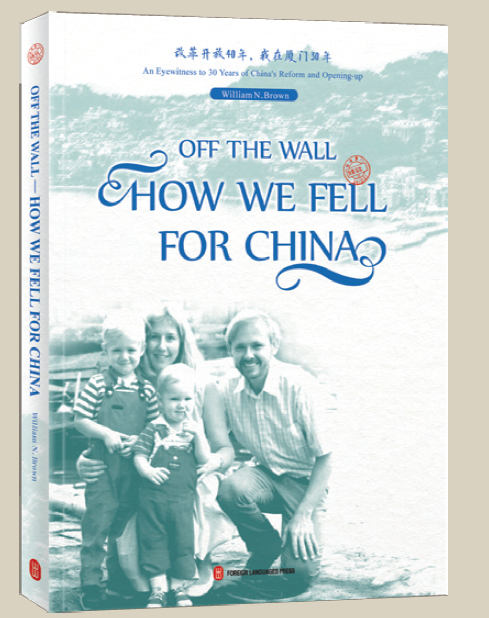 Off the Wall – How We Fell for China
Author: William N. Brown Paperback, 216 pages
Published by Foreign Languages Press
BEFORE the Spring Festival, Chinese President Xi Jinping congratulated an American professor for publishing a book about China.
The book, Off the Wall – How We Fell for China, written by Dr. William N. Brown, a business professor of Xiamen University in southeast China's Fujian Province, is compiled of 47 letters detailing his life in Xiamen, which he sent back home to his family and friends in the United States. Upon completing the book, he sent a copy to President Xi Jinping and was surprised to receive a reply.
"I have received your letter and your book. Congratulations on your new book." Xi replied in a letter to Dr. Brown, "Xiamen is an amazing city. It is now your second hometown. I used to work there, and that experience has given me many wonderful memories. You have been a teacher in Xiamen University for 30 years and dedicated precious time of your life to China's education. I am very moved by your affection towards Xiamen and China."
Dr. William Brown is well-known to most Xiamen people, who affectionately call him "Old Pan." In 1988, he resigned from his position as the senior vice president of First American National Securities and moved with his family to Xiamen, where he taught MBA courses for the next 30 years. Then in 1992, he became the first foreigner in Fujian Province to receive a permanent residence permit. In addition to teaching, he has also helped 13 Chinese cities including Xiamen and its neighbor Quanzhou win medals in the International Awards for Livable Communities.
The selected letters in the book portrayed the changes in Xiamen and even around China at different times from a foreigner's eyes: from the muddy roads in the 1980s to the modernized urban facilities of today, from his father's disagreement with his coming to China to a gradual understanding and recognition of his son's decision. Brown's family stories, filled with deep affection for China, happened to coincide with the most remarkable changes of Chinese society over the past several decades. In this way, a vivid and real picture of China is presented before foreign readers.
Brown once described his deep ties with China as his prearranged destiny. This distant Asian nation on the other side of the Pacific Ocean had allured him to come to its shores, and once here, it continued to fascinate him over the following 30 years, making him an eyewitness and a disseminator of China's huge changes to the world.
Of the 47 letters in the book 30 were written between 1988 and 1990. Chen Yuanhui, a student of Brown in the 1980s, is now the managing director of Asia at a leading Australian company – Pepper Financing Services Group. When she was studying in Xiamen University, Brown often invited students to his home on weekends to sing, chat, make dumplings, and barbecue. Both the letter 27 "Turning the Tea Table" and letter 34 "When Silence Is Not Golden" narrated the stories between an American teacher and his Chinese students. In these two letters, Brown shared some of his reflections on China's education and summarized the way to teach Western culture in a silent Chinese class, as well as encourage introverted Chinese to raise their hands and answer questions.
His colleagues in Xiamen University once commented that during the first decade after Brown's arrival, he brought Western culture to China, then over the following two decades, he introduced Chinese culture to the world. The last 17 letters recorded this process. For example, in letter 36 "I Voted! (Mountain High, Emperor Far Away)," Brown recalled his participation in local elections and the way Chinese people practiced their democracy; in the letters 39 and 40 "Around China in 80 Days (I-II)," he recorded his adventurous journey in China with his family driving a rented van for 80 days; in letter 45 "Xiamen Wins the 'Green Oscar'," Brown reviewed his role as the spokesperson of Xiamen to compete for the "International Garden City;" while in letter 41 "Millionaire Maid," he told the story of one person's efforts to realize her own Chinese dream. All these letters reveal Brown's dedicated efforts to present China and Chinese culture to the world.
Hu Min, President of the New Channel International Education Group, after reading the book, acclaims that Brown's language is concise, lively, and humorous. Reading it is like savouring a cup of oolong tea of Fujian Province, which is loved for the lingering taste. Always optimistic, Brown's stories teemed with sunshine. Even though he encountered some frustrations and difficulties, no trace of complaining or criticism can be found in the book.
There are two innovations of the book's English edition. Firstly, the writing is easy to understand, which present readers an enjoyable reading experience. Secondly, the content is full of Chinese allusions, idioms, and colloquialisms, for example, "three feet of ice is not formed in one single day," "Water spilled on the ground cannot be brought back," "Plant trees so future generations may enjoy the shade," all of which are culturally-bonded expressions but easy to be understood in the English version.
Moreover, the book is a collection of old family photos, including Brown, his wife Susan, and their two sons, family portraits in different times, the wedding photo of his son Matt and daughter-in-law, as well as his desk buried under a pile of letters. Through reading the book, foreign readers can not only see China for what it really is, but also fall in love with it as Brown's family did.