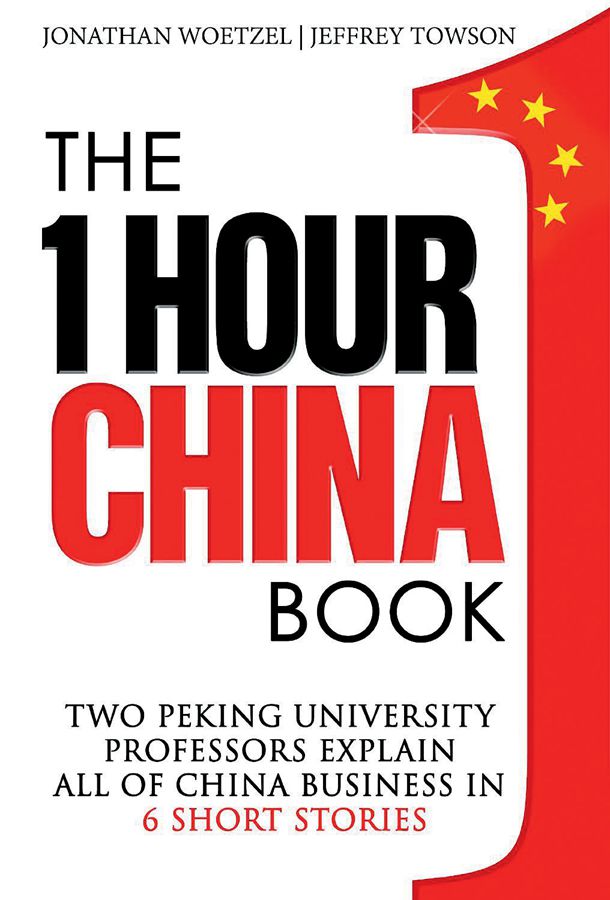 The One Hour China Book:
Two Peking University Professors Explain All of China Business in Six Short Stories
Authors: Jonathan Woetzel & Jeffrey Towson
Published by Towson Group LLC (Cayman Islands)
IN today's world, globalization is the trend that drives businesspersons to seek every opportunity around the world. And China is definitely a huge and growing market that they will not want to miss out on. To quickly get an insightful glimpse of China and its people, two investment professors from the Guanghua School of Peking University, Jeffrey Towson and Jonathan Woetzel, wrote The One Hour China Book. This is a book for everyone, since it can be read in an hour and gives most of what one needs to know about Chinese government, consumers, enterprises, and the way they do business.
Six stories are skillfully interconnected, each representing one of contemporary China's business phenomena, thus revealing six big trends that are shaping the country's future: urbanizing a billion people, huge manufacturing scale, rising Chinese consumers, money — and lots of it, the brainpower behemoth, and the quick Internet development.
The two authors are both veterans in business and investment. Jonathan Woetzel is a senior partner of McKinsey & Company who opened McKinsey's Shanghai location and has been a resident since then. He is now the director of the Asia-based McKinsey Global Institute (MGI) stationed in Shanghai. Jeffrey Towson is the executive director of Towson Capital, a private equity company. Their writing style foregoes dry analysis and poring over economic reports with reams of data, instead preferring readability, yet is also inspiring and visionary.
For example, the story of Steve Jobs and the iPhone launch is impressive and insightful. Readers can get a compelling impression of China's large number of technology professionals who are playing an indispensable role in the value chain of global manufacturing.
One month before the first generation of the iPhone was about to go on sale, Steve Jobs, co-founder of Apple Inc., convened an executive meeting, demanding that all mobile phones' plastic screens be changed into tempered glass screens and the work be completed within four or five weeks. To cut and treat that large amount of glass in an incredibly short amount of time before shipping was an astounding challenge.
In the meantime, in China's coastal city Shenzhen, Foxconn Technology Group, the processing enterprise (assembly and manufacturing partner) for the iPhone, was ready to assemble products. Executives of Apple Inc. soon received a quotation of glass screens from one Chinese company who had already organized a professional team on the production line. This well-prepared company won the manufacturing order. After four weeks of round the clock work, the first batch of glass screens had been cut, polished, and transported to Foxconn factories, arriving at midnight. Two days later, 10,000 iPhones with glass screens were assembled successfully. It was reported that altogether 8,700 Chinese engineers and 200,000-plus Chinese workers had participated in the production.
The speed, flexibility, and intelligence of China's manufacturing system is amazing. To pull off a last minute major re-design and specification change, and pump out the finished product on schedule is nothing short of a herculean task even with the best teams working on it. For something that would have required months of expensive re-working and re-tooling and skyrocketing personnel costs, it took the Chinese contractor only 15 days to gather the required engineers and workers in the thousands to accomplish.
The authors then analyzed the reason. The enrollment expansion of college education has been equipping the country with a large number of skilled professionals. Since 1998, the ratio of educational investment to GDP has increased two or three times. The number of college graduates has surged from one million in 1998 to 7.5 million in 2012 (8.2 million in 2018), turning Chinese brainpower into another game-changing phenomenon.
There is also an explosion in research-and-development investment: in 1993, China accounted for just 2.2 percent of the world's R&D spending; by 2009, the figure was 12.8 percent and well ahead of most European countries. In 2011, China surpassed Japan and is now second only to the U.S.
Manufacturing and R&D are closely connected. China's manufacturing giants provide sufficient funding to invest in long-term R&D and are proactive in acquiring foreign corporations. Huawei has transformed from a low-cost manufacturer to an innovative global brand, just like Thomas Edison's laboratory which had developed into today's multinational behemoth – General Motors Corporation (GM).
Chinese companies, with access to a huge market, large numbers of skilled professionals, constantly improving corporate governance structure, effective process of R&D, and deep pockets, are creating miracles one after another overseas.
The two professors are also co-authors of another book The One Hour China Consumer Book – Five Short Stories That Explain the Brutal Fight for One Billion Consumers. In the preface, the story of the Bobbie Bear perfectly highlights the massive game-changing potential of the rising power of Chinese consumers.
Robert Ravens, a farmer of Tasmania in Australia, used lavender to make a stuffed blue colored teddy bear called Bobbie Bear which was discovered by a Chinese actress Zhang Xinyu who shared its photo on her Weibo, which went viral on the Chinese social media resulting in hordes of frenzied fans trying to purchase the limited product. Robert's farm now attracts over 60,000 visitors annually and the gift bears are in such short supply that each visitor is only allowed to purchase one.
"This book simplifies China in a very elegant and smart way. These distinguished authors tell you clearly what a businessman most needs to know right now," commented James McGregor, CEO of Dow Jones & Company in China and previously head of Beijing news bureau of the Wall Street Journal.