The annual sessions of the National People's Congress (NPC) and the National Committee of the Chinese People's Political Consultative Conference (CPPCC), laying out major policies on the Chinese economy, trade, investment, and environment, among other issues, send powerful messages of stability, innovation and hope. Premier Li Keqiang delivered the Report on the Work of the Government at the Fifth Session of the 13th National People's Congress on March 5, amid a time when our planet faces challenges unprecedented and unseen for a century.
Rock Solid
China has set its GDP growth target for 2022 at around 5.5 percent, in line with the average rates of the past two years and the goals of the 14th Five-Year Plan (2021-2025). During 2021, China's GDP expanded 8.1 percent, accounting for more than 18 percent of the world economy, and contributing around 25 percent to global growth. Worth mentioning is that some two-thirds of the world's countries (including the EU as a whole) trade more with China than they do with the U.S. China's GDP reached RMB 114 trillion ($17.7 trillion) in 2021, ranking a world second, according to Li Keqiang. Also to bear in mind are forecasts by a number of international think tanks before the NPC, since confirmed, wherein China is set to overtake the top-ranking U.S. economy by 2030.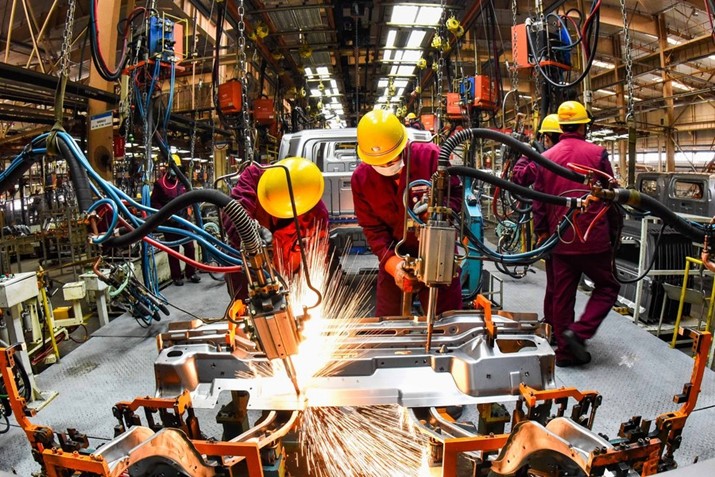 Workers weld components at a workshop of an automobile manufacturing enterprise in Qingzhou City, east China's Shandong Province, on February 28, 2021. (Xinhua)
Although the International Monetary Fund's projection for China's growth this year is 4.8 percent, what must be remembered is that Beijing's projections have historically been modest, never exceeding real possibilities. This is apparent in China having exceeded its economic growth target of 6 percent for 2021 to reach 8.1 percent.
Innovative Belt and Road Initiative
As regards the Belt and Road Initiative (BRI), initiated by China in 2013, Premier Li Keqiang's report called for further progress by promoting high-quality cooperation and remaining committed to the principle of shared growth through consultation and collaboration with partners and potential partners. The report states that, to reach the goals, the country will make full use of international and domestic markets and resources in pushing for in-depth reforms.
The freshest example of this upgrading strategy was in February 2022, when President Xi Jinping met with Pakistani Prime Minister Imran Khan, with the aim of promoting in-depth regional development through discussions with Afghanistan on extending the China-Pakistan Economic Corridor (CPEC) to Afghanistan itself. The move implied a multi-billion-dollar Chinese investment program. Meanwhile, Beijing supports, in close coordination with UN Secretary-General Antonio Guterres, the UN's key role in Afghanistan's peaceful reconstruction.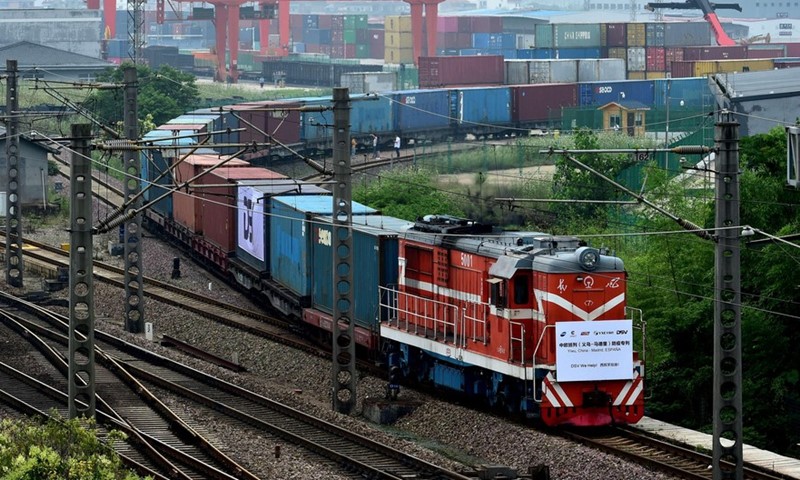 A China-Europe freight train carrying medical supplies bound for Madrid of Spain departs the city of Yiwu, east China's Zhejiang Province, on June 5, 2020. (Xinhua)
Meanwhile, one of the BRI's flagship projects — the freight train commercially linking the eastern Chinese city of Yiwu with Spain's capital city Madrid via the so-called New Eurasian Land Bridge also merit our attention. The European media has periodically highlighted this project since the train's first trip in December 2014. Travelling the 13,000 km through China, Kazakhstan, Russia, Belarus, Poland, Germany, and France, transporting products to and from each country, takes 19-21 days. That trains run continuously back and forth across the Eurasian continent under Eurasia's present geopolitical circumstances is extremely significant. It reminds us that not even the COVID-19 could, in the end, present an insurmountable barrier to international trade, even during the pandemic's worst months in 2020. During the period of 2016-2021, the China-Europe train trips had increased to 15,183 from 1,702, according to China's state railway operator.
Apart from its incremental size on land and sea, another innovative achievement of the BRI, in line with the government report Li Keqiang delivered, is that of the Health Silk Road, which has added a new dimension to the initiative. By January 2022, China had sent two billion or more doses of vaccine to around 120 countries and international organizations, along with physicians, medical workers, and materials. Beijing also recently announced that it would provide another one billion doses to African countries, 600 million of them donations, and donate a further 150 million doses to ASEAN countries. This might well be considered the most important intercontinental health cooperation in human history.
As of early March 2022, countries that have joined the BRI spread across all five continents, with 51 countries in Africa, 27 in Europe, 40 in Asia, 21 in Latin America and the Caribbean, and 11 in Oceania, together with 32 international organizations.
Connecting the World while Promoting Global Development
The country has also further engaged in connectivity via the Regional Comprehensive Economic Partnership, effective since January 1, 2022, and has proactively advanced the process of joining the Comprehensive and Progressive Agreement for Trans-Pacific Partnership (CPTPP), which will continue via focused diplomacy throughout this year.
As Premier Li Keqiang's government work report shows, despite the decline of an index on world openness, and weakening global consensus on opening up, openness nevertheless remains a constant theme for China. As the document highlighted, the country has established important global trade and economy cooperation platforms, such as the China International Import Expo, the China International Fair for Trade in Services, the China Import and Export Fair, and the China International Consumer Products Expo. All these efforts, along with the BRI, are deeply intertwined with the Global Development Initiative (GDI) that President Xi Jinping proposed last September, aimed at pursuing greater international synergy to accelerate implementation of the 2030 Agenda for Sustainable Development towards stronger, greener, and healthier global development.
In Spring of 2022, humankind faces momentous challenges, among them the pandemic's persistence, the current European security crisis, climate change, supply chain pressure, the disabling of the WTO dispute settlement mechanism, Brexit aftershocks, and a proliferation of protectionist measures. Taken as a whole they signify that global trade patterns are becoming ever less predictable. Moreover, in the West, major geopolitical crises our last two generations have never experienced (imbuing various ramifications) looms large, wherein, unless an urgent solution is formulated, several interconnected developments appear to be escalating to a point of no return.
There is an old Chinese saying that if you want to be prosperous, you must first build a road." If we apply that premise to our era, its most logical adaptation would be equivalent to building highways, superhighways, railways, air and sea routes, and cyberspace highways. This is the best way to understand geo-economic reality in a digital age wherein it is not geography that changes, but rather the way of conceiving and acting on it. Trade means peace, and peace means trade, and the promotion of win-win situations. Such is the Two Sessions' most important message to the world in March 2022.
_________
AUGUSTO SOTO is director of the Dialogue with China Project in Spain.