From March 4 to 10, 2022, the fifth session of the 13th National Committee of the Chinese People's Political Consultative Conference (CPPCC) was convened in Beijing. It marks the fifth year that Zhang Xingying, deputy director-general of the National Satellite Meteorological Center (NSMC), fulfills his duties as a member of the CPPCC National Committee, China's top political advisory body.
"Over the past four years, I have participated in more than a dozen surveys and traveled to many places across the country, from urban to rural areas, from big cities to small towns and villages, and from factories to farms," he said.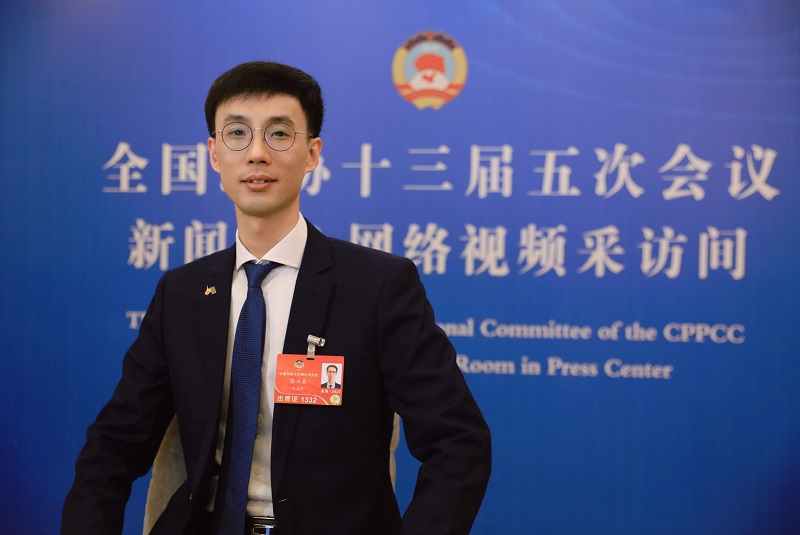 Zhang Xingying, deputy director-general of the National Satellite Meteorological Center (NSMC) and a member of the 13th National Committee of the Chinese People's Political Consultative Conference.
Whole-Process People's Democracy
"All my proposals have been to address what the people truly care about," Zhang said. Over the past four years, he has submitted 11 proposals across a wide range of subjects including air pollution control, ecological environment monitoring and protection, the Belt and Road Initiative's implementation, policy making towards the goals of peaking CO2 emissions and achieving carbon neutrality, improvement of the catastrophe insurance system, rural revitalization, and the sharing economy. All these proposals were accepted and filed by the CPPCC National Committee.
According to Zhang, many of his suggestions were adopted and put into practice in a short time. He shared an example. Last March, he submitted a proposal of increasing investment in the construction of a scientific monitoring and evaluation system for carbon neutrality to the CPPCC National Committee, and his proposal was soon forwarded to the Ministry of Ecology and Environment for handling in conjunction with the National Development and Reform Commission, the Ministry of Science and Technology, the Ministry of Finance and the China Meteorological Administration. On August 24, 2021, the response letter to his proposal was published on the official website of the Ministry of Ecology and Environment.
Relevant government departments acted quickly. In September, the Ministry of Ecology and Environment released a pilot work plan to monitor carbon emissions in 16 cities, five key industries, and 11 group companies. Three months later, the China Meteorological Administration released a list of first 60 stations of the National Greenhouse Gas Observation Network, and then the Plan for Developing Greenhouse Gas Observation in January. "These developments have served as a vivid demonstration of the viability and strength of deliberative democracy practiced in China," Zhang said.
The process of fulfilling his duties allows Zhang to have a deeper understanding of the whole-process people's democracy. Quoting the white paper China: Democracy That Works, he said that democracy is a common value of humanity and an ideal that has always been cherished by the Communist Party of China (CPC) and the Chinese people. The best way to evaluate whether a country's political system is democratic and efficient, he added, is to observe whether all the people can manage the state, social, economic and cultural affairs of their country in conformity with the law, whether the public can express their opinions without hindrance, and whether all sectors can efficiently participate in the country's political affairs.
"The whole-process people's democracy in China not only has a complete set of institutions and procedures, but also full participation and practices. In this sense, China has set an example of socialist democracy that covers all aspects of the democratic process. It is a true democracy that works," Zhang said.
Fulfilling Duties and Responsibilities
When performing his duties, Zhang first puts forward objective, constructive, and forward-looking views and ideas, and then participates in national governance through democratic consultation. Each of his proposals is based on a year of extensive and meticulous research and thoughtful investigation.
Eco-environmental protection and governance is a topic that he has always paid much attention to. In 2019, when studying at the Party School of the CPC Central Committee (National Academy of Governance), Zhang and seven other government officials in his class went to Ulanqab located in the middle of Inner Mongolia Autonomous Region for a study of the rapidly shrinking Daihai Lake and the environmental problems arising out of it.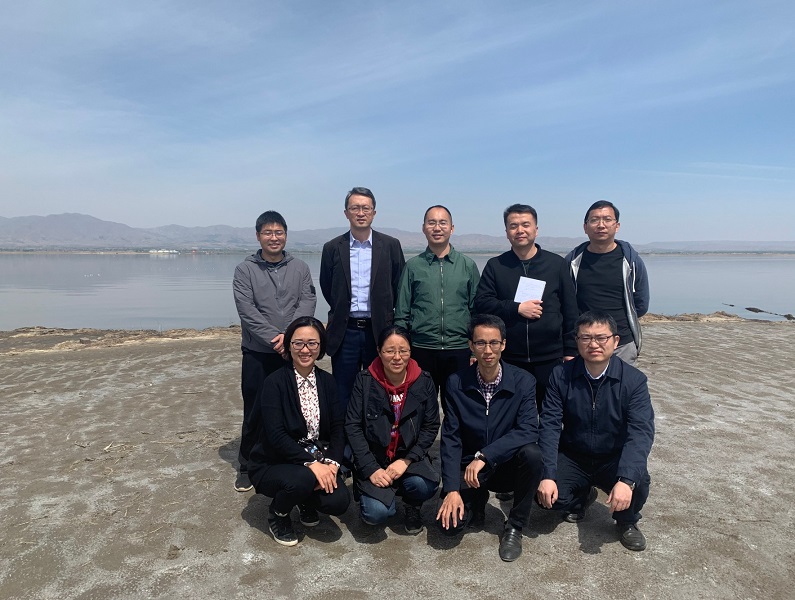 Zhang Xingying (first row, second from right) went to Ulanqab located in the middle of Inner Mongolia Autonomous Region to investigate the rapidly shrinking Daihai Lake in May, 2019.
To make full preparations, they started research one month before the field investigation, with each of them focusing on a specific field. Zhang, based on the satellite observation data of the Daihai Lake over the past three decades, together with long-term site observation data collected by the local meteorological department, made an all-round analysis of the changes in the lake water area. He also evaluated the relationship between local meteorology and climate change, and tried to separate the effects caused by the natural variation from human-induced destruction.
A team member from the Ministry of Water Resources analyzed the impact of Daihai Power Plant on the lake's water temperature and chemical composition based on the long-term monitoring data of its hydrology and water quality, while taking into account local industrial layout and rural water use.
Thanks to these efforts, their week-long investigation at Ulanqab was rewarding. "After in-depth investigation of the Daihai Lake and with the help of big data analysis, we drafted our proposal," Zhang said. The proposal, based on a fact-based high-quality research report which examines in detail the changes in the ecological environment of Daihai over more than half a century and raises ideas for environmental protection and recovery, was submitted to and adopted by the CPPCC National Committee.
Dare to Be First
Zhang, born in 1978, the year when China adopted the policy of reform and opening up, is a member of both the CPPCC National Committee and the All-China Youth Federation. With a doctorate in atmospheric environmental chemistry, he began his research on remote sensing technology of global carbon dioxide monitoring satellites in 2007. In 2011, he served as assistant to the chief scientist of China's first carbon emissions monitoring satellite and worked for the establishment and development of China's carbon dioxide monitoring experimental satellite project. Five years later, the satellite was successfully launched, making China the third country with a satellite to study carbon emissions right after Japan in 2009 and the United States in 2014.
"In the context of deteriorating eco-environment, intensifying climate change, and increasing meteorological disasters, it is crucial to give full play to the role of satellite remote sensing," said Zhang. Chasing the strategic goals of carbon peaking and carbon neutrality, he has been thinking about the scientific methodology of monitoring carbon emissions and evaluating the emission reduction effects in different regions and industries.
In 2022, China will launch the world's first satellite to detect carbon dioxide in atmosphere with a Lidar (light detecting and ranging) system. As deputy chief engineer of the application system for this satellite, Zhang looks forward to obtaining more accurate date about atmospheric carbon dioxide concentration through new technologies. This will facilitate China in achieving the "dual carbon" goals, and share data with the international community to promote better global environmental governance and combat climate change.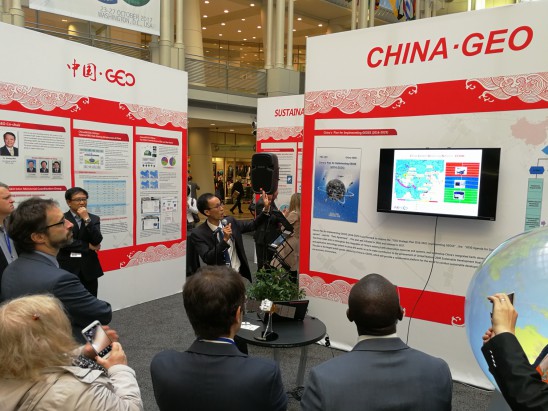 Zhang Xingying (center) introduces Chinese carbon satellites to the world at the plenary meeting of the International Earth Observation Organization held in Washington, D.C., the United States, on October 25, 2016.
"Deep participation in global environmental governance" is another area of interest for Zhang. He said, "The key to sound relations between states lies in amity between their people." It is necessary to encourage Chinese professionals to join international organizations or international expert teams, to participate in the formulation of rules and regulations, compilation or review of academic reports, according to Zhang. He also urged more social organizations to go global. "In a globalized world, China should be more active and creative in global environmental governance, especially in some forward-looking fields," he stressed.