Bucking the sluggish global market trend, in 2020 China's sales of new energy vehicles (NEV) increased by 1.3 million. Its NEV output is expected to take up half of the world total, and the country's sales growth in 2021 is forecast to hit 1.8 million units. The strong development momentum of China's NEV market is indeed a fundamental measure to act out President Xi Jinping's pledge to peak China's carbon dioxide emissions before 2030, and achieve carbon neutrality by 2060, as Chan Ching-chuen, Honorary Professor in the Department of Electric and Electronic Engineering at the University of Hong Kong, and Academician of Chinese Academy of Engineering observed. Chan holds that China's net-zero goal is no chimera, but an attainable ambition based on specific policies and measures, and spearheaded by revolutionary and pioneering science and technology innovations. "Boosting the NEV market is one of China's most effective green development practices," Chan said.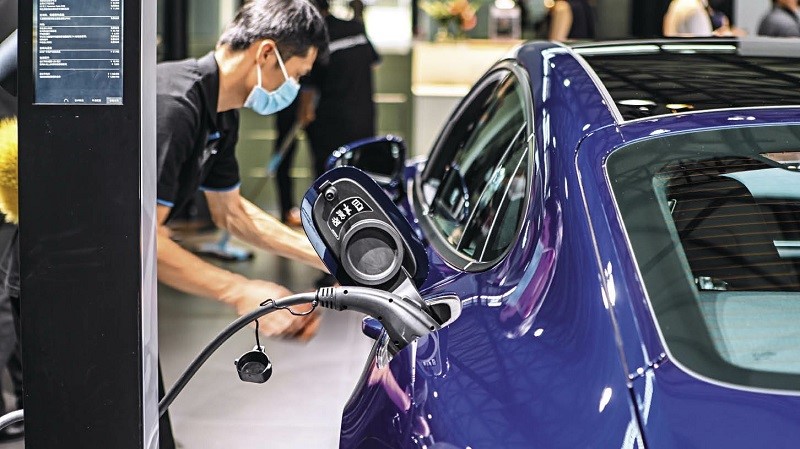 Electric vehicles and charging piles on display at the 2020 Shanghai Pudong International Automotive Exhibition held last October.
Over the past decade or more, China has nurtured the world's largest NEV market and charging network. Statistical data show that China's cumulative NEV sales volume accounts for 47 percent of the global total, and its electric bus and truck sales for over 90 percent. To say that China has made an impressive contribution to world energy conservation and emissions reduction, therefore, is no exaggeration.
Nor is it surprising that so many stories of China's NEV development have appeared internationally in major media portals. Among them is that published in the German automobile magazine Auto Motor und Sport which comments on China's colossal electric vehicle manufacturing capacity. Echoing the German article, Chan observes, "Owing to our huge market, further buttressed by our immense practices in recent years, China has the potential to become a major world power in the field of electric vehicles."
How Far can EV Endurance Go?
Acclaimed as "Father of Asian Electric Vehicles" and "Asia's Best Technology Pioneer," 84-year-old Chan has garnered many titles, including Fellow of the Royal Academy of Engineering, U.K., and founding president of the World Electric Vehicle Association. He has consequently kept a close eye on China's EV market.
In recent years, consumers have likely been bedazzled and overwhelmed by the promotion hype of EV manufacturers. "Some push the 1,000-kilometer endurance of their EVs and 8-minute charging that replenishes 80 percent of the full capacity. This generates heated discussions, but I think much depends on an electric car's battery capacity. One thousand-kilometer endurance does not constitute a revolutionary breakthrough," Chan said. In his view, electric cars have no great need for a large battery capacity, because it defeats the object of energy saving and also increases costs. He also holds that 200-, 500-, or 1,000-kilometer endurance merely offers consumers a choice of options, just as smart phones offer 32, 64, and 128 GB storage spaces. "However, as regards comprehensive benefits, and given the contemporary battery technology, delivering 200-250-kilometers of charge to a car battery in five minutes is most feasible, because it meets the energy-saving requirement and also suits China's actual situation," Chan said.
EV endurance has been a top concern for both manufacturers and consumers. To tackle the issue, Chan has proposed integrating four networks — energy, information, transportation, and humanities — and four flows — energy, information, material, and value. "It means a comprehensive plan that takes into account driving needs, the convenience of users, the power system, charging facility, and carbon emissions index, as well as nature, optimum operation conditions, and safety of battery," Chan said. He believes that, under the current policy framework, to reach the carbon emissions peak and realize carbon neutrality the country should introduce a carbon emission index for EVs based on per-unit-of-power consumption, and so guide EV battery development.
Making Energy "Smart"
Chan applauds China's commitment to hitting a carbon emissions peak and achieving carbon neutrality. "This long-term plan demonstrates just how serious our country is about taking up its responsibility as a major power," Chan said. He believes that devising a smart energy system could be integral to achieving this goal.
Chan regards human beings, the information network, and the physical system as the three key components of a smart energy system. "The aim is to convert scrapped energy into usable energy through energy coupling, and in that way help to realize carbon neutrality," Chan said.
At present China's electric power is generated mainly from hydropower, solar power, wind power, fossil fuels, and nuclear power. Chan holds that the power generation process, for example that of solar and wind power, also produces redundant electric energy which is unacceptable to the grid. "Through the electrolysis process, excess electricity may be electrolyzed into hydrogen, thus transforming the energy flow into a material flow. The hydrogen can then be reused in hydrogen fuel cells which power NEVs. This enables the fullest energy use," Chan said.
"Intelligence is penetrating all sectors of our society, in the forms of smart energy, smart transportation, and smart cities, all of which make our lives more convenient, comfortable, safe, and green," Chan observed.
Meeting the Carbon Neutrality Goal
"According to our country's NEV industry plan (2021-2025), by 2025, China's NEVs will make up 20 percent of all cars on Chinese roads; and by 2035, the NEV share will be dominant," Chan stated. He believes that the automobile revolution in China further deepens as its NEV sales approach two million.
Chan further observes that smart NEVs, as carriers of mobile distributed energy, energy storage, and information, will facilitate the eventual realization of carbon neutrality, as well as constituting a link between the automobile, energy, and information revolutions.
The integrative core of the four networks — energy, information, transportation, and humanities — and the four flows — energy, information, material, and value — lies in converting scrapped energy into usable energy, which boosts development of the smart energy system that the energy storage system facilitates. EV energy comes from electric power, which can be generated from different resources. Therefore, as distributed energy carriers, EVs can, through integration of the four networks and four flows, contribute to the transformation of China's energy structure and eventual realization of carbon neutrality.
Chan calls on NEV manufacturers to be more independent by making breakthroughs in core technologies. "For example, institutions and manufacturers can work collectively in the fields of lightweight car bodies, powertrain integration, automotive electronic chips, and high-precision sensors, as well as in the material, structure and safety of batteries," Chan said.
China's NEVs help to reduce carbon emissions by an estimated 50 million tons annually. "China is not only an advocate of proactive moves to cope with climate change, but also an action taker. In addressing energy safety and development issues, China has greatly improved its environment. The world is now confident of China's green transformation and sustainable development," Chan concluded.