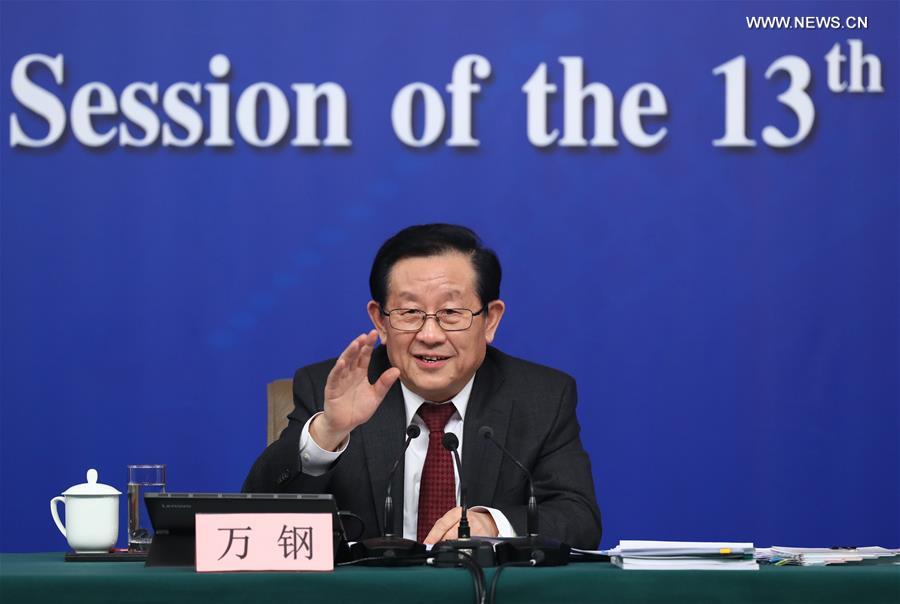 Minister of Science and Technology Wan Gang answers questions at a press conference on speeding up the construction of innovative country on the sidelines of the first session of the 13th National People's Congress in Beijing, capital of China, March 10, 2018. (Xinhua/Xing Guangli)
Commercialization of scientific and technological research findings should be a crucial part in strengthening the country's innovation-driven development, said Wan Gang, minister of science and technology, on March 10 during the ongoing two sessions.
"Currently, the country's public innovative power is booming. ... The government's role in management of technology innovation should also develop to meet the demand of this new trend," he said.
Wan said China's current technology market size is about 1.3 trillion yuan ($205 billion).
"In the past, big enterprises used to take the major share in the innovation market," he said. "But now, an increasing number of research institutes from colleges have been seen in the market, with an annual increase of 20 percent in terms of numbers."
Being granted legal rights to manage their own innovations, some institutes even commercialized their technology into project that was worth of more than tens of millions of yuan, he said.
But problems and new demands also emerged in the process.
For example, Wan said some researchers lack professional knowledge and experiences to deal with problems in technology commercialization process.
Also, he said a lack of supporting policies in the industry is another obstacle.
Wan said the ministry will release more related policies to help tackle those problems, including providing preferential tax policies and standardizing the management of researchers who belong to an institute and also work for other organizations or enterprises.
The personnel assessment system will also be improved, Wan said.
"To evaluate different talent based on a better classification system will further encourage their innovative powers and realized their aspirations to serve the country," he said.