Enhanced Competitiveness through Solidarity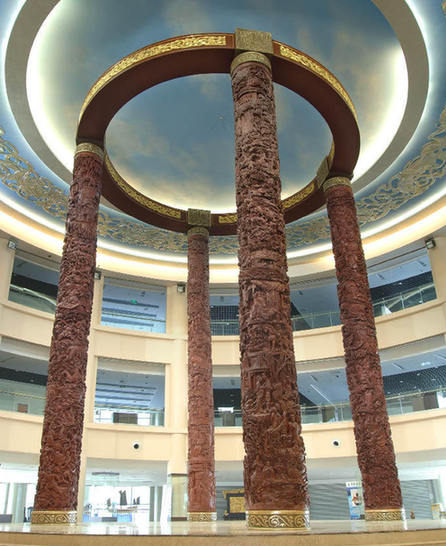 Four wood columns carved with scenes from the four classics of Chinese literature at the offices of Artall, a Holly Group company.
Facing a grim foreign trade environment, Soho Holdings and its subsidiaries have made every effort to resolve related difficulties. New sample centers are built and the existing centers expanded. More professionals are recruited and specialized equipment acquired, helping to improve R&D and design capabilities. What's more, a system of quick response and value-added service has been set up. The company has fully analyzed global demand, and entered emerging markets in South America, Eastern Europe, West Asia and Southeast Asia. A group of quality clients have been attracted. New products that can meet market requirements with high added value have become the highlight of the company's export business. Soho Holdings' energy company exports reached US $25 million in the year of its establishment. Foreign trade companies under Soho Holdings have brought out their innovative spirit to create new economic growth points. Soho Holdings has set up an office in Cambodia, expected to become the company's order receiving center in Southeast Asia. The acquisition of French Mossalgue SAS, in 2013, has enabled Holly Creations to form a complete industrial chain in fishing tackle, while expanding the global market base through Rive, a Mossalgue brand.
Soho Holdings has not only witnessed remarkable achievements in foreign trade, but also has been striving to develop domestic trade. Domestic sale volumes in 2013 surpassed RMB 10 billion for the first time. The year 2013 saw the startup of the restructured and upgraded Tianhong Automobile Group. With improved management, strengthened marketing capability and judicious market judgments, Tianhong Automobile's sales volumes in 2013 reached RMB 2.7 billion, an increase of 22 percent year-on-year. Meanwhile, its insurance, used cars and automobile financing businesses have been developing rapidly. The Tianhong Automobile Group stands at 79th in the rankings of the top 100 Chinese auto dealers, rated by the China Automobile Dealers Association. Other subsidiaries in the fields of toys, fishing tackle and telecommunication products are also booming in domestic sales. The domestic trade revenue of Soho Holdings' affiliated textile import and export company is expected to reach RMB one billion in 2014.
Services