Greater Use of RMB in Global Payments Imminent
By HU JIANGYUN
On April 28, 2014, the Society for Worldwide Interbank Financial Telecommunication (SWIFT) released its latest ranking of currencies used in global payments, China's Renminbi (RMB) ranked seventh, its activity share in payments value standing at 1.62 percent.
Table 1 shows the rise of RMB in global payments: It ranked 17th in the fourth quarter of 2011, before slipping down to 20th in January 2012. Subsequently, its share in worldwide payments value climbed steadily, but still at a rate of below one percent up until November 2013. Since that month, the share of China's RMB in global payments value has gained by more than one percent, remaining among the top 10 most-used currencies, with its best performance ranking sixth, its share in global payments value standing at 1.62 percent.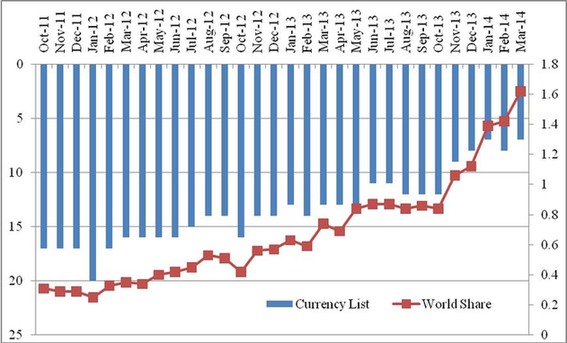 Table 1: RMB Ranking and Its Share in Global Payments Value
Why the Increasing Use of RMB Globally?
The RMB is still a young global payments currency, but it has risen strongly over past years.
In April 2009, the Chinese government kicked off a pilot program of RMB settlement for cross-border trade in several mainland cities including Shanghai, Guangzhou, Shenzhen, Zhuhai and Dongguan, with trade partners Hong Kong, Macao and ASEAN countries. In June 2010, this program was extended to 20 provinces/autonomous regions and municipalities including Beijing; 18 more joined three months later, with trade partners extending to all other countries and regions.
In August 2011, the People's Bank of China (PBC), the Ministry of Finance, the Ministry of Commerce, the General Administration of Customs, the State Administration of Taxation and the China Banking Regulatory Commission jointly issued a notice on expanding cross-border RMB settlement services to the whole of China.
Meanwhile, China signed currency-swap-for-trade agreements with many countries and regions worldwide: with the Republic of Korea in 2008; with Hong Kong SAR, Malaysia, Belarus, Indonesia and Argentina in 2009; with Iceland and Singapore in 2010; with New Zealand, Uzbekistan, Mongolia, Kazakhstan, Russia, Thailand and Pakistan in 2011; with the UAE, Turkey, Australia and Ukraine in 2012; and with Brazil, the U.K., Hungary, Albania and the European Central Bank in 2013.
China also advanced RMB settlement under capital accounts. In January 2011, it commenced a trial program with RMB settlement for direct foreign investment. The PBC and the State Administration of Foreign Exchange co-formulated a statute on this issue, followed by Measures for the Administration of Renminbi Settlement Matters Relating to Foreign Direct Investment, released by the PBC in October 2011. These statutes set down explicit rules for RMB settlement for cross-border investments.
By settling their international transactions in RMB, China's transnational businesses can better hedge exchange rate risks and save costs by avoiding derivatives that arise in the process of non-local currency settlement. For instance, banks charge 2.5 percent of the value of the purchase, and 5 percent of U.S.-dollar sales for three-month delivery. When using RMB for settlement, Chinese businesses with overseas operations can omit one exchange in the former local currency-U.S.dollar-local currency process, and hence cut costs. It also saves time and improves efficiency of capital use.
Services