Build a Capital Economic Circle for Coordinated Development
By staff reporter LUO YUANJUN
The Beijing-centered economic circle has been on the table for several years. The Overall Plan for Beijing Urban Construction in 1982 proposed a capital economic circle. In November of 2004, the National Development and Reform Commission (NDRC) formally proposed the regional development plan for the Beijing-Tianjin-Hebei bloc. It was reiterated in the nation's 12th Five-year Plan (2011-2015) for social and economic development. Thereafter the capital economic circle has been upgraded to a national priority.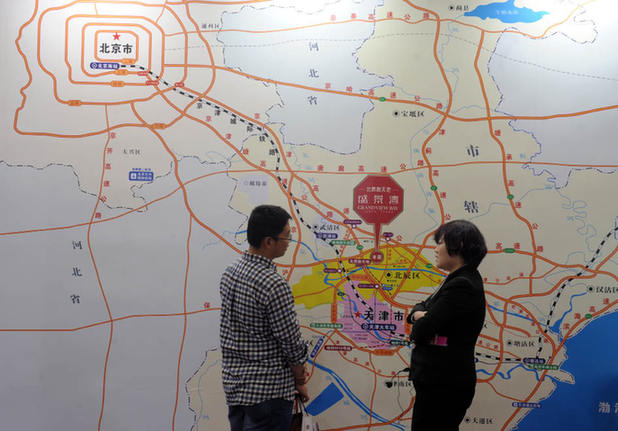 Housing prices in the three localities have climbed since plan of the economic bloc was revealed.
China's new leadership attaches great importance to shaping the Beijing-centered economic belt. In August of 2013, President Xi Jinping advocated coordinated development for Beijing, Tianjin and Hebei when he presided over a meeting held in Beidaihe of Hebei Province about the issues related to Hebei's development. Xi later issued several instructions on this region's coordinated development. In the March 5 government work report Premier Li Keqiang also pointed out that efforts should be made to enhance economic cooperation in the Bohai Rim region and the Beijing-Tianjin-Hebei area.
As for how to build the capital economic circle, Zhou Benshun, secretary of CPC Hebei Provincial Committee, suggested that policymakers should start from the issues on which consensus already exists. Currently, there is a strong consensus in three aspects: first, improve environmental quality; second, adjust economic structure; and third, achieve integration of regional transport infrastructure.
Working Together to Improve the Natural Environment
For ordinary Beijing residents, one of the biggest benefits of the 2008 Olympic Games was the vastly improved environment. In order to guarantee more "blue sky" days in 2008, the Beijing municipal government relocated some of the major pollutant discharging enterprises to other areas. However, since the beginning of 2013, heavy pollution hit Beijing again. In the most serious month, four days out of five were smoggy.
Air pollution is also quite serious in Hebei Province. In 2013, seven Hebei cities ranked among China's top ten in poor air quality. As Hebei surrounds Beijing, its bad environment inevitably and directly affects the capital. As the smog pollution is not confined to certain areas or cities, joint efforts by different areas are required to achieve better treatment results.
Although politically distinct, Beijing, Tianjin and Hebei are effectively one region and share one integrated regional system in terms of geology, landform, climate, soil and bioroenosis. Consequently, they also share the same environmental problems: serious air pollution, severe shortage of water resources and water pollution, and a deteriorating natural environment.
Services