Chinese Tourism Fever
By staff reporter JIAO FENG
From April 24 to 25 the 2014 World Travel & Tourism Council (WTTC) Global Summit convened in Sanya, China, the second time the event was held in the Asian country since the Beijing Summit in 2010. The WTTC forecasts that China's tourism industry will grow by seven percent annually for the next 10 years, overtaking the United States as the world's biggest travel and tourism economy by 2023.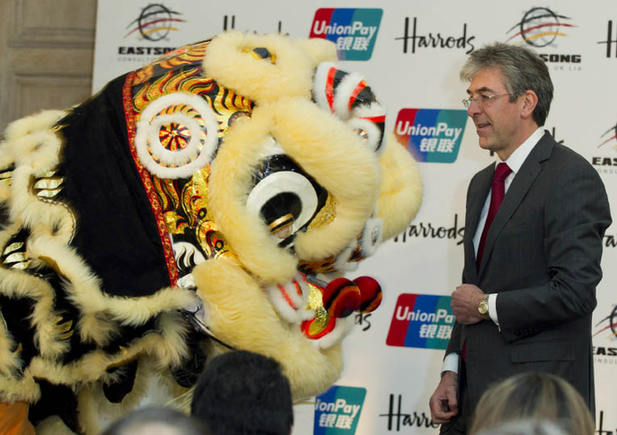 Managing Director of Harrods Michael Ward announces at a press conference in London on February 3, 2011 that the illustrious department store accepts UnionPay – China's sole debit card provider representing 14 major Chinese banks.
Fast Growing Market
In recent years, the Chinese government has stepped up support for tourism and promoted it to a strategic pillar industry of the national economy. Further, the country has advanced infrastructure construction to facilitate domestic travel. Last year China's first Tourism Law took effect, marking a new stage of development for its tourism industry. The booming domestic tourism market has attracted increasing international attention.
As a platform to highlight major issues concerning tourism, WTTC summits have been held annually in different countries since 2000. It is no surprise that China has hosted two WTTC summits within four years, as the country has become a powerful engine of growth for the world's tourism industry. During recent summits, China has become a highlight with an increasing number of Chinese entrepreneurs invited to speak. From fast-growing tourism e-businesses to large-scale listed companies, the world tourism industry wishes to hear more from China.
Tourism is soon to become one of the world's most important industries, and China will be a key driver in its development.
"In 2013 one third of global tourism growth came from Asia, and China was a major driving force. This phenomenal growth will be driven by increasing wealth among the Asian middle classes, particularly in China. The United Nations describe it as a historic shift, the likes of which have not been seen for 150 years," said WTTC President & CEO David Scowsill.
According to WTTC data, in 2013 some 98 million Chinese tourists travelled out of the country. China leads the world in outbound tourist spending, outstripping the United States and Germany to be the world's leading source of international tourists. Meanwhile it received about 50 million inbound tourists, with a total consumption of RMB 321 billion. It is estimated that this year inbound tourists will exceed 57.2 million and reach 115.52 million by 2024. In addition to the huge number of domestic tourists, China's tourism industry has high potential.
Services