Li Shaogang, Champion of Folk Operas
By staff reporter JIAO FENG
In early April, when most Chinese people were mourning the dead on Qingming (Tomb Sweeping) Festival, Li Shaogang went on the road with two postgraduate students from Nanjing University to research folk operas in Heyang County. Li chairs the local Heyang Hop Opera association.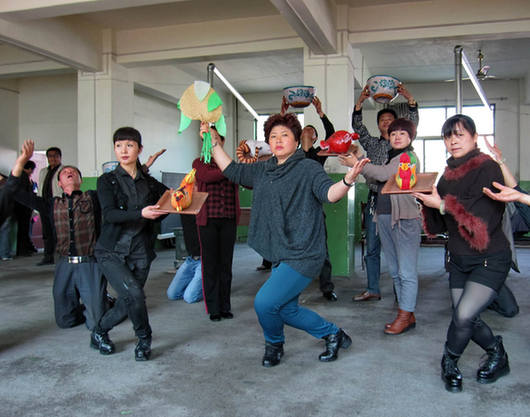 Rehearsal for Li Shaogang's new play Prayer.  
Known as a living fossil of Chinese opera, Hop Opera is a traditional folk art performed in rural areas along the Yellow River in Heyang County, Shaanxi Province. All plays are written, directed and sung by local farmers.
Another ancient opera in the region is the String, or Puppet, Opera. There are no written records of its origin, but scholars believe that puppet opera dates back to the Han Dynasty (206 BC-AD 220) and became popular during the Tang Dynasty (618-907). In the 1960s, the puppets were replaced by live actors, and the vocal parts were modified to create the new art of Xianqiang (String Music) Opera. The two students from Nanjing came to Heyang to do research for their graduate thesis on this performance art.
Before their interviews, Li showed his guests a film of an authentic Hop Opera, performed by two village elders many years ago. Now that both singers have passed away, his video is the only remaining record of their artistic legacy. To remind people of the urgency of saving this waning tradition, Li brings a DVD player wherever he goes, and shows the video whenever he has a chance.
An economics graduate, Li Shaogang has worked in many different jobs, from sales to office work, all irrelevant to his present occupation as an opera researcher. Li says that his interest in opera stems from his grandfather, Li Jingci. Born to a literary family, Li spent his early childhood with elder Li, who was a playwright and a researcher of local operas. "Lots of my knowledge came from my grandpa," Li said.
In 1961 Li Jingci, then an official in charge of Shaanxi's native performance arts with the provincial government, proposed a plan to document and research Hop and String operas, and spent the last two decades of his life on this project. He collected and correlated more than 140 scripts for String Opera and 110 scripts for Hop Opera, and wrote nine plays with Heyang County as the historical background. He also preserved large volumes of historical records on drama and opera. The younger Li could not help displaying pride as he described his grandfather's achievements.
Despite growing up in a literary family, Li Shaogang did not follow in his family's footsteps. Like many young people, Li prefered modern music to traditional opera.
"After graduating from Lanzhou Business School in 1977 I took many jobs. I was a salesman and then became a driver, which was a dream job for many people in the early 1980s. I covered almost every corner of China over a decade of business trips," he recalled.
Services