Free Trade Area of the Asia-Pacific in Prospect
By HE MAOCHUN
The 2014 informal meeting of the Asia-Pacific Economic Cooperation (APEC) is to be themed "Shaping the Future through Asia-Pacific Partnership." The meeting this year will focus on three topics – advancing regional economic integration, promoting innovative development, economic reform and growth, as well as strengthening interdependence and infrastructure. The summit will also discuss the feasibility of the Free Trade Area of the Asia-Pacific (FTAAP) and determine if the Free Trade Area can be started.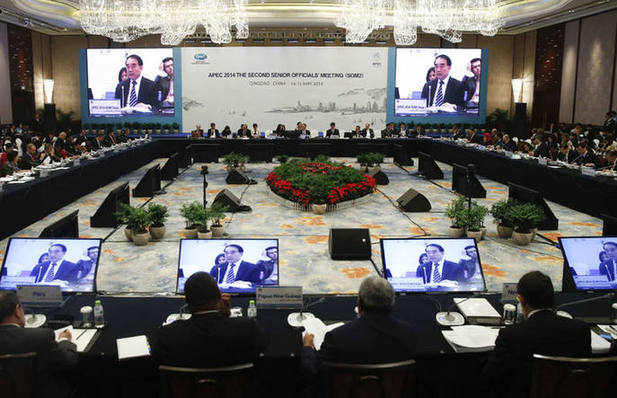 APEC convened on May 14 its Second Senior Officials' Meeting of 2014 in Qingdao, Shandong Province.
Bright Future for the FTAAP
Founded in 1989, APEC, as an intergovernmental organization operating on the basis of non-binding commitments, open dialogue and equal respect for its 21 member economies, is devoted to facilitating economic growth, cooperation, trade and investment. "Advancing regional economic integration" is a longstanding goal of APEC meetings. The long-term goal of APEC is to liberalize and facilitate trade and investment. However, due to the huge disparity between APEC members, APEC set two timeframes. First, the 1994 Bogor Declaration set the goal of free and open trade and investment by 2010 for industrialized economies and by 2020 for developing ones. Second, APEC's Osaka Action Agenda in 1995 and Manila Action Plan in 1996 were reached to ensure that the Bogor Declaration would be implemented through individual and collective action plans.
Although APEC first proposed the FTAAP in 2006, the issue has foundered in debate and argument. Today the FTAAP has finally entered the process of pragmatic discussion. The APEC meeting will set new goals for advancing the FTAAP and seek to introduce "acceptable" plans and routes under the APEC trade frameworks and mechanisms.
The establishment of the FTAAP will substantially improve the environment for trade and investment, help realize the Bogor goals and seek new vitality and direction to lead the Asia-Pacific economic cooperation. It conforms with the objectives of APEC – to maintain economic growth and development, promote economic interdependence, strengthen the open multilateral trading system, and safeguard the common interests of the people in the Asia-Pacific region.
Regional economic integration is for the common good of APEC member states. It is essential for reviving the Asia-Pacific economy, enhancing regional competitiveness and boosting employment in the member economies. Therefore, we should make concerted effort to promote the liberalization and facilitation of trade and investment.
Services