Enhanced Competitiveness through Solidarity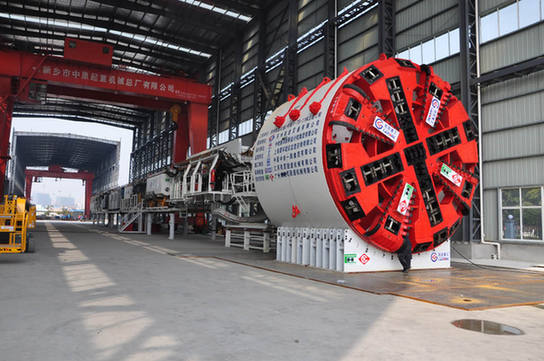 A tunnel boring machine made by a SOHO subsidiary.
Soho Holdings will continue to beef up its four core businesses of investment, trade, the cultural industry and real estate, while enhancing size, performance and profitability as well. Equal emphasis will be placed on capital management and the real economy.
The group will enhance decision-making under a modern corporate system, fortify its ability to maintain and increase assets value, perform its social responsibilities, and explore scientific approaches to management that bring together all subsidiary companies and their staff members under one mission, bringing out the best in them.
Meanwhile, Soho Holdings will guard against corruption, and work out sound regulations and mechanisms in this regard. This includes the supervisory, discipline inspection and auditing bodies of the group, a complete set of financial regulations, accountability system and the reporting system for major issues. Every level of management is obliged to be vigilant about corruption and other illegality, and the top leadership oversees the issue in general.
Team building is another central task. By implementing effective evaluations and hinging payments on performance, the group stokes worker enthusiasm and nurtures a strong sense of responsibility. In this way it makes the best of employee expertise and strengths.
Booming Businesses
The development of Soho Holdings features several highlights. Gathering the advantages of its expertise and immense capital strength, Soho Holdings endeavors to foster and develop projects with potential for listing on the stock market, such as in the medicine, biomaterial, finance and hi-tech industries. Its headquarters and subsidiaries have made equity investments in 25 projects. The investments in stock rights and fixed assets are valued at RMB 717 million. Equity investment in Huatai Securities and Hongbaoli Co., (Ltd.) represents the successful achievements Soho Holdings has made in the investment field.
In the finance industry, Soho Holdings owns stock rights in such fields as futures, security companies, banking, insurance, re-guarantees, trusts, and private equity. It is notable that the resources drawn by Holly Futures and the listed Holly Corporation have become the pillar of Soho Holdings' business in finance and investment. Over the last 15 years, Holly Futures has grown into a large-scale financial enterprise with about 700 personnel. Its net assets are over RMB one billion, with annual trading volume surpassing RMB four trillion. It is a leading futures company in Jiangsu Province, with its operational indicators topping the province, ranking at the nation's forefront. Its number of sales offices ranks second in China, while its net asset size is in the lead. On the basis of futures trading, the company has ventured into some new areas including assets management and overseas business. Moreover, shareholding reform and prelisting work have been completed. In the last 12 years, the enterprise has been recognized for its remarkable contribution to the Nanjing New & High Technology Industry Development Zone. It is the only one in Jiangsu Province that has been appraised as a grade-A, class-A futures company five times in a row. In addition, the company has been conferred several honors by Jiangsu Province, including Youth Excellence Unit, May Day Labor Award, Role Model in Ethical and Cultural Progress, Outstanding Leaders of State-owned Enterprises, and Excellent Grassroots Organization of the Communist Party. With its growing influence and rising brand reputation, Holly Futures was elected by a huge majority as a member of the China Futures Association and a rotating chair of the Jiangsu Futures Association. In addition, it was credited as one of the best members by four futures exchanges in China. In the period of the 12th Five-year Plan (2011-2015), Holly Futures has been striving to buttress its leading position in the financial field, while setting itself ambitious goals by venturing into new areas and expanding its business in assets management, consultation services, overseas business, and M&A (mergers and acquisitions).
Services