Enhanced Competitiveness through Solidarity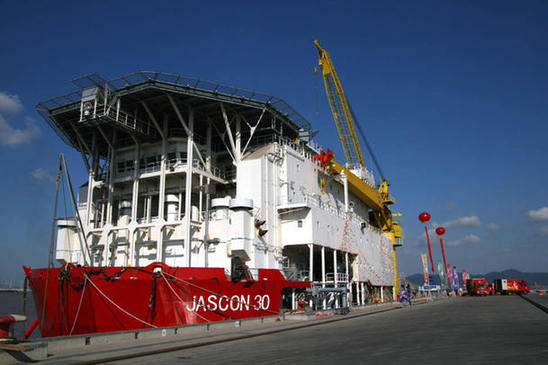 SOHO businesses include shipbuilding.
Wang Zhengxi acknowledges local government policy support, the team effort of his colleagues, better internal management and resource integration, for the company's consolidated competitiveness and risk resistance of its core businesses in a changing market.
According to Mr. Wang, Soho Holdings is poised to carry out deeper reforms and innovations to improve growth quality and efficiency while sustaining stable development. It will do so in light of the province's economic planning. By deepening reforms, he means the cementing of corporate consolidation and core competitiveness, to foster a unified corporate culture within the group and to ensure all subsidiaries are truly and fully incorporated. These changes, he says, are critical for the healthy long-term development of the group.
Towards this goal, Soho Holdings has to further improve its corporate organization, management and operation systems, and balance conventional businesses and new innovative businesses on the basis of intensive analysis of market trends. It must also clarify its future development orientations to fit into economic restructuring and industrial upgrading, as the central government has required of state-owned enterprises.
To improve general competitiveness, the group will first of all build a high-caliber management team to upgrade and strengthen its businesses. To establish standard management, it will ensure the parent company and its branches take on their appropriate share of liabilities, powers and accountability, while giving full play to its functionary arms like the Trade Management Committee, Finance Management Committee, Investment Decision-making Committee, and Informationization Committee. To stimulate corporate vitality, Soho Holdings will refine its administrative rules concerning recruitment, appointment, staff evaluation and payment, to foster a unified, fair and effective personnel management environment in which the talented and hardworking are duly rewarded and underperformers penalized. It is also imperative to build bonds between employees of different subsidiary companies by instilling a unified corporate culture and identity among them.
As a state-owned company, Soho Holdings is obligated to serve the goals set out by the central and provincial governments: Public sector of the economy should be cemented and developed unswervingly with the state-owned economy playing the leading role; efforts should be made to enhance the state-owned economy's vitality and to make it hold greater sway and exert increasing clout. With an acute sense of the crisis, the group has wasted no time in moving in this direction.
While following market rules, Soho Holdings performs its duties as a state-owned enterprise in the country's economic and social development. Being committed to reform, innovation and industrial upgrading, it also steers investment into public services, strategic industries, environmental protection, science and technology, and other priority sectors outlined by the provincial government. While contributing to local development, it also sharpens its competitive edge and expands its influence, while moving towards sustainable growth in the process.
Services