Enhanced Competitiveness through Solidarity
At present, Soho Holdings has 132 companies under its umbrella, with eight as its mainstays: Jiangsu Soho International Group Corp., Jiangsu Textile Group, Jiangsu Holly Group, Jiangsu Soho Investment Group Co., (Ltd.), Holly Futures Co., (Ltd.), Jiangsu Soho Construction Group Co., (Ltd.), Jiangsu Tianhong Automobile Group, and Soho Media Co., (Ltd.). The headquarters, Soho Investment and Holly Futures, are mainly engaged in investment businesses; while Soho International, Textile Group, Holly Group and Tianhong Automobile are in the trade sector; Soho Construction deals with real estate; and Soho Media and Artall, a company in the Holly Group, ply the cultural industry.
Although the total number of its subsidiary companies has fallen, Soho Holdings' profits are steadily climbing, a testimony to the success of its regrouping, which is credited with the overall development strategies of the group and optimal use of internal resources following market rules.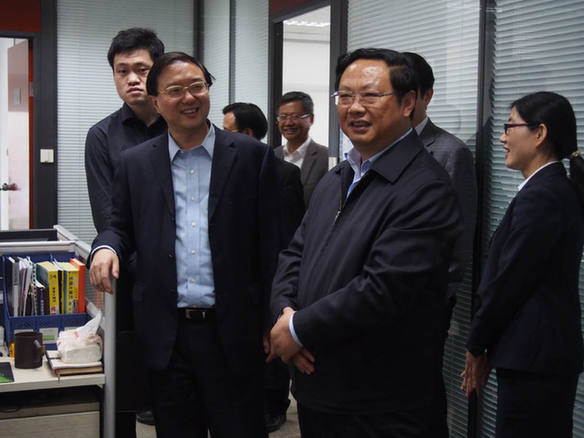 SOHO leaders inspect the Holly Futures Shanghai office.
Improving Core Competitiveness through Deepened Reforms
Last year, the world economy remained in the doldrums, while the Chinese economy continued to grapple with restructuring and industrial upgrading, an intricate task which further complicated growth prospects. Against this grim backdrop, Soho Holdings notched a sales volume of RMB 20.4 billion, up two percent year-on-year, with gross profits of RMB 580 million, ticking up 2.3 percent from 2012. Though its imports and exports shrank 6.44 percent, to RMB 2.27 billion, the group largely met the targets set by the Jiangsu State-owned Assets Supervision and Administration Commission. By the end of 2013, its gross assets reached RMB 23.5 billion and net assets RMB 8.4 billion. The market has solid confidence in Soho Holdings: last year the market-value growth of Jiangsu Holly Corporation, a publicly listed company, outpaced that of the Shanghai (securities) Composite Index.
In the first two months of 2014, Soho Holdings sustained its strong momentum in both international and domestic businesses. Its imports and exports gained 5.37 percent over the same period last year, to hit US $340 million, with the growth in imports soaring by 94 percent. Domestic trade stood at RMB 1.558 billion, up 36.82 percent over the same period last year.
The outstanding performance of Soho Holdings is attributed to the joint efforts of all staff members of the company, in particular the diligence and foresight of its leadership. Chair of the Board Wang Zhengxi is a senior financial specialist, who has held such government positions as deputy chief of the provincial government financial authority and executive vice-mayor of Huai'an City. He is known by those working around him for his strategic vision and ability to handle intricate issues. Soho Holdings President Zhou Yong is a postdoctoral researcher entitled to special government allowances from the State Council, and is a leading figure in China's financial futures industry. Other members of the group's top management, such as Shen Xiangyuan, Yu Yimin, Qian Yiping, Zou Yunxiang and Li Jiexiang, are all well established in their respective careers ranging from international trade, domestic trade, financial investment, real estate, and the cultural industry.
Services