"Let Us Unite!" – An Interview with Peruvian President Pedro Pablo Kuczynski
By JOHNNY MONTALVO & MENG KEXIN
SOON after winning the election in Peru, President Pedro Pablo Kuczynski embarked on his first official visit abroad, just prior to hosting the APEC Summit in Lima this November. China was his destination of choice: a decision which surprised more than a few experts and observers of international relations.
China Today interviewed the President at his official residence, basking in the gentle South American sunlight, and asked his reasons for choosing China for his first foreign visit after election.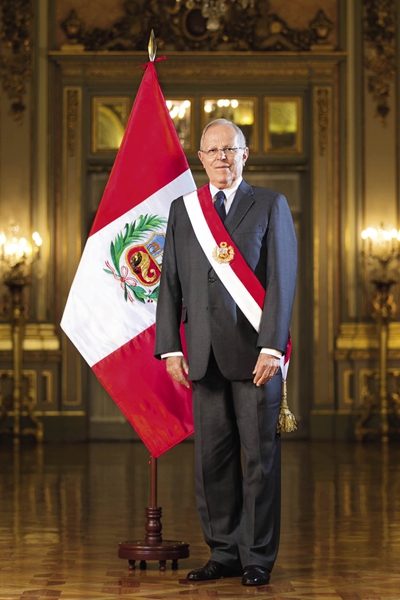 "The reasons are simple," the President answered succinctly, getting straight to the point. "First, China is one of the biggest economies in the world. Second, China buys more Peruvian products than any other country. Third, I want to personally invite President Xi Jinping here to attend the APEC Summit in November."
Broadening Cooperation Fields
"We set great store on our relationship with China, and hope to strengthen it," the President said. "China is the main investor in the mining sector, into which we hope China can inject more capital." Thus far, the major Chinese investment projects in Peru include: Chinalco's copper mine in Toromocho; China Minmetals's copper mine in Las Bambas; and Zijin Mining Group's operation in Piura, on the border with Ecuador. Investment in these projects keeps increasing as they enter new stages of development.
However, Chinese investment in Peru is concentrated so far in the mining sector. Mr. Kuczynski believes that Peru's cooperation with China could be expanded into other fields such as technology, telecommunications, and railways.
"China comes top in the world for total mileage of railways, and it succeeded in building a [plateau] railway to Tibet," the President said. "We don't have such big ambitions but we are interested in building several new railways – one from the Andes to the bank of the Amazon; and also around the suburbs of Lima which will become a metropolitan area in the next 15 to 20 years."
Regarding the "Twin Ocean Railroad," running from the Pacific to the Atlantic, he said the project will facilitate soybean exports from Brazil to China, because it will cut transportation time from 22-23 days to 18 days.
A supporter of the "Twin Ocean Railroad," the President also called for more research into implementation plans. During his visit to Peru last year, Chinese Premier Li Keqiang suggested a route which would cross the northern part of Peru, while Mr. Kuczynski mentioned another possible route which would run through the southern areas of Peru and Bolivia. "This route is higher in altitude but shorter," he stated. "I think it's necessary to take a closer look at all the options."
A potential cooperation in science and technology was given higher priority than the existing cooperation in infrastructure and mining. During his visit to China, the President met with representatives of Huawei, China's telecommunication giant.
Facilitating Foreign Investment
Peru seeks to attract more investors to stimulate economic growth. Mr. Kuczynski stressed that his country welcomes foreign investment, saying: "The Constitution of Peru stipulates that domestic and foreign investors be treated equally." Peru aims to introduce tax cuts to encourage people to reinvest profits and facilitate foreign investment. Reducing taxes takes time though, he admitted, adding that Peru is planning to lower its dividend tax within the next two or three years.
The President also noted that maintaining a good relationship with indigenous peoples is very important. "In mining areas, it's vital to nurture friendships with local communities," he said, going on to explain that some villages are located in the Andes, so providing services to Andean communities is necessary in order to win their support for foreign investment.
China is the biggest investor in Peruvian mining industry and Peru's largest trading partner. But its operations there are not always smooth sailing. The President said Peru will offer all the assistance it can. Chinese companies have put a lot of energy into working with communities to improve environmental protection in their mining projects in Toromocho and Las Bambas.
In the Toromocho mine, arsenic levels have been found to exceed the standard limits, but this is a common problem in the plateau area. Arsenic content is high throughout the Andes mountainous region, from Alaska to Patagonia. "We are dealing with this problem now," assured the President.
At the Las Bambas copper mine (owned by MMG, subsidiary of China Minmetals Corporation) the fine copper output will reach 500,000 tons in a few years' time. However, transportation relies on highways at present, with trucks on a continuous loop all day long. "In an area of 300-400 sq km, heavy trucks rumble past every seven minutes," the President said, frankly. "No one likes it."
A transfer station is currently under construction at the halfway point, which will go some way towards solving the transportation problem. When the station is built, trains will transport ores from the station to the seaport. "The problem is already 50 percent solved and we are making efforts to address the other half of the problem," said the President.
"We Welcome Chinese Tourists"
Although China is a faraway country, expanding its presence in the Chinese travel market is key to Peru achieving its target of doubling the income of its tourism industry within the next five years. Mr. Kuczynski said he will adopt more proactive measures to attract Chinese tourists.
"Peru has a rich history, abundant historical sites and picturesque natural beauty," he said. Of its 3.5 million annual tourists, most are from neighboring Chile who come to visit the Tacna in southern Peru. "We have the ability to double the number of foreign visitors," the President said. "We need to attract tourists from every part of the world, especially China, which is one of the main sources of international tourists outside of Europe and the U.S."
To address the problem of the small number of Chinese tourists, he believes the first thing to do is to simplify visa regulations. The President suggested that the Peruvian government should pass new regulations allowing Chinese tourists already holding a Schengen visa, or a visa to the U.S., Canada or Mexico, to enter Peru without a visa.
Mr. Kuczynski said Peru also needs to upgrade its infrastructure, and improve language and catering services to accommodate the needs of Chinese visitors. "Peru has good cuisine," he said, "but it doesn't prevent us from offering food that appeals to Chinese people, such as Cantonese food, and food from northern and southern China."
The Peruvian government has the challenging job of working out tourist routes with China. It is a long journey from China to Peru, so it might be more appealing to include Peru in a package tour of Latin America, travelling from Peru to southern Chile, and then on to the Caribbean or Argentina. The President has given this matter a lot of thought and doesn't believe that finalizing the routes will be difficult.
"I Trust China"
This year Peru is hosting the APEC Summit for the second time, the first being eight years ago. The main goal of President Kuczynski's visit to China is to give Chinese President Xi Jinping a personal invitation to the 2016 APEC meeting.
"I have two copies of Xi's monograph, The Governance of China, one of which contains Xi's autograph," Mr. Kuczynski confided, displaying a great interest in China's governmental experience. "I trust China. Their election is held every five years and leaders can serve two terms, so reform and modernization will be carried out consistently, which I think is very good."
"The first thing I want to tell China is: We love China," said Mr. Kuczynski. Hundreds of years ago, Chinese people came and settled in Peru. Their food, called Chifas, is very popular. This group of ethnic Chinese maintained the traditions of their home country but also integrated very well into the local community. So, I want to say, we love China."
"The second thing that I want to say is that we want to build a closer relationship with China in numerous areas including Asia-Pacific cooperation, mining, and bilateral investment," said the President. Besides minerals and ores, Peru also exports agricultural products to China. Some Peruvian agro-industrial manufacturers joined the President's delegation to China, some of whom already have business relations with China, while others have displayed a strong interest in developing business ties.
"Last but not least," said Mr. Kuczynski, "I want to say: Let us unite! Though we are far apart, separated by the Pacific, the distance will be overcome during this new and exiting time." 
Services