Transfrom Construction Waste into Resources
By staff reporter DANG XIAOFEI
THE almost two-meter-high sculpture Liu Xiaofan admired at an exhibition, and which he assumed was bronze, turned out to have been made from recycled building waste. Liu immediately thought of the pile of demolition debris next to his home. He had witnessed new construction waste steadily piling up next to his apartment building and the community public lawn. Dust floated high and free as the wind blew and deposited it on his balcony. This epitomizes the "metabolism" of Chinese cities.
Growing Annoyance
In the past few years construction waste has amounted to 1.55 to 2.4 billion tons per year, accounting for 40 percent of the total waste in urban areas. It mainly consists of residue soil, abandoned spoil, and discarded slag produced during the construction of urban infrastructure, laying or removal of pipe networks, and house renovations.
When Wang Qiang first came to Beijing over a dozen years ago he worked as a truck driver transporting residue soil. Now he has his own transport company in this business, and has witnessed the explosive growth of urban construction waste. "You can't imagine that this waste will ever be cleared up. As long as there is a building project, there will be construction waste," he said. "Now every pit on Beijing's outskirts is full." Wang recalled how people used to pour waste into any pit they could find due to the lack of operation standardizations. In 2015 alone the 3,700 plus construction sites in Beijing created about 40 million tons of waste.
Professor Wang Yimin of the School of Architecture, Tsinghua University, believes that primitive and tough approaches to propelling today's unprecedented urbanization and concomitant large-scale demolition and renovation have come to the fore in the last few decades. These ways and ideas of dealing with waste are outdated, and have created the garbage tableaux that besiege the country's cityscapes.
"The old ways of dealing with construction waste, such as piling, burning, and landfill, have resulted in such hazards as land trespassing, and water, air, and soil pollution," Wang said, adding that safety is another major concern.
"Construction waste is in fact a treasure house," secretary general of China Industry Innovation Strategic Alliance of Construction Waste Resourcezation Guo Haibin said. Most waste produced during construction can be utilized as renewable resources, he added.
From Waste to Treasure
The "miracle" of feeding in fragmented bricks and concrete blocks and spitting out construction aggregate occurs every day in Beijing Yuantaida Environmental Protection Technology Co., Ltd.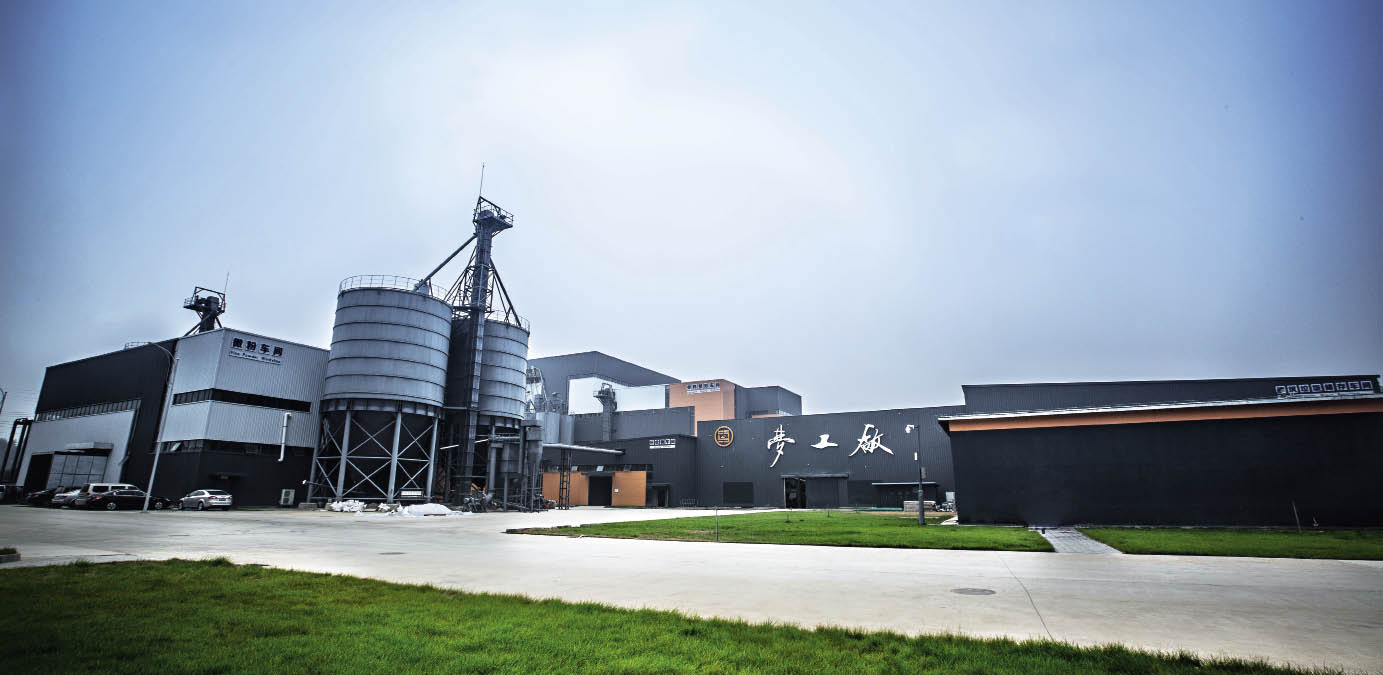 Yuantaida, the first company in Beijing to engage in construction waste recycling and processing.
This is the first company in the capital to engage in construction waste recycling and processing. It produces a wide range of renewable products, including cement concrete, asphalt concrete, inorganic and ecological road materials for building mortar roads, sand and gravel aggregates, micronized active (cement replacement) building ceramsites, clean fuel gas, charcoal and fire accelerants, biological pesticides, and soil conditioners.
When I visited the factory, I could hardly believe the transfiguration I saw from garbage to city sculptures, benches and other park facilities. But seeing is believing.
Chief Technology Officer Wang Gongsheng explained that waste will be processed in three stages – accurate separation and sorting; crushing, grading and reshaping; and dealing with the processed aggregates and powder materials. All this will eventually be formed into recycled high-performance concrete, ecological inorganic materials, composite materials for road construction, and recycled mortar.
Scrap metals can be melted down and made into a variety of steel products. Waste wood, bamboo and sawdust can be used to make artificial boards. Broken bricks and concrete blocks, after being crushed, can substitute for sand on construction sites or be made directly into blocks. Particularly noteworthy is that the renewable powder made from construction garbage can be used as a main material for 3D printing constructions.
"Recycled products will undergo several radioactive, corrosive, and environmental influence tests before rolling into the market," Project Manager Wu Sheng said. He added that recycled products are no different from common products as long as they conform to national standards, and, under equivalent conditions, have a pricing advantage.
Zero Emissions
Wide streets, exotic blooming flowers, sturdy trees, and tweeting birds... no one would imagine this could be a factory location if it weren't for the distant buzz of machinery.
However, the hum can only be heard inside the workshops, as all houses are wrapped in an external layer of sound-absorbent panels. "No dust, odor or smoke is emitted during the process of crushing and decomposition," Yuantaida's chief scientist Dr. Zhang Ying said. "Test results show that all emissions are well below the minimum standard."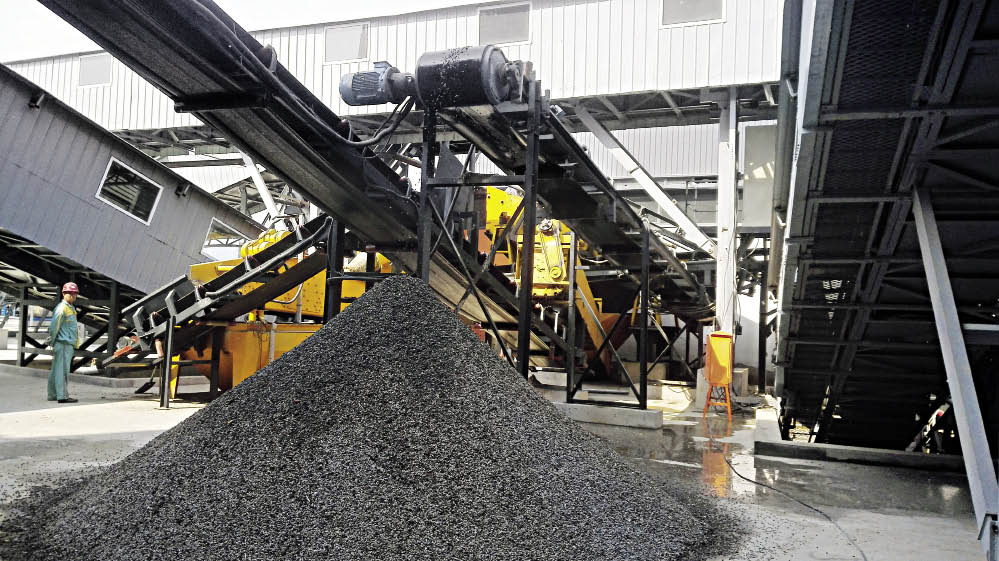 Construction waste processed into sand.
Sewage produced in the plant can be 100 percent recycled. "Sewage is produced in two procedures. One is to produce recycled gravel. We separate the dirt and water, and press the dirt sediment into the mud pastry to make ceramsites," Wu Sheng said. "The other procedure produces concrete, but we use machines to separate the water and gravel."
In fact, Yuantaida has realized three 100-percents: All construction waste, after separation and processing, is transformed into recyclable, environmentally friendly materials; The entire production procedure conforms to environmental protection standards; All recycled products, after being tested in a large number of construction projects, conform to industrial standards and are therefore welcomed by the market.
"The core technologies for achieving the three 100-percents are developed independently, from waste processing to application of recycled products," Wu Sheng said. "Since 2006 my company has invested up to RMB 100 million annually in R&D."
Yuantaida has an annual capacity for processing as much as 1.5 million tons of construction waste, which is equivalent to saving 20,000 tons of standard coal, and reducing 30,000 tons of CO2 emissions. Since the Chinese government supports construction waste disposal, Yuantaida can obtain subsidies of as much as RMB 3 million a year.
However, this subsidy is dwarfed by the company's annual sales of RMB 500 million. As regards future developments, Wu said: "The company plans to set up construction waste disposal plants in 300 medium-sized or large cities. Our short-term plan is to find pilot cities suitable for construction waste disposal, and gradually promote their experience nationwide."
Services