A Canadian's Green Dream in China
By staff reporter DENG DI
IN South Liugezhuang Village of Tongzhou District in eastern Beijing lives Laowai (a Chinese nickname for foreigners) Darren Moore. He first came to China in 1996 on a business trip. Soon afterwards, he fell in love with a local girl called Zhang Ping who was an English interpreter. Two years later they married and settled in China. In 2004, the couple started their own business in rural Beijing. With a rented courtyard house, they built their own factory and founded their skincare brand Organic Earth (OE). The story of an organic kingdom thus began.
Green Action Furnishes Green Beliefs
Coming from a family with a history of skin ailments, Darren Moore had always been at risk of developing an allergy. Each summer he had to wear long trousers outdoors, which was quite a nuisance. When he came to Beijing, the dry weather affected him. His wife bought him various facial creams, body lotions and medicine, but to little effect. In order to solve this problem, Moore, who has a background in science, decided to make his own soap. After reading numerous articles, he bought some olive oil, baking soda and plant extracts to make soap in his own kitchen. Unexpectedly, the homemade soap worked well on his skin. Inspired by this success, he resigned the e-commerce company and started his own organic business — OE – with great passion.
Darren Moore's cold-crafted soap needs to be aired at room temperature for 30 days before becoming a finished product.
OE promotes the philosophy of putting "green" first. The raw materials it uses are 100 percent natural, coming from plant extracts. A cold-crafted method is strictly followed in the whole production process. When the soaps are made, no high temperature or high pressure is ever imposed to change the properties of the ingredients, and hence no industrial waste is produced.
According to Moore, different from the soaps sold on the market, real cold-crafted soaps are not transparent and are light in color. They don't produce much foam when lathered, but are fine and smooth, giving users natural care and protection. What upsets Moore is that almost all skincare products on the market contain chemicals about which consumers are ignorant.
His wife Zhang Ping has accompanied him all the way over the past two decades. She most appreciates his focus on green issues and determination. When sourcing supplies for OE, her husband never makes do with inferior ingredients. Once they cooperated with a new foreign supplier and the organic soaps produced appeared in different hues. After some investigation, Moore discovered that the raw materials provided by this supplier contained chemical additives. Outraged, he asked his workers to destroy and dump the soaps. This decision cost him hundreds of thousands of yuan, leaving a huge financing gap, but Darren Moore was more determined than upset.
In the past few years, the couple's adherence to green products has helped OE out of many downturns. OE has already become the third biggest cold-crafted handmade soap manufacturer worldwide. Its consumers include members of royal families, celebrities, and ordinary people all over the world. During the APEC summit in 2014, Laureen Harper, wife of Canadian Prime Minister Stephen Harper, was attracted to OE by its good reputation. During the visit, Laureen tasted a kind of edible soap with a cacao flavor, and has been a loyal user ever since. Many big companies such as HP, Samsung China and Mercedes-Benz have ordered gift boxes of OE organic soap as presents to their employees.
"China is Home to Me"
After 20 years' development, the number of employees at OE has grown from two to more than 40. Most are local villagers from South Liugezhuang Village. The couple's green business promotes local employment, as a result of which they were awarded the title of "Lucheng Model" in 2014 by the local government. Moore and Zhang Ping were also invited to make speeches to introduce their ideas on environmental protection.
In summer, trees create pleasant shade in the OE plant's yard and cicadas buzz in the midday heat. Kids from the village swarm into the yard to play on the trampoline, and puppies in the neighborhood also find their way here to sleep in the shade. Outdoor sofas, a small garden, dogs and OE workers enjoy natural coziness together. Moore has also rented a patch of land to grow vegetables, including his favorite red-core radishes, and shares the harvest with his friends.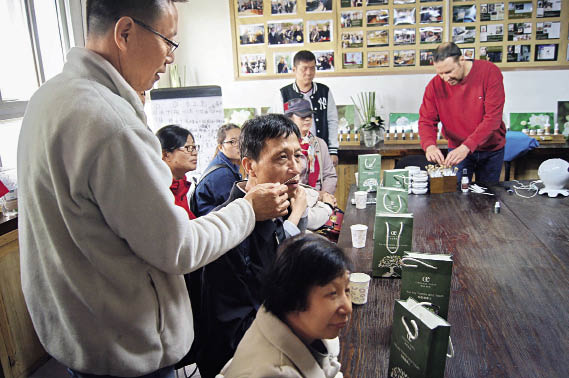 Darren Moore teaches blind visitors from Mind Eye Theatre to distinguish the smells of different essential oils.
This is what Moore wants. "China was home to me when I first came here," he recalled. He is attracted to China by the hospitality of its people, the richness of its food, and its splendid culture. All are his reasons for choosing to live here. Having barbecues in the yard with colleagues and neighbors and downing a cup of liquor have already become his lifestyle.
In his spare time, Moore always earnestly practices what he preaches. He invites local children to visit OE to watch the soap making process, gives lectures on environmental protection in local primary schools, and shares his experiences with college students. Moore hopes his ideas will influence young people both in China and throughout the world. He believes that environmental problems are the responsibility of everyone who lives on this planet and that everybody should be proactive in changing the situation for the better. To Moore, we all have enormous potential to effect change but what we actually do is insufficient. He encourages young people to embrace people instead of cell phones and to embrace nature instead of computers.
Moore has witnessed the rapid development of China, especially Beijing, in the past 20 years. He told China Today, the environmental awareness of the general public in China is much higher than before, and the more open-minded and confident young generations also play a key role in attracting foreigners to stay. In the beginning, due to their high price, OE soaps did not sell well in China. But now, OE occupies 90 percent or more of China's organic soap market.
The "Eight Things of Beijing" OE gift box.
Besides, in the "Beijing Gifts" Competition organized by the Beijing municipal government to select outstanding souvenirs, a gift box designed by OE won out. The package comprises eight soaps with different smells inscribed with different flowers and traditional motifs. As a Beijing calling card, the handmade soap gift boxes will introduce China to the world along with other souvenirs.
Another 10-Year Promise
OE has developed for almost two decades in China, and Moore is now approaching his 50s. Year in, year out, the dreamer's green dreams have gradually come true, and traces of time are also left on the face of the man himself.
OE has now scaled up its manufacturing process. This month, it will move out of the present factory and into a new site eight kilometers away of an area of 3,000 square meters. On the first day of construction on the new site, Zhang Ping stood on the cement-covered yard, telling her husband, "I think we should start from here." Moore flashed a knowing smile. The couple decided to remove the cement in the yard and replace it with plants. They want to bring the organic into the factory and also bring nature home.
Having recently read up on skin diseases, Moore has initiated an experimental psoriasis and ringworm-caused nail infection project, calling upon sufferers to participate in his programs. He offers free trials of OE natural products and hopes to receive regular feedback.
Next year, when the new factory is put into use, environmentalists and people who suffer skin problems from all around China will be invited to visit it. Moore said, "Skin problems are environmental problems, and environmental problems are a global issue. The water, air and food pollution present in China is also present in Canada and many other places in the world." As far as he is concerned, the Chinese people love their life and the current, developing China is full of opportunities and challenges. This vigorous China and the hard-working and intelligent Chinese people help him stay true to his mission. He makes soap in the countryside and lives a poetic life, combining his green dreams with those of Chinese locals.
In the suburbs of the metropolis, Moore is immersed in his organic kingdom and aspires to be a reclusive artisan. As mentioned, his original intention was not to become an entrepreneur but to solve his own skin ailments as well the problems of the "skin" of the earth. 
Services