A Chinese Brand Takes Root in India
THE first batch of motors produced by CRRC Yongji Electric Co., Ltd. arrived in India in 2007. In 2016, formal production began at CRRC Pioneer (India) Electric Co., Ltd., the first plant in South Asia established by CRRC Corporation Ltd.
Having progressed from product exports to capital and technology exports, a joint venture has finally taken shape.
Win-Win Cooperation
With a 64,000 km network, India has one of the world's largest railway systems. The Indian railway sector reportedly needs to purchase around 2,000 traction motors and 300 traction generators each year.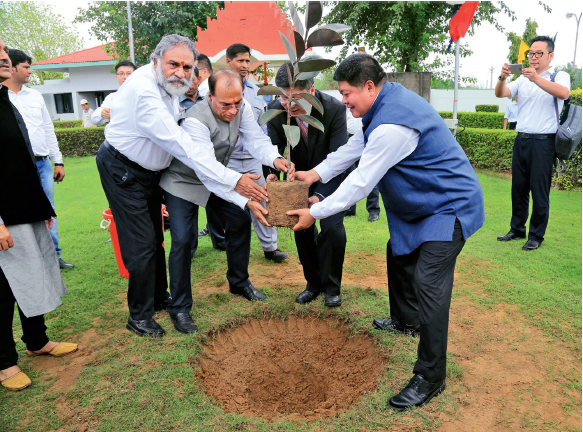 Honored guests from both sides of the joint venture plant a wish tree at the formal founding ceremony of CRRC Pioneer (India) Electric Co., Ltd.
China has a well-developed high-speed railway network and a colossal number of passengers, along with advanced high-speed train technology and proprietary intellectual property rights. CRRC, as a representative of China's high-end equipment manufacturing industry, has long had ambitions to "bring China's high-speed trains to the world."
The latest data show that China CRRC ranks 266th in the Fortune Global 500, and is 179th among the Brand Finance Global 500. CRRC received at the 10th China Brand Festival award ceremony the Huapu Award, Huapu meaning the facial makeup worn by performers of Chinese opera. This reflects CRRC's status as a high-speed railway manufacturer that acts as a figurehead for China's strong manufacturing industry.
CRRC started its cooperation with India in 2007. It has since supplied India with subway trains and shunting locomotives, as well as railway traction motors, bent axles, and rail wheel sets. On August 20, 2016, the CRRC Pioneer (India) Electric Co., Ltd., a joint venture between CRRC Yongji Electric Co., Ltd. and India Pioneer Trade Company, formally went into operation. It is the first railway transportation electrical traction equipment manufacturing enterprise established in India since India's Modi government proposed the "Make in India" national plan. It is also CRRC's first plant in India and South Asia as a whole.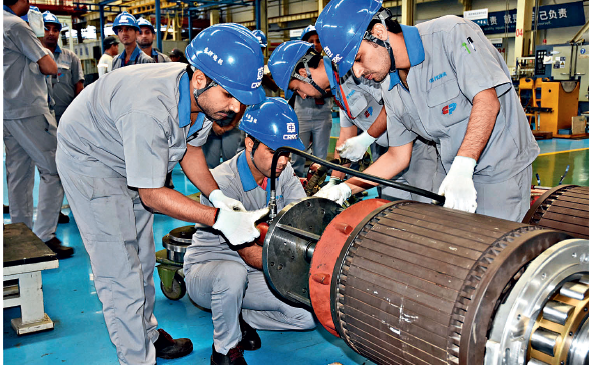 CRRC Pioneer (India) Electric Co., Ltd. employees receive training at CRRC Yongji headquarters.
CRRC's Indian operation is localized to cater to India's needs. Its export mode to India has changed from exports of single products to a mélange of technology, capital, and services, thus boosting international production cooperation and achieving localized manufacturing. The joint venture will also create jobs and increase tax revenues, as well as advance improvement and upgrading of the local rail transit industrial chain.
The ceremonial commencement of the joint venture was attended by CRRC leaders and Indian Ministry of Railways (MOR) officials. A promotion event for CRRC took place that evening in New Delhi. Vice President of CRRC Yu Weiping said, "In view of India's 60,000 km-long railway, establishing one electric motor plant is far from enough. CRRC will take further steps to establish factories that produce core parts like bogies, train carriages, and tractions systems – even entire motors."
Hard Beginnings
Diesel locomotives still dominate India's railways. As the old Chinese saying goes, "A train's speed totally depends on its locomotive." Traction motors are the power source of locomotives on which a train's speed and load limit depend. Thererefore, this motor is the "heart of the locomotive."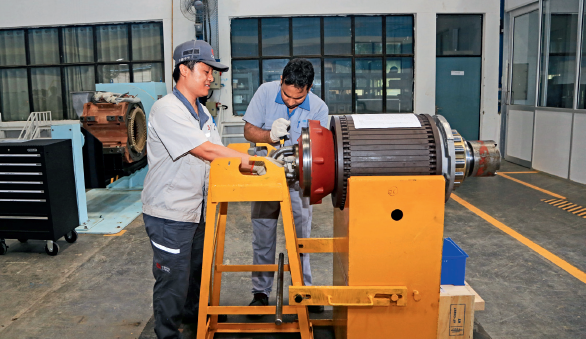 A CRRC Yongji technician gives guidance to a local employee at CRRC's Indian plant.
However, CRRC Yongji Electric Co., Ltd.'s presence in India's train motor market has not been a smooth process. Since 2007, when its products first came to India, CRRC Yongji has supplied India's Ministry of Railways with a range of motors, generally main-generators and traction motors for major types of locomotives. Owing to reliable quality and excellent services, CRRC Yongji has become a Part I supplier of India's MOR, providing growing numbers of motors for India's locomotives.
Recalling the early days after the first batch of CRRC-produced motors arrived in India, Yu Weiping spoke of the venture's hard beginnings. "Our motors, and three of a U.S. brand, were tested on the same locomotive. On the first day, there was a technical problem. This displeased the chief Indian designer and also surprised me," Yu said. Later, CRRC Yongji's engineers pinpointed a problem with the American motors, and made suggestions as to solving it. They thus gained the trust of their Indian client.
Another challenge came in March 2013 when CRRC Yongji completed trial production for their Indian client Diesel Locomotive Works of main and accessory generator samples. While comparing notes about the acceptance check, a divergence occurred between the two sides about generator efficiency calculations. CRRC Yongji technicians patiently but firmly stood their ground on the basis of scientific and detailed calculations, and so passed the stringent acceptance check.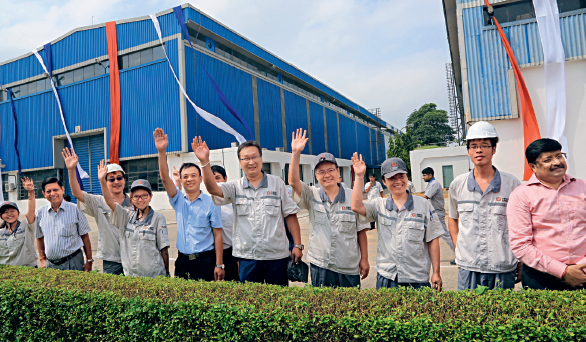 CRRC Yongji technical support personnel at the formal ceremony marking the start of the joint venture's regular operations.
Despite these incessant challenges, Party secretary of CRRC Yongji Ning Wenze showed firm resolve in pushing forward the enterprise's "going global" strategy. "Blazing a trail for overseas operations is essential if CRRC Yongji is to become a competitive supplier of electrical driving system solutions and serve global clients. Realizing internationalization is an inevitable step for Yongji." Consequently, the company values each challenge, regarding it as priceless experience in exploring the international market. Each encounter in the Indian market acts as a touchstone for CRRC Yongji's global operations.
"Establishing a joint venture overseas entails numerous problems and tasks. Differences in culture and working habits are often the biggest hindrance," CRRC Pioneer (India) Electric General Manager Jing Yuepeng said. CRRC Yongji's patience and perseverance has paid off.
To make China's advanced electric transmission technology benefit more Indian residents, CRRC Yongji has proactively responded to the Indian government's "Make in India" initiative by seeking local cooperation partners. After comprehensive investigation and research, Yongji decided to realize "Make in India" by setting up a joint venture. The company employed local residents and equipped them with professional expertise. Such localized production can lower costs and create jobs. Meanwhile China's railway industry exports have expanded from equipment to technology, capital, and services. In addition to products, Chinese operations and brands are also going global.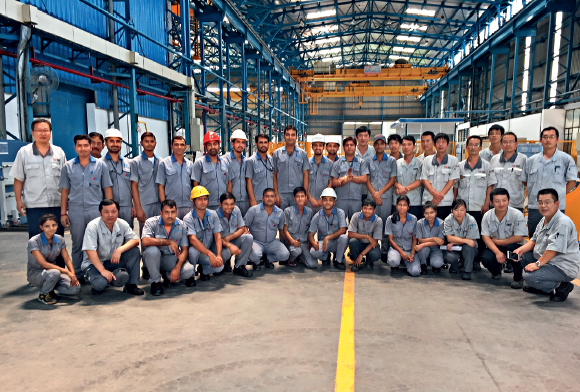 CRRC Yongji technical support personnel and local employees at the CRRC's Indian plant.
CRRC Pioneer (India) Electric Co., Ltd. was founded in 2014 with a total investment of US $63.4 million, of which CRRC Yongji holds 51 percent and India Pioneer 49 percent. The joint venture's main business is providing technical support to the Indian railway sector, and also supplying electric transmission systems to India's oil drilling, wind power generation, and mining equipment making sectors. The first India-made motor having successfully rolled off the plant's production line, Indian railway locomotives are expected to be equipped with more and more locally produced, world advanced "hearts."
CRRC Pioneer (India) Electric Co., Ltd. is located in the Bavo Industrial District of Haryana between New Delhi and Bombay. The state is spanned by part of the Modi government-conceived high-speed railway network. CRRC Yongji seeks to expand its business fields through advanced electric transmission technology and a steady supply of quality products. This will boost development of India's high-speed railway related industry. As of now, CRRC has received orders for around 300 subway trains earmarked for subways in Delhi, Bombay, and Calcutta.
Localization Efforts
CRRC Pioneer (India) Electric Co., Ltd. hired 17 Indian employees before starting operations. They received a month of technical training at CRRC Yongji from June to July which basically qualified them for on-site operation. They returned from China after acquiring professional knowledge and mastering practical operation techniques about a month before formal operations started at the joint venture. Soon after, CRRC Yongji sent a technical support team composed of production, technology, quality control, and testing personnel to India, to provide guidance for local employees. Such technical exchanges and support helped local workers master CRRC's motor technology.
Whether domestic business or international trade, the essence lies in communication and mutual understanding. By being honest with each other, adopting an inclusive attitude, and embracing different thoughts and cultures, despite being different nationalities, employees can progress together under CRRC. During their CRRC training session, Indian employees compared cooking skills with staff members at the CRRC Yongji's headquarters, played sports, and celebrated birthdays together, like a big family.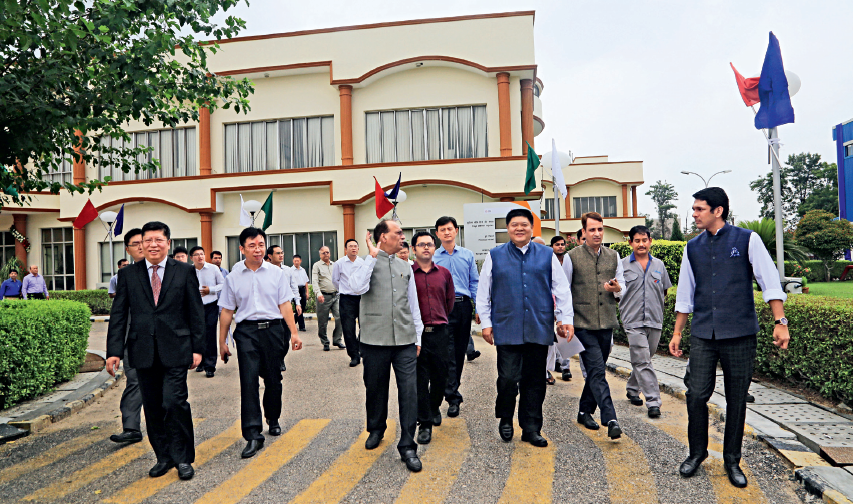 Guests at the formal ceremony to mark the start of regular operations at CRRC Pioneer (India) Electric Co., Ltd. visit the plant.
Having provided support in India, the CRRC Yongji technical support team compiled a guidebook listing all the steps from making an inventory of auxiliary materials to assembly. It also included troubleshooting and precautions. Pre-operational training and effective technical support ensured the successful assembly of the joint venture's first motor product, which passed testing. The first motor also signified that the China-India joint venture has the capacity for batch assembly of railway traction motors and complete generators.
Aided by the technical support team in such processes as quality control, first item inspection, and self and mutual inspection, Indian employees are expected to master with ease operation techniques and procedures. In the process, they will truly understand the CRRC Yongji quality concept, thus bringing CRRC culture to India.
As advanced Chinese technology is introduced to more and more Indian workers, the business scope of CRRC Pioneer (India) Electric Co., Ltd. is expected to expand rapidly from manufacturing to maintenance and technical support. Their products will also expand from the current rail transit field to electric transission systems used in such fields as oil drilling, wind power generation, and mining equipment.
Honored guests from both sides of the joint venture plant a wish tree at the formal founding ceremony of CRRC Pioneer (India) Electric Co., Ltd.
Services