Jingrong Town: Rebirth of Entrepreneurship
By staff reporter LUO YAO
WALKING on the streets of Jingrong Town in Chengdu, capital of Sichuan Province, bustling groups of people gather around the blocks of businesses there. This dense entrepreneurial climate sharply contrasts with the scene one year ago.
Ghost Town Revitalized
More than 2,000 years ago, Li Bing, chief of Shu Prefecture (roughly modern-day Sichuan), and his son built a water conservancy project in Dujiangyan, a small city in Sichuan Province. The Minjiang River waters the Chengdu Plain, making it a land of abundance with vast expanses of fertile farmland. The pleasant climate, temperature and humidity render it ideal for mulberry planting and silkworm rearing, hence giving birth to Sichuan embroidery.
As intangible cultural heritage, the record of Sichuan embroidery can be traced back to the Western Han Dynasty (206 BC - AD 25). Its vivid patterns and brilliant colors have placed it in high demand.
However, traditional workshops cannot satisfy the current need for Sichuan embroidery. Efficient embroidery machines have taken the place of manual labor, causing traditional skills to fade away.
"I love Sichuan embroidery, and I wish to engage in related work for all my life," Fu Guolian stated.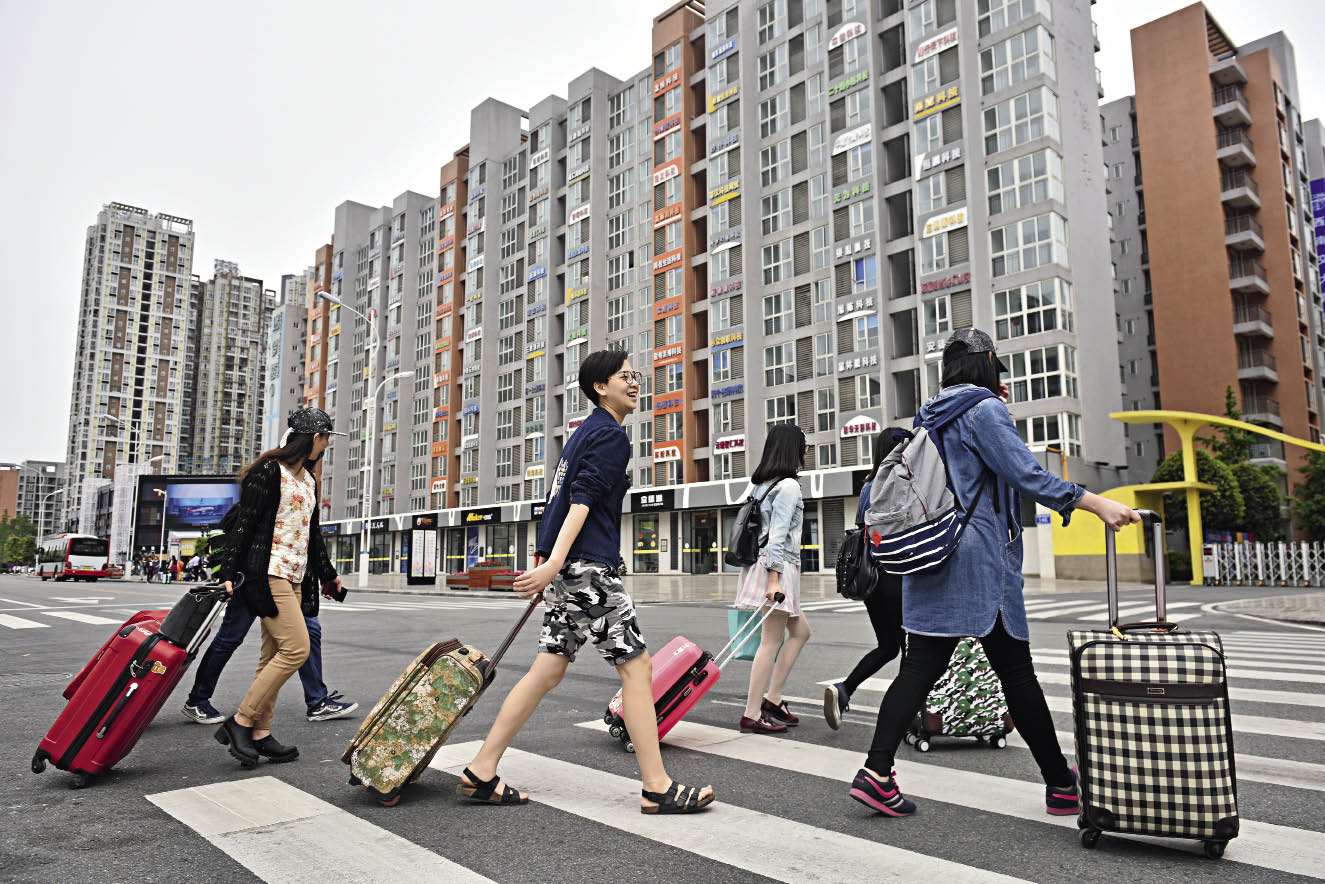 People with good concepts and fresh ideas come to the town to realize their dreams.
The 24-year-old young woman graduated from Chengdu Textile College. The college is also the research center for Sichuan embroidery. Fu became acquainted with the art as a college student and became tightly bound to it. Born in Hainan Province, she chose to stay in Chengdu after graduation and opened a cultural transmission company named "Qingzhenyixian" with several partners in Jingrong Town of Chengdu.
"Jingrong Town offers us many preferential policies, which is why we chose to start our business here," Fu explained. Located about 30 km from Chengdu's downtown area, Jingrong Town in Pi-xian County officially became a start-up community in early 2015. The company entered it in August 2015, and so started to inherit the town's time-honored embroidery.
Before that, no one imagined that the town could revitalize. Traditional industry upgrading and the wide application of intelligent robots in 2015 caused many labor-intensive enterprises to lay off employees, turning it into a ghost town.
Earlier in 2015, thanks to the developmental opportunities brought about by the national entrepreneurship and innovation drive, the city of Chengdu launched similar plans. Jingrong Town is a case in point. Idle plant buildings are used as offices. It has also utilized abundant scientific research and talent resources from nearby 19 institutions of higher education. One year later it has become a highlight of Sichuan Province.
Town Entrepreneurship
"It takes 10 years to grow a tree and 100 years to rear a generation of good men. We provide soil for the seeds of entrepreneurship and innovation to take root and sprout," said Xiao Shijie, who is in charge of Jingrong Town's public relations.
Most partners in Fu's company are graduates from Chengdu Textile College. The company mainly engages in artware design and the making and marketing of Sichuan embroidery.
"During our initial stage of trading, the town offered us free rent, water and electricity, which helped us make considerable cost savings," said Dang Jianping, one of the company's partners. "Such an undertaking is a huge challenge, bearing in mind the lack of distribution channels. To solve the problem, we have expanded our network marketing channels, opened online stores, and launched crowdfunding for several products. Relevant officials also gave us advice and suggestions. Our market has now expanded to Beijing and Guangzhou."
In addition to product customization, the company set a higher target than making profits.
"We will open a workshop soon after the facilities are delivered in August. The town will offer the site for free. Admirers of Sichuan embroidery can study here gratis, including related culture and workmanship, in order to inherit the time-honored culture," said Fu. She believes that entrepreneurship means not merely creating something new, but also revitalizing traditional things.
In addition to traditional embroidery, a cutting-edge big data industry is also striking roots in Jingrong Town.
"Aside from preferential policies on tangible aspects, we also value the industry guidance that the town offered us, such as the entrepreneurship and innovation index, which is of great value to our entrepreneurial enterprise," said Peng Juan, who works at Xundao Technology Co., Ltd. The company entered the town in 2015. Its chief scientist Zhou Tao is a leading figure in China's big data industry. He translated the book Big Data: A Revolution That Will Transform How We Live, Work, and Think.
Together with the State Information Center and University of Electronic Science and Technology of China, Jingrong Town has built a big data platform and industry agglomeration. "The town boasts a dozen relevant companies. Our company focuses on the application of education, while others engage in the security domain, which brings enlightenment to us all," said Peng. Established in 2014, the company has obtained RMB 50 million in angel investment.
Jingrong Town also provides these companies opportunities for face-to-face communication with industry leaders.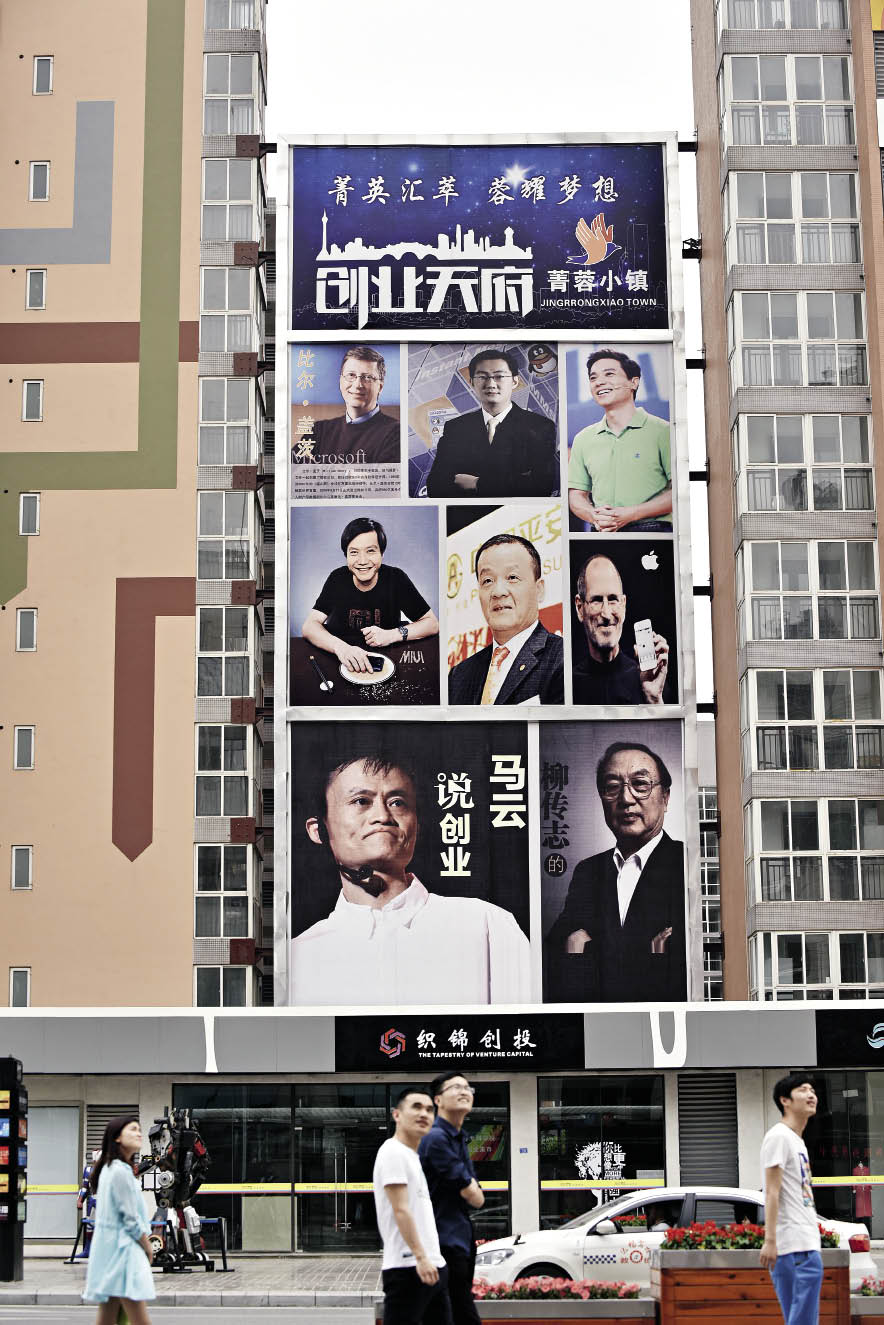 Billboards of renowned entrepreneurs on a high-rise in Jingrong Town.
The first Big Data Application Congress of China was held in Chengdu in July 2016, with a parallel session in Jingrong Town. The conference invited a number of world-class enterprises, such as Sinosteel, Inventec, Founder, Baidu, Alibaba, Jingdong, IBM, and Sina.
Jingrong Town plans to promote cluster competitive advantages and build China's first "big data town." At present, some 59 big data companies and almost 3,000 related professionals have gathered here.
In Jingrong Town, entrepreneurship is not only an undertaking for young people.
"I have studied solar cars since 2012. The town owns a plethora of talents and has a dense entrepreneurship atmosphere. I have good concepts while the young people have fresh ideas, therefore I chose to join them in starting a business," said Wu Guilin, founder of Santong New Energy Technology. Seventy-year-old Wu used to be a college teacher, and like other college students realized his entrepreneurial dream in Jingrong Town.
"Our test car now has a cruising ability of over 200 km and our photovoltaic panel has a high electric conversion efficiency. Therefore the electricity output is amazing," said Wu. "Next we will continue to overcome difficulties and enhance the efficiency of the solar cell."
Besides, the company has to solve the problem of graduate employment. So far, it has offered jobs to more than 200 college graduates. Some employees now live in the apartments offered by the town. According to the preferential policy, they can enjoy free rent for three years.
Now, the town has more than 10,000 entrepreneurs, and each and every one of them has a unique story.
Development Impetus
Within a year, the town has renovated office buildings covering 400,000 sq m, introduced 30 business incubators and 1,098 projects for innovation and entrepreneurship, and mainly engaged in four industries, namely biomedical, Internet plus, big data and intelligent manufacturing (drones and robots). "It is its good platform and conditions that have promoted the town's development from nothing," said Xiao Shijie. According to him, the town has set up guidance funds, including RMB 100 million for angel investment, RMB 200 million for venture capital investment, and RMB one billion for industrial investment. Such favorable terms have attracted many entrepreneurs and experts from first-tier cities.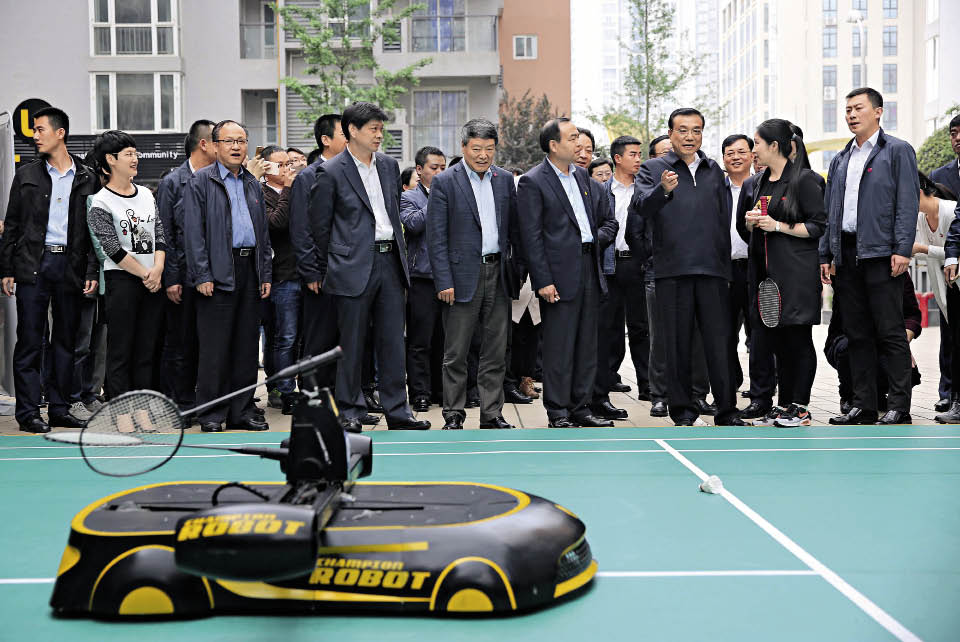 Premier Li Keqiang visits Jingrong Town and talks with entrepreneurs on April 25, 2016.
Last April, Chinese Premier Li Ke- qiang visited Jingrong Town and remarked, "Changing vacant plants into space for makers is like listing new economy with the help of traditional industry."
In May 2016, the State Council listed the first batch of 17 demonstration bases for innovation and entrepreneurship, including Beijing Haidian District, Tianjin Binhai New Area, and Shanghai Yangpu District. Pixian County in Chengdu is the one and only county-level base on the list.
The Minjiang River nurtures this land of plenty. Ancients used to advise young people to stay away from this easy and comfortable place. In modern times, Jingrong Town has attracted a growing number of young makers intent on fulfilling their entrepreneurial dreams.
Services